Tailored finance
Flexible repayments
Low-interest starting from 7%
In-page navigation
---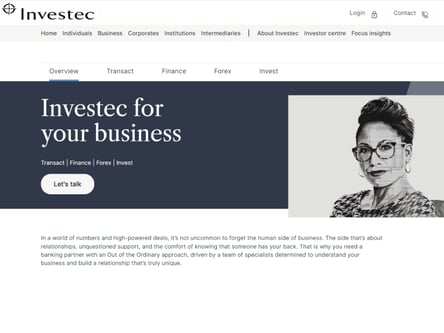 Author Investec. Screenshot of Investec website.


[Accessed January 31, 2023]
Investec - Leading business loan services
Investec the wealth and asset management specialist, is a leader in providing banking solutions for customers - from personal loans to all types of business loans for South Africans.
They have set the benchmark for assisting customers in achieving their financial goals.
The business loan specialist that helps customers
Since its establishment in 1974, Investec has been servicing clients with tailored and unique profit-generating solutions in three financial sectors. These are asset management, wealth and investment, and specialised banking.
Entrepreneurs are always seeking out Investec for their business ambitions, be it small start-up loans or bigger loans for an established business.
Investec is listed on both the Johannesburg Stock Exchange and the London Stock Exchange. In the market for a small start-up business – or any business? Then Investec would be the perfect start for anyone wanting a small business loan.
Established entrepreneurs, business founders, and people with high net worth are among the clients benefitting from Investec's services. Investec is dedicated to offering clients an unrivalled business finance service geared to unlocking wealth.
Investec are leaders in creating wealth
The company's tentacles are spread far and wide in South Africa, with offices in the UK and Australia as well as other countries around the globe. Investec is always there to assist clients who are looking for an investment or need to borrow money in the form of a business loan. Investec is focus-driven and will go to great lengths to develop a financial plan that suits every customer.
Once a customer has decided on the type of business finance required, he or she can access one of Investec's experienced professionals who will assist with a financial plan.
Innovative funding strategies
Investec's tailored funding solutions start from about R20 million and clients can expert prompt feedback and service from highly-regarded professionals in the business.
Besides forging relationships built on trust and reliability, Investec works closely with clients to secure the capital that their business requires. Investec consultants take pride in listening to clients' ideas and effectively partnering up to generate wealth over the short and long term.
Investec is tops when it comes to networking and is one of the best in the business for financing capital needs, including short-term finance. Their team of experts works tirelessly to ensure that clients' financial requirements are met.
Whether car finance or business finance, clients can expect to receive a unique solution that is flexible and meets any demands.
Apply now for a Business loan
It's as easy as a click of a mouse to access an application for an Investec business loan. Whether it's short-term loans or long-term loans, Investec has a plan for everyone.
With an Investec business loan, clients can expect to settle quickly, meaning savings on interest and other fees.
What do clients get with an Investec Loan:
Tailored finance of up to R20 million
Interest rates pegged at 7 – 10.25%
Wide range of property finance
Specialist personal assessment
The calculator on the online website gives the client an immediate idea of what payments will be on any type of business loan. This has the advantage of cutting out unnecessary stress in the build-up to the actual business loan application.
The interest rate is based on credit score and risk profile.
Investec – Business loan
Loan Type

Business loans

Interest Rate

7 – 10.25% p/a
Benefits of Investec
Tailored business finance solutions
A comprehensive range of property finance
Investec - Together we can grow your business
Investec consultants are highly trained professionals and their acute understanding of fluctuations in the market helps, clients, to grow their portfolios.
They will expertly assist clients with various finance portfolios:
Acquisition finance– These clients need to be in a strong position financially. A high net profit is favourable for clients wanting access to acquisition finance. This is for clients wanting to take their business to the next level. Especially if clients are acquiring a new company, complying with BEE, or going the route of a buyout or buy-in, Investec will help them with this step.
Expand with capital expenditure- If expanding a business is on the cards, the Investec team is always on hand to help! The company has a business solution that will meet all the client's goals.
Cash flow lending– The company can successfully support business while helping to fund highly skilled management teams that can generate sustainable cash flows.
Investec has tailored Business loans to match business goals
Investec funds SMEs of all sizes. So, the sky is the limit for clients who are applying for business loans. Whether it's a business person who wants to buy a car or two it doesn't matter. Investec could help to purchase an entire fleet.
Their interest rates are competitive in the market for business lending and are a money-saver in the end. The investment company offers rewards to those who go through McCarthy, so clients need to grow those Investec rewards points.
Clients can apply in-store or through an online loan application which offers customers a secured loan option that can be processed within just 24 hours.
Clients need their most recent payslips; a healthy credit record is favourable and proof of identification is also required. Make sure to also bring along proof of residence in the form of a current utility bill.
Customer Reviews & Testimonials
"
December 2018
Investec is a company that will actually listen to you. They don't only focus on the profit margin, they also genuinely want to help- that's really rare in my books.
Nigel S
— Johannesburg —
February 2019
Applying was very simple and did not take long to complete.
Sarah B
— Rustenburg —
June 2021
Applying was very simple and quick.
Michaels B
— Rustenburg —
August 2021
Investec genuinely wants to help and they are the best.
Moroka J
— Johannesburg —
Investec Contact
Contact Number
E-Mail
Website
Physical Address
100 Grayston Drive, Sandown

Sandton

Gauteng

2196

South Africa
Investec Universal Branch Code
---
Postal Address
PO Box 785700, Sandton, 2146, South Africa
Opening Hours
Monday

08:00 – 17:30

Tuesday

08:00 – 17:30

Wednesday

08:00 – 17:30

Thursday

08:00 – 17:30

Friday

09:00 – 17:30

Saturday

– Closed

Sunday

– Closed