Business loans up to R1,000,000
Low-interest starting from 10.25%
Repayment up to 10 years
In-page navigation
---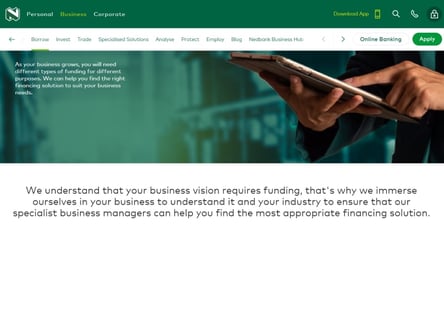 Author Nedbank. Screenshot of Nedbank website.


[Accessed January 31, 2023]
Nedbank - Let them help you make your business grow
If you are about to start a new business and perhaps need funding for assistance towards growing your existing business, Nedbank has the right business loan for your needs.
Nedbank is a firm believer in opportunities. They know and understand that if people have access to the funding they need, they can make great things happen.
This is why partnering with them is not only a good business idea but also a way forward. They are in the banking business to make a change and they have been doing so for many years.
Some history on Nedbank
Nedbank operates mainly in South Africa but also extends its service to six other African countries. These include offices in Angola, Malawi, Zimbabwe, Lesotho, Mozambique, and Eswatini.
With a history dating back to 1888, the bank was founded in the Netherlands. That same year saw their office open in Church Street, Pretoria.
On 6 May 2005, the Nedcor Group was renamed to the name we have come to know and trust today, Nedbank.
What Nedbank offers
They are one of South Africa's largest and most well-known financial services providers. They specialise in aiding people financially. The services that Nedbank offers include wholesale and retail banking, insurance, and asset and wealth management. This includes their banking division and business loans.
They offer a one-stop financial shop for everything money-related. You can rest assured that with so many years in the business, they are experts in the field.
Loan amounts from R100 000
From the day that Nedbank was established, it was agreed that outstanding customer service would be at the order of each day.
They had a dream and a vision for a better financial future for everyone in South Africa. Each customer would be treated as an equal in their individuality.
Ever since they started, they have kept raising the bar on the services they offered. As time went by they were constantly finding new ways to bring their customers innovative and fresh ways of doing business.
A Business loan from a leading bank
The business services that Nedbank offers are not only remarkable but innovative in every possible way. They can give your business the push it needs to achieve great heights.
Apart from a business loan to get you started, they are ready and expertly equipped to make your business a success in every possible way. They believe that business is the future. With every successful business they fund, they also create jobs for the community and help to ensure a better financial future for all.
Nedbank is a comprehensive financing solution
When you choose to partner with Nedbank, you will have access to a wide range of other business services. They go the extra mile to ensure that success is reached.
These services include overdrafts and credit card facilities, invoice discounting as well as asset finance. They help you improve your cash flow to make business smoother.
The business experts at Nedbank strive to make each customer a part of its ongoing success story.
Nedbank – Business loan
Loan Type

Business loans

Interest Rate

from 10.25%

Loan Amount

up to R1,000,000

Repayment

12 months to 10 years
Benefits of Nedbank
Short-term loans
Medium-term loans
Long-term loans
Angel Investment
Nedbank – Achieve great success with finance from them
When it comes down to starting your own business or needing funds to assist an existing business, Nedbank believes in the personal aspect.
Business is often complicated and therefore they have expert advisors who can get you on the right track to the financing you need in no time. Once they have a clear picture of the situation, they can give you the best possible solution.
You can go to the Nedbank homepage and complete a call me back for a consultant to get in touch. Alternatively, you can visit your nearest branch to discuss all possible solutions.
As with any other loan, there might be some documents that will explain the situation better. Make sure you have everything on hand when you are ready to apply for your business loan.
Documents you may need:
A business plan
A list of all monthly income and expenses
Information on all partners of the business
A list of assets and liabilities
When it comes to business, Nedbank has many years of experience in the industry. They have been assisting people successfully for a long time. There is no financing too big or small for them.
Choose a trusted partner
Nedbank has a rich history in South Africa. Being one of the oldest banking institutions in the country, they have become a trusted household name. When you need financing for a new or existing business it is important to partner with a trustworthy company. With Nedbank, you can be sure that you will be taken care of. They help to write stories of success and would like to help you too.
Nedbank benefits
They are trustworthy
They treat their customers like family
Their products and services are innovative and up-to-date
You have access to a comprehensive range of business services
Customer Reviews & Testimonials
"
October 2017
As someone who was starting out in the business world, it was a huge struggle acquiring finance to get my business going. So it was a huge relief when Nedbank was willing to give me the funds I w...
Noluthando N
— Cape Town —
May 2018
I loved the convenience of applying for my business loan online. It saved me time and money.
Enoch M
— Pietermaritzburg —
May 2019
I'm very happy with how Nedbank made me feel like a valued customer when I was applying for a business loan. I appreciate the personal care and attention I got throughout the entire process.
Diaan E
— East London —
May 2021
I wanted to start my own business but required the necessary funding. I decided to go to Nedbank for a business loan to get me started. They assisted me with several possibilities and helped me w...
Stuurman B
— Boksburg —
June 2021
I have been banking with Nedbank for many years and it was only natural to reach out for the business loan I needed from them. It was the best decision I could have made. They helped me every ste...
Ntetwa C
— Rustenburg —
September 2021
We would like to make use of this opportunity to thank Nedbank for its outstanding service. They were there to explain everything to me and they assisted with the advice I needed to make the best...
Skade P
— Port Elizabeth —
Nedbank Contact
Contact Number
E-Mail
Website
Physical Address
381 Rivonia Blvd, Edenburg

Rivonia

Gauteng

9908

South Africa
Nedbank Universal Branch Code
Opening Hours
Monday

09:00 – 16:00

Tuesday

09:00 – 16:00

Wednesday

09:00 – 16:00

Thursday

09:00 – 16:00

Friday

08:30 – 16:00

Saturday

08:30 – 12:00

Sunday

– Closed