Business loans up to R400,000
Set interest rates
Repayment up to 5 years
In-page navigation
---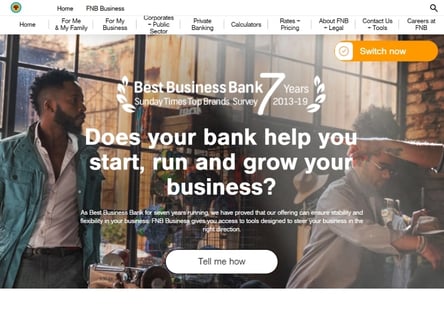 Author FNB. Screenshot of FNB website.


[Accessed January 31, 2023]
FNB - We can help you bank better
First National Bank's roots run deep in South Africa, especially when it comes to providing many types of business loans to its clients.
FNB, the oldest bank in the country, provides business loans including small start-up loans, to its many clients. This is ongoing since its humble beginnings in Grahamstown in 1838.
FNB as a provider of loans has history on its side
Today as First Rand Bank Limited, this organisation takes pride in the fact that theirs is a story of survival. The second part of the story is about people. FNB has had a major influence on the people it serves from helping business start-ups to major players in the business world.
FNB engineered a major breakthrough in 1998 when the financial services interest of Anglo American and Rand Merchant Bank Holdings merged to form FirstRand Limited. FNB was delisted from JSE on the 25th of May 1998 to be a wholly-owned subordinate of First Rand.
Kickstart a business with loans
FNB puts the ball in the customer's court when it comes to providing various business loans. Clients have the option to choose their loan amount - from R1,000 up to R 400,000.
The loan can be paid off from 1 to 60 months. Clients with small business start-ups can put their minds at rest knowing that at FNB the personal loan re-payment amount is the same each month. Interest rates are fixed, which includes all charges that protect clients from interest rate hikes.
Business loan customers are allowed a payment break
By keeping a business loan up to date, borrowers qualify automatically for a re-payment break every January. This applies to business loans with repayment plans over 6 months
The administrators at FNB understand that life can sometimes be a rollercoaster. Therefore, in the event of a client becoming unemployed, permanently or temporarily disabled, FNB's Customer Protection Plan (CPP) will take care of all financial matters – even in the case of death.
Clients can also apply for a life insurance policy if they decide to use their insurance. Credit insurance is compulsory if clients are repaying a loan. Clients will not be charged or penalised by FNB should they decide to settle a short-term loan account earlier than expected.
Loans from R1000 up to R200 000
FNB is proud of the fact that they always put the needs of the clients first when it comes to providing business loans for small or established start-ups.
It's as simple as a click of a mouse to access an application for one of their business loans.
Their FNB website includes an online calculator where clients can insert the amount being applied for. The customer can then choose the payment period and the interest rate, which remains fixed for the payment term.
What clients get with an FNB business loan:
Loan amounts up to R400,000
Repayment terms of from 3 months to 5 years
Interest rates are fixed for the repayment period
For business loans of R100,00 repayment period of up to 6 months
Same day reply to loan applications.
Interest rates will vary depending on credit score and risk profile.
Debt consolidation can help business owners
Business owners facing a debt problem can lump outstanding debt with credit providers into one convenient loan. In this way, they can enjoy lower monthly repayments and gain control over debt and finances.
This means that the stress and anxiety that come with having to deal with multiple debt collectors are taken away.
Debt consolidation means that business owners can spend less time dealing with debt issues. With debt consolidation, they reduce monthly payments by having one interest rate and only one monthly payment.
Try FNB's low-interest Credit card
FNB is aware that many businesses are hard-up for extra cash, which means they are unable to meet certain financial commitments. These business clients can apply for a special credit card that comes with a host of flexible payment options.
FNB – Business loan
Loan Type

Business loans

Loan Amount

up to R400,000

Repayment

3 months to 5 years
Benefits of FNB
Fixed interest rate
Business loan booster
Business loans up to R100,000
Repayment up to 6 months
FNB - Gain more control over your debt
FNB is aware that many businesses are hard-up for extra cash, which means they are unable to meet certain financial commitments.
These business clients can apply for a special credit card that comes with a host of flexible payment options.
What the credit card entails:
Enjoy up to 55 days interest-free on the credit card.
Automatic debt protection up to R 5,000 at no charge.
Monthly coupons for spending at Checkers & Shoprite.
Comprehensive Global Travel Insurance free of charge.
Flexible payment options with auto-payment.
What clients get as an incentive:
Daily transactions with a loaded limit.
Tailored interest rates.
Rewards on ebucks when swiping a card.
To qualify, the annual salary must be anything from R80 000 per annum
Grab a Business loan that grows and expands business.
Market-related business loans are available for FNB Business Account holders who are hoping to raise capital to foster growth or even expand their business. A business loan of up to R2,000 is subject to flexible terms - from 3 months to 5 years.
Optional loan security may not be compulsory for loans up to R 400 000. Clients can make automatic payments using a form of paying by debit order from a business account.
FNB Business Flexi Loan allows clients to have access to capital already repaid on the loan.
Once 15% of the loan has been repaid, clients will have access to these funds again to use in their business.
Customer Reviews & Testimonials
"
March 2021
I needed to purchase equipment for my business. I approached FNB and I'm glad I did. They helped me with the business loan I needed and the whole experience was just a pleasure.
Mbali Z
— Polokwane —
February 2021
Thank you FNB for giving me the finance I needed to take my business to the next level.
Mpilo N
— Port Elizabeth —
May 2021
FNB is a bank that you can count on for your business's financial needs. They listen and are compassionate and really do want to help you succeed.
Rebecca M
— Nelspruit —
FNB Contact
Contact Number
E-Mail
Website
Physical Address
3, First Place, Pritchard St & Simmonds St, Bank City

Johannesburg

Gauteng

2000

South Africa
FNB Universal Branch Code
---
Postal Address
PO Box 1153, Johannesburg, 2000, South Africa
Opening Hours
Monday

08:00 – 17:30

Tuesday

08:00 – 17:30

Wednesday

09:00 – 17:30

Thursday

08:00 – 17:30

Friday

08:00 – 17:30

Saturday

08:00 – 13:00

Sunday

– Closed