Asset based finance
Micro finance
Franchise finance
In-page navigation
---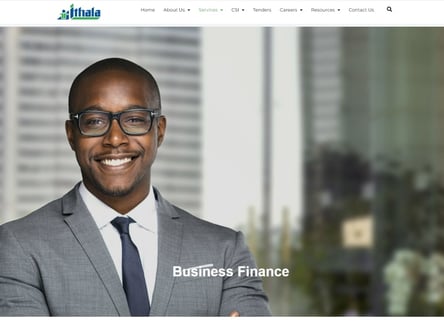 Author Ithala. Screenshot of Ithala website.


[Accessed January 31, 2023]
Ithala - They serve the business community
Who is Ithala? The Ithala Development Finance Corporation is a company that manages all the business activities that cover a group of business finances and financial and property services throughout KwaZulu-Natal.
Their vision at Ithala is to be a motivation for other businesses in the growth and economic development of the country through their services offered.
Empowering the economy
Ithala's core values in the industry are to show respect to all its clients and partners at all times as well as to innovate through their interactions and the requests that come their way.
Customer satisfaction is at the heart of all these values, as they are driven by positive results and happy customers. Ithala aims to empower those both internally and externally through equitable employment practice.
Striving to provide support
Ithala takes their financial resources to mobilise them through providing supportive services to all individuals of KwaZulu-Natal.
They plan and follow through with the execution of the implementation of projects and programmes in the province
Promote and encourage the growth of human resources along with its social, financial, and physical infrastructure
Promote the private sector investment in KZN and also the active participation of the private sector through community organisations and programmes. Also contributing to the growth of economic development
Act as an agent for performing any development-related tasks and responsibilities that the Government would deem most effective for the performance of a corporate entity
Financial support through product groupings
At Ithala, their core business focus is to offer financial and supportive services through a number of product support groupings.
These groupings contain the holistic business spectrum, which incorporates all service industries, manufacturing, trade, retail, tourism, and hospitality.
Types of product grouping
Product groupings at Ithala include finance of the following: commercial asset finance, agriculture and agro-processing, structured, commercial property, procurement, and business micro-finance.
Difference between term loans and a revolving facility
Term loans fund the operational requirements of a project. The maximum term available for this product is 36 months. Where funding is concerned, this short-term loan will be in line with the usefulness of the business's cash flow.
Whereas, the revolving facility offers microfinance to those that continually require funding for different projects at different times. Should businesses require the withdrawal of funds at intermittent periods of the project, it can be done with a fixed cap.
The reason why the revolving option is considered for businesses is that your business will benefit from not having to reapply via a loan application each time you need funds. The term of this option is a maximum of 12 months, however, should an alternative term suit you better, it can be adjusted to suit the business.
Benefits of Ithala
Reliable business loans
Flexible repayment terms
Ithala serves those in need because everyone deserves financial aid when they need it most
Ithala serves all individuals that are in need. They have especially reached out to the people in KwaZulu-Natal who have been previously disadvantaged.
They offer those individuals access to their services and advice on how to effectively receive support with their finances. Their team of staff aims to make things happen for you and your SME. Ithala will work with you to ensure this happens and that your business flourishes afterwards.
Requirements for a loan application
The requirements vary depending on which business loan product you intend to apply for. However, there is a set of standard requirements that will be listed below:
A completed Ithala application form accessible from the Ithala website
Business documents, including CK documentation, Memo of Association and Articles of Association
A detailed business plan.
Current financials (3-year period)
Any and all sales and purchase agreements
A valid Tax Clearance Certificate for the current tax year
FICA documentation such as a certified copy of your identification, including marriage certificates if married. You should also have proof of residence and working contactable numbers whereby you can be reached.
Business finance
Ithala offers various funding solutions, which include finance for a number of sectors, namely asset-based finance, finance for projects, commercial property, and working capital finance.
Loan application details
Ithala's online loan applications require certain personal details that will accompany your loan inquiry. As mentioned previously, your business plan with all FICA documents is compulsory.
The contracts will include the lease or franchise agreements and where accounting is required, the details of the assets and liabilities along with 2 years' financial statements.
Customer Reviews & Testimonials
"
September 2018
What I liked most was how easy it was to sign-up and get my business out there for prospective investors to invest in. This is a great alternative to traditional lending institutions.
Aggie F
— Kimberley —
July 2018
My borrowing experience was very good. The staff was very professional yet friendly and very attentive.
Abdul D
— Pinetown —
November 2018
The online application was completely trouble-free, straightforward and easy to complete.
Chad M
— Pietermaritzburg —
April 2019
Ithala cares about helping small business owners and making a difference in peoples' lives. I got a business loan from Ithala a few years ago. Because of them, my business has really taken off an...
Sibusiso T
— Durban —
Ithala Contact
Contact Number
E-Mail
Website
Physical Address
303 Dr Pixley KaSeme (West) Street, 15th Floor

Delta Towers

Durban

4001

South Africa
---
Postal Address
PO Box 2801, Durban, 4066, South Africa
Opening Hours
Monday

09:00 – 15:00

Tuesday

09:00 – 15:00

Wednesday

09:00 – 15:00

Thursday

09:00 – 15:00

Friday

09:00 – 15:00

Saturday

09:00 – 13:00

Sunday

Closed –