Business loans up to R2,500,000
Low-interest starting from 25%
In-page navigation
---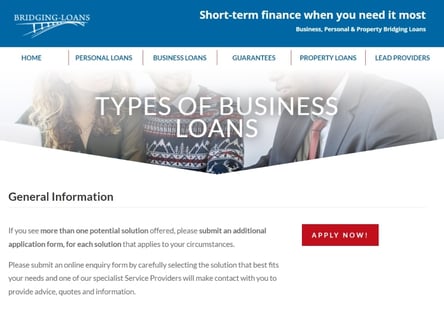 Author Bridging Finance. Screenshot of Bridging Finance website.


[Accessed January 31, 2023]
About Bridging Finance
If you're looking for business finance that's fast and reliable, Bridging Finance could help you with one of the many financing options they offer.
They provide a range of helpful services that can unlock the future of your business and help you reach your full business potential.
Good partnerships lead to success
In business, being partnered with the right institutions and companies could ensure a great measure of success. Bridging Finance knows the importance of good, trustworthy, and sustainable partnerships.
They've gone above and beyond to ensure that the help you need is only an application away with a wide range of partners to choose from.
Time is of the essence
When it comes to finding a business loan, nobody wants to wait for days to get an answer. Bridging Finance understands that time is of the essence in the business world.
Depending on what your needs are, they'll compile one application and submit it to their various partners for approval. This way you save on time and, essentially, on money.
What is a business loan?
A business loan can cover many aspects of your business. The main reasons people need business loans essentially are to:
Improve your businesses cash flow
Acquire more equipment or vehicles
Purchase material or stock
Purchase a building from which you run your business
What if you're blacklisted?
Being blacklisted does not automatically mean that you won't qualify for a business loan. Because Bridging Finance makes use of partners who provide the funding, there are many things that are taken into account when a lender considers approving or declining a loan.
This is mainly based on the nature of the blacklisting together with a few other factors.
Bridging Finance Services
Providing a service that's relevant and reliable is at the top of the priorities list at Bridging Finance. They realised that it was becoming more difficult for people to acquire business loans from banks.
This led to the idea of offering a service where the lender could be a bank or another business. They soon became a household name and helped many people reach their full business potential.
What to expect when partnering with Bridging Finance
It's important to know that they only assist with financing for businesses that have been operating for more than 12 months.
Depending on your financial needs and affordability, you could enjoy loan amounts ranging between R50 000 and R2 500 000. This is an unsecured loan suitable for both small and medium-sized businesses.
How does the business loan repayment work?
A business loan through Bridging Finance carries a repayment term of six months and will see you repay 25% interest on the amount borrowed.
This means that you'll repay your loan in twenty-six equal instalments via a weekly debit order. A regular cash flow record through your business account can drastically improve your chances of getting your loan approved.
With any type of financing, there are consequences when the loan agreement is not met as per the signed contract. That's why it's of the utmost importance that you consider every aspect of the loan as well as the agreement before you sign the final documents.
Some of the consequences may include:
Your name could be listed on the credit bureaus.
If a building lease is part of your contract, you could get evicted.
Legal action against you could lead to legal costs payable by you.
Some companies can initiate financial sanctions against you, preventing you from carrying out any transactions/services.
Bridging Finance – Business loan
Loan Type

Business loans

Interest Rate

from 25%

Loan Amount

up to R2,500,000
Benefits of Bridging Finance
Import bridging finance
Property equity lease finance
Unsecured business loans
Secured property finance
How to go about getting a business loan from Bridging Finance
Whenever you're in need of any type of financing, there are procedures that you need to follow when applying.
These procedures involve you sharing personal and financial information for the lender to establish whether you qualify for the funding you're applying for.
Requirements for the application process
South African ID document/Smartcard of all members affiliated with the business
The last 6 months' bank statements for your business
All owners, members, trustees, shareholders, and the business needs a clean credit record
The application process in a nutshell
The application process is simple and takes only a few minutes to complete. On the Bridgement Finance homepage, you can navigate to the business loan section. From there you'll be presented with various options regarding different types of funding.
For the unsecured business loan, you can click on apply now which will direct you to the preliminary application form. You'll be asked to answer the following questions:
First and last names
Company name
Cellphone number, office number, and email address
Are you applying for a startup business
How long you've been trading and what's your annual turnover
Once you've answered all the questions, you can read the terms of service and privacy policy and click on agree. You may then click on submit if you're sure that you've answered all the questions.
How to know if your loan has been approved
Bridging Finance only uses email communication. Once you've submitted your preliminary application via the homepage, you'll be notified via email of the next step. If you don't receive an email from them within two days following your enquiry, your loan application was not successful.
You can however contact them via email to see if you can reapply under another business funding option they offer.
The benefits of partnering with Bridging Finance
There are many lenders to assist with funding
They assist you every step of the way
Reliability
Fast and efficient service
When you need funding fast, let Bridging Finance help you
Bridging finance has been helping people reach their full business potential with business loans and various other forms of business funding.
When you need a fast and reliable business loan, let them help you get the right funding at the right time. Become a part of their success story today by enquiring how they can help you.
Customer Reviews & Testimonials
"
March 2017
Taking out a loan with Bridging Finance was a lot easier than I had expected.
Brenda M
— Cape Town —
September 2018
I had no trouble applying for a business loan thanks to how simple the application process was.
Susan C
— Cape Town —
February 2019
Overall a great experience. I didn't feel like just another number but was treated like a person who needed assistance and they worked hard to give me that financial assistance.
Vinette T
— Johannesburg —
Bridging Finance Contact
Contact Number
not available
0866 033 843
E-Mail
Website
Physical Address
---
Postal Address
PO Box 1583, Wandsebeck, 3631, South Africa
Opening Hours
Monday

08:00 – 17:30

Tuesday

08:00 – 17:30

Wednesday

08:00 – 17:30

Thursday

08:00 – 17:30

Friday

09:00 – 17:30

Saturday

– Closed

Sunday

– Closed