Business growth
Instant cashflow solutions
Small business funding
In-page navigation
---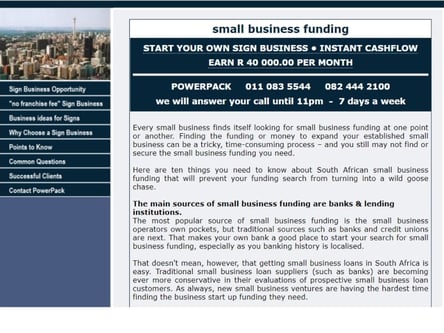 Author PowerPack. Screenshot of PowerPack website.


[Accessed January 31, 2023]
Power Pack - Everything you need to open your business
Get everything you need to open your business.
How often have you dreamt about making your hobby your job? How often have you envisioned your shopfront and all your stock in your store?
The time to make the change is now. If you have entrepreneurship running through your veins and are just waiting for the opportunity to take charge of your life, be your own boss and determine your financial future, then Power Pack could help you.
Experts in the business industry
Start your own business today and take advantage of instant cash flow and some high potential earnings. They want to help you develop your small business into a profitable one, where your hard work is rewarded. It's easy to get started, but the growth will take some time. Power Pack has been doing an astonishing job since they started in 1993. They have helped thousands of South Africans and can help you too to reach your dreams.
Get your start-up Business loan approved faster
At Power Pack, you can expect to receive a complete turnkey, "no franchise fee" business if you are an entrepreneur looking to get started. Their offer to you includes everything needed to get the business off the ground in no time.
We will help you start-up your business
At Power Pack, you are not obligated to pay any franchise or royalty fees.
However, a franchise sign company means providing you with equipment that could come with exorbitant costs for the use of their name and making it necessary to take out large business loans. Having that name could benefit you, but growing your own business through good-quality products is the key.
Save money and advertise
When you avoid the franchise route, you're saving heaps of money. With those savings, you could advertise your business better.
You are also in a position to do as you choose decision-wise with your business, whereas with franchises you are essentially hostage to their choices. You can develop at your own pace and in a way that suits your lifestyle.
Equipment and training for your staff
Don't expect to come across any hidden costs either, Power Pack just offers a once-off investment to get your business trading. Their offer includes required machinery as well as the training your staff needs in order to successfully get up and running.
With experience in the field since the year 1993, they understand what to provide and how to provide you with the blueprint for success.
PowerPack – Business loan
Benefits of PowerPack
Quick business finance
Apply online in minutes
Power Pack offers sound advice when it comes to small business funding
Sure, the only thing you're concerned with now is you and your business, but it's thanks to the lender that you'll be able to get started in the first place.
In knowing that, it's common practice to ensure that there's something in it for the lender – naturally.
This usually needs to be depicted in the form of a percentage rate of return. Ensure that when you draw up your business plan, this return on investment is clearly stated, and be certain you've chosen the best online lender to suit your needs.
Power Pack offers sound advice when it comes to small business funding.
Step 1:
Draw up a proper business plan. This is also something Power Pack can give you advice on. Don't even continue this journey without a solid business plan for your small business.
This plan is the first impression you give any lending firm when you wish to apply for finance. Your financials, objectives, cash flow projections, and staffing plan are all crucial for a lender to assess before even considering you for finance. This is always your first step, so take your time and do it right.
Step 2:
Contact Power Pack so they can put you in contact with a suitable lender that might be able to assist you with your start-up business loan.
Step 3:
You can then apply for your loan with a reputable lender while having the advice and guidance of Power Pack in your corner.
After you have elaborated the terms and desires that your small business will operate on and how everything is going to be put to use, you will need to convince the lender through your business plan that you are capable of repaying the business loan through the term of your new profitable business.
Step 4:
Upon approval, you'll need to sign the loan agreement to proceed with receiving the funds for your exciting new venture.
Another important rule – be prepared to contribute financially
Do you have assets? Assets that lenders will view as plausible collateral? If so, make sure that you are contributing these so as to secure the small business funding you're in need of. There are a number of government-sponsored small business loans and grants that demand an applicant contribution, even at times a small percentage of the business.
Banks can be sticky when it comes to the risks involved with funding certain ventures. That's why it's vital that you prepare adequately for your application for finance. As soon as a bank sees risk, they tend to turn down loan requests.
It's best to ensure you have your personal credit history in order before applying, a sound business plan, experience in the field in which your business is, and the feasibility of the business you're starting up or otherwise growing.
Capital needed to start my small business
An SME survives on cash flow. If you don't have this simple yet crucial aspect in place, you will struggle. Ensure you have a healthy start-up capital and request enough funds to invest wisely. A contingency plan is a fundamental plan to have in the event of an unforeseen issue.
Understand what the funds are for in your small business
Be prepared to provide detailed information regarding the use of each and every rand that you apply for. If it's required for staff or marketing, assets, etc., just make sure you break down all the funds alongside each of the required operations for your business.
Get all the help you need from Power Pack
Give Power Pack a call for them to guide you in the right direction in terms of the best business loan lenders in the country as well as answer all the questions you might have.
Benefits of having Power Pack in your corner
Proper financial and business advice.
Ongoing guidance.
All the tips and tricks to make your business a success.
Friendly staff that is always ready to assist with whatever it is you need.
Customer Reviews & Testimonials
"
September 2017
I almost gave up after battling to access the funding I needed to get my business off the ground. But when I heard about PowerPack. I'm so grateful to PowerPack for giving me the business loan I ...
Sello T
— Polokwane —
May 2019
I was really impressed with PowerPack's quick turnaround time.
Analine N
— Cape Town —
December 2018
The service I got from PowerPack was nothing short of outstanding! Fast, efficient and still very friendly.
Charmaine J
— Pietermaritzburg —
August 2021
No money can actually buy or replace the valuable guidance I got from them. They helped me a lot.
Baarman J
— Hanky —
September 2021
Their service is out of the ordinary and they have made it such a great experience to become a successful business owner.
Jean S
— Cape Town —
October 2021
I was stunned by their great service and all the great guidance I got from them.
Masego P
— Queenstown —
PowerPack Contact
Contact Number
E-Mail
Website
Opening Hours
Monday

08:30 – 17:30

Tuesday

08:30 – 17:30

Wednesday

08:30 – 17:30

Thursday

08:30 – 17:30

Friday

09:00 – 17:30

Saturday

– Closed

Sunday

– Closed