Easy online application
Competitive deals
Quick decision making
In-page navigation
---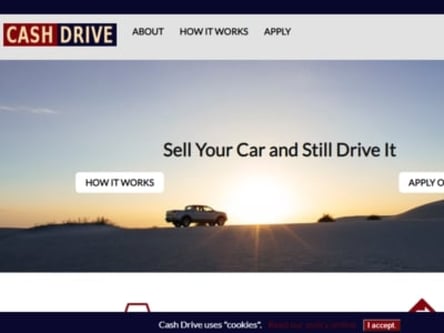 Author Cash Drive. Screenshot of Cash Drive website.


[Accessed January 31, 2023]
About Cash Drive
Cash Drive is a South African car seller company that will give you cash for your vehicle and still allow you to drive it.
They have over four decades of experience in the South African Motor Trade and a team of expert staff who are more than capable of helping their clients with their purchases.
Benefits of partnering with Cash Drive
They offer fast and tactful assistance with an emphasis on client privacy. They will not share your information with third parties.
Cash Drive ensures that their packages are tailored to allow the customer to purchase their asset back
There are no hidden fees, and they provide transparent communication at all times.
Quick receipt of cash
How the process works
In just a few easy steps, you can pawn your car for cash and still be able to drive it in Johannesburg. Pawning your car means that you use it as collateral to secure funds to assist you with any financial shortages you might be experiencing. The amount that Cash Drive will pay you for the vehicle is dependent on the car's resale value.
They will also take the vehicle's condition, mileage, and trade value into consideration before they make you an offer. Additionally, how old your car is and its service history are also factors. You will still be allowed to drive your car or another vehicle given to you by the company that is the same model as your car at a fixed monthly rental fee.
First, you can either apply online or contact Cash Drive, and they will call you back. You will need to provide them with details on your vehicle's make, model, and year. Make sure you have all the necessary documentation if you choose the online process.
You will need
Certificate of Registration in Respect of Motor Vehicle (RC1 document), which indicates you are the owner of the motor vehicle, your SA identification document
Your current driver's license, proof of address (from the last three months)
If you want to increase your chances further, bring along your service history book, which will increase the value.
Cash Drive Services
Once you have uploaded the relevant paperwork, a consultant will contact you about how to proceed.
Next, you will need to bring your car in for inspection and evaluation. They will then decide on a value that they will be able to give you for the vehicle. Once you review their offer and accept it, they will process the transaction, verify your asset, and transfer the money into your account. They will also install a tracker in the vehicle.
What you need to qualify for a pawn car loan
An essential requirement is owning an asset in your names, such as a motor vehicle (car, bakkie, motorcycle), boat, caravan, or even a tractor.
You must be the registered owner of the asset. As the legal owner, you must sign the appropriate paperwork and indicate which account the quick loan needs to be transferred to.
Your vehicle must be roadworthy and safe
Your car should already be paid off in full.
Documents: RC1 papers, driver's license, proof of residence.
The benefits of selling/pawning your vehicle
The most significant advantage to using Cash Drive is that you will still be able to operate your vehicle AND get the money you require.
If your cash flow has slowed down and you need money at short notice, you can get cash to afford those bills, develop your business, and more with Cash Drive.
There are no hidden costs, fees, or high-interest rates involved.
Since it is not a loan, there are no credit checks or affordability limits.
The car rental monthly fee is significantly lower than what a car rental service company would charge for long-term use. Additionally, Cash Drive includes insurance in the rental price.
Pawnshops in South Africa generally do not buy cars, so Cash Drive's services are even more competitive.
Benefits of Cash Drive
No hidden costs
Money is transferred into your account
Instant approval
---
Sell your car and still drive it with Cash Drive
With Cash Drive, you can get the money you need and still drive your car.
You will be able to rent your vehicle at a flexible rate per month until you can purchase the car back for the same amount you paid for it. This means you can access the money you are short on and carry on driving your car. The whole process is simple, beneficial, and hassle-free!
This is a quick and straightforward way to lend money to provide an easy solution to your financial problems at short notice. Sometimes it might be taxing to deal with traditional banks or official financial lenders. That is where Cash Drive can assist you.
Get cash for your car and still drive it
With Cash Drive, you can pawn a car and still drive it. This is a speedy way to get a lump sum amount without the burden of credit checks, weeks of waiting, and endless paperwork.
There are no restrictions on what you use the funds for, and you may use it for your small business or cover those unforeseen bills. Cash Drive is here to help you help yourself.
Customer Reviews & Testimonials
"
May 2020
It was the best decision we ever made. We sold our car with Cash Drive but could still drive it for an affordable rate! Special thanks to the staff for helping us get sorted so quickly. They were...
Thato, K
— Randburg —
June 2020
I would like to thank Layla from Cash Drive. She made the experience of selling my car so simple. She provided me with great advice and answered all my questions with patience and attentiveness.
Maria S
— Rosebank —
March 2020
Great customer service! Cash Drive helped me out when I was struggling financially. Their amazing team was so kind and understanding.
Letoya, B
— Krugersdorp —
Cash Drive Contact
Contact Number
E-Mail
Website
Physical Address
352A Ontdekkers Rd Florida Park

Roodepoort

1709

South Africa
Opening Hours
Monday

08:00 – 16:00

Tuesday

08:00 – 16:00

Wednesday

08:00 – 16:00

Thursday

08:00 – 16:00

Friday

08:00 – 16:00

Saturday

– Closed

Sunday

– Closed