Debt reset
Erase your debt
Apply online fast
In-page navigation
---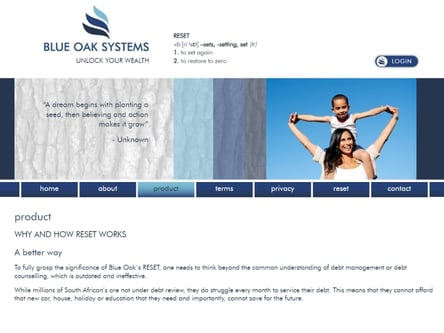 Author Blue Oak Systems. Screenshot of Blue Oak Systems website.


[Accessed January 31, 2023]
At Blue Oak Systems they have unique debt solutions
Blue Oaks Systems is a leader in its field when it comes to unlocking the hidden wealth in your debt portfolio. By collaborating with major stakeholders in the country, they've created automated software that's a first of its kind in South Africa.
What sets blue Blue Oak apart from its competitors, is its clever use of innovative technology and systems, which enables thorough reviews of your financial position. This full analysis of your debt portfolio enables you to decide on suitable lenders and creditors to approach for debt consolidation.
Innovative technology based on core values
Automation allows objectivity when reviewing a consumer's portfolio, and this info is directly sourced from credit bureaus in order to identify the best-fitting selection of creditors. The process is enabled through a focus on the following key areas:
Value-driven service.
Consumer awareness and financial education.
The promotion of responsible lending practices.
Empowerment of consumers to improve their own personal debt portfolio.
The application of innovative technology that unlocks optimal value for clients.
Getting to the core of your debt
Unparalleled in the industry, the company's software system provides its clientele with a full analysis of their debt portfolios. This enables them to unearth all your hidden wealth opportunities.
Blue Oak is dedicated to innovation in order to provide cutting-edge products and services, not only to its customer base but also to the debt consolidation industry as a whole.
Use their system to review your debt
Having an automated system to check in real-time if there are savings available in your debt portfolio, has proven to be a highly successful approach.
Review your debt in your own time
Previously, you were required to complete time-consuming applications and consult a variety of debt counsellors just to get access to information that they should have been - in theory - already privy to. Blue Oak takes the sting out of this laborious process by reviewing this information for you. The company can relate to your debt challenges. They now offer you the opportunity to dissect your debt information in your own time.
Reasons why Blue Oak is in a class of its own.
They offer:
A market-leading debt-review system that empowers you to take charge of your debt portfolio.
A private interface system that guarantees confidentiality and privacy.
The registration process is swift and secure.
The need for communicating personal information on your current financial status is eliminated.
The use of live software enables objective and analytical feedback from credit bureaus.
Through the selection of the best debt service providers, optimal savings are channelled directly into your pocket.
You'll enjoy the benefits of a user-friendly real-time interface that provides detailed analytics of your debt portfolio.
Value for the consumer
You have the freedom of operating from the privacy of your own home, from where you can obtain a full analysis of your debt situation and available debt consolidation loan solutions in just seconds!
Blue Oak Systems – Consolidation loan
Loan Type

Debt consolidation
Benefits of Blue Oak Systems
Debt reset
Online financial services
Erase your debt
---
At Blue Oak Systems they offer you a RESET on your debt
Apply named RESET, this online financial product has been specifically designed to provide you with tailored debt solutions from a variety of esteemed creditors. RESET will consolidate all your debts into one loan, freeing up more cash and allowing you to save monthly in ways you didn't even think possible. Regardless of the financial position you're in now, or the number of personal loans or credit cards you have, RESET is the perfect tool if you're serious about improving your financial position.
If you've been dreaming of elevating your lifestyle or gaining more financial freedom, RESET is the answer. If you're winding down at home right now after a hard day's work, unable to escape the burdensome realities of your financial situation, it's time to hit the RESET button on your finances and make things happen.
A calculated approach
When the time comes to consolidate your debt, you can easily miscalculate. You might also have been advised by a counsellor to settle your accounts in ways that don't always lead to the savings you had in mind.
The following example illustrates the value of RESET: "Pete" faced a total of R130 000 in unsecured debt. He managed to double his monthly savings by opting to settle only R56 000 of this amount. The effectiveness of the RESET software's algorithms in providing you with the right calculations clearly adds exceptional value to your debt-consolidation journey.
The true beauty of RESET lies in the fact that it doesn't only show you how much you can save, but it also leads you straight to the creditor who'll offer you the most value. The system calculates the cost of the new debt by taking important factors such as bank fees, interest rates, and additional admin charges into consideration.
Take the plunge
Starting over is no longer a pipe dream. By hitting the RESET button via the secure and easy online process, you'll be directed to an online loan application that'll put you right back on the road to financial freedom. The time is now.
Customer Reviews & Testimonials
No reviews for this business.
Blue Oak Systems Contact
Contact Number
E-Mail
Website
Physical Address
1st Floor, Pointbreak House, The Vineyards Office Park, 99 Jip de Jager Road, Tyger Valley

Cape Town

Western Cape

7530

South Africa
Opening Hours
Monday

08:00 – 17:30

Tuesday

08:00 – 17:30

Wednesday

08:00 – 17:30

Thursday

08:00 – 17:30

Friday

09:00 – 17:30

Saturday

– Closed

Sunday

– Closed