Debt relief services
Walk away debt free
Repayment up to 60 months
In-page navigation
---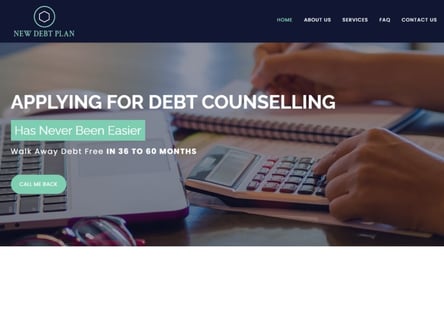 Author New Debt Plan. Screenshot of New Debt Plan website.


[Accessed January 31, 2023]
About New Debt Plan
New Debt Plan is a nationwide debt consolidation service provider. They are a whole lot more than that. The purpose of their existence is to be there for clients at times when their financial state has become overwhelming and unmanageable.
New Debt Plan is registered as a debt counselling company and its vibrant team of counsellors is also NCR registered. Compliance with these regulations and a firm knowledge of the ever-changing legislation relating to debt management keeps the company in the best position to effectively advise and successfully consolidate clients' debts into a single reasonable payment. A solid history of positive relationship-building with credit providers is another strength contributing to New Debt Plan's ability to eradicate clients' debts.
Our company mission
At New Debt Plan, the ultimate aspiration is to reach every single citizen of South Africa who is in over their heads with debt. There is much-needed education to impart about how to manage finances and debts. Also, information on laws surrounding debt as well as clients' legal rights, is not widely available and many are unaware of their options.
There are new ways to enable clients to conquer debt, and New Debt Plan wants to support and uplift clients with this endeavour. Striving for the highest quality service in a strictly confidential manner, transparency and trustworthiness are promised that New Debt Plan keeps. Experience and individual customer attention have taught the staff at New Debt Plan that anyone can easily become indebted to the point of requiring outside help. Registered counsellors understand all the aspects, and are committed to providing a courteous and honest experience without judgment. Clients are a top priority at New Debt Plan.
New Debt Plan Services
Clients can turn to and rely on the New Debt Plan to help make sense of their finances so that together they can begin organizing and analysing all details of the client's unique set of circumstances.
Candidates for this option often end up in situations where they are unable to make payments on time, are constantly contacted by debt collectors, or are living on half a salary to keep up with debts. Planning is based on clients' income, expenses, and the amount of debt owed. New Debt Plan deals with credit providers on clients' behalf to obtain optimum terms and rates per clients' affordability.
As opposed to a string of separate amounts that are awkward to track, the ultimate result is a single manageable payment. This is achieved without any additional loans, uncomplicating the client's budget, and preserving their credit score.
Your legal rights
Seasoned debt consultants advise clients on their legal rights regarding debt and the laws that apply. The first suggestion is to apply for debt counselling. Not only is this extremely beneficial to the client's wellbeing and offers a foundation on which to build confidence back up; but it has legal advantages too. Whether clients are blacklisted or have a bad credit score, there is still protection provided for by the law. Being engaged in debt counselling means that creditors are prevented from any form of legal action against the client. So clients may not be blacklisted or ordered to pay immediately. Their house and vehicle may also not be repossessed as under the National Credit Act.
New Debt Plan – Consolidation loan
Loan Type

Debt consolidation

Repayment

36 months to 60 months
Benefits of New Debt Plan
Get a structured budget plan
Consolidate debt into one affordable payment
Become debt-free with our service
---
Apply online today
There are a few steps in the application process that are important to stick to. Firstly, one needs to complete an application form, and provide their identification and last payslip.
This can be emailed or faxed. Secondly, a debt counsellor conducts an assessment of all your debts and their statuses. They will then contact the client for a few finalising details. The client should check carefully when feedback is provided on the results of the assessment, and be sure that they are comfortable with it. Once the client is satisfied, the counsellor will notify credit providers.
This initiates client protection from legal action. Then creditors supply a comprehensive overview of all credit agreements and balances owed. The next order of business is negotiating with credit providers, to obtain a fair and agreeable debt repayment plan. Consultants are adept at this and aim for the best terms in favour of the client. A duplicate of this plan is sent to the client. Lastly, the plan is to be made a court order via another application process on the client's behalf. This is so that it can be enforced by law and credit providers have to oblige.
In conclusion
New Debt Plan does all the leg work for clients and guides them along the way. Clients will be able to face their financial obligations with confidence. Their monthly repayments will be reduced, they will have more time to settle debts and improved cash flow. With their new budget drawn up and their debt repayment plan in place, clients can see a brighter future and achieve debt-free living. When all debts are settled then New Debt Plan presents clients with a clearance certificate – proof of their accomplishment – as well as contacts all creditors involved and having clients' credit record completely cleared. Clients will also once again be free to apply for credit in the future.
Customer Reviews & Testimonials
"
August 2020
I will never forget the kind and accommodating service at New Debt Plan. Thank you for holding my hand
Beauty R
— East London —
October 2020
I can't believe I am finally debt-free. I have a renewed zest for life thanks to New Debt Plan's awesome team.
Annelie V
— Cape Town —
April 2020
What a relief to have come across the New Debt Plan. I am confident in the plan that they helped me set out to take care of my debt
Bevan V
— Pretoria —
New Debt Plan Contact
Contact Number
E-Mail
Website
Physical Address
Suite 101, 1st Floor, 49 Main Rd, Bergvliet

Cape Town

7945

South Africa