Debt relief services
Lower rates and fees
Repayment up to 60 months
In-page navigation
---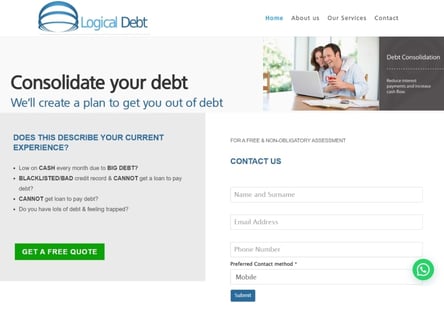 Author Logical Debt Solutions. Screenshot of Logical Debt Solutions website.


[Accessed January 31, 2023]
Logical Debt Solutions - Debt relief you can trust
At Logical Debt Solutions, they offer debt relief solutions to all South African citizens that struggle with debt.
The founding member has expert experience in finance and has been working in the field of debt management for over 6 years. With that experience, he has helped people with debt solutions like debt consolidation loans.
High-quality services
It is their belief that offering debt solutions are personal, and therefore they take pride in their qualified and NCR-registered debt consultants. They have a support team that strives to offer the highest level of debt counselling service throughout the South African industry of debt management.
They have excellent relationships with many creditors, therefore enabling the debt-solving process to be far better.
Their vision
Help and guide all South Africans currently struggling with debt, in the direction of leading a debt-free life!
They have the debt solutions for you
At Logical Debt Solutions, they offer only the best solutions and deliver them with the utmost care.
Debt counselling
The primary objective of the process of debt counselling is to improve your financial well-being. They are a registered debt counselling company and they fully comply with the National Credit Act's rules and regulations.
Reducing your monthly instalments means more cash flow available for you and your loved ones, and the immediate feeling of much-needed financial relief.
Debt management
This entails the management of your debt after signing with them. All your debt is taken care of by them on your behalf. They put an end to threatening calls from your credit providers and assist in negotiating a lower payment amount.
This enables you to have a decent repayment plan, ultimately resulting in you becoming debt-free within a period of 60 months. They correspond with you continuously, illustrating how they are managing your debt portfolio, thus putting your mind at ease throughout the process.
Debt consolidation
They take your debts and reduce them into one affordable repayment. Over-indebted individuals, as well as blacklisted or bad-credit individuals, can also apply for this consolidation loan through them.
They help you to draw up a new and improved financial budget that can easily enable you to have a sustainable lifestyle all the while repaying your credit providers!
Logical Debt Solutions – Consolidation loan
Loan Type

Debt consolidation

Repayment

36 months to 60 months
Benefits of Logical Debt Solutions
Reduce your debts into one
Affordable debt consolidation
---
Logical Debt Solutions - Follow their 7-step plan to become debt free
If you're like most individuals, you probably use up more credit over the holiday season. This might be to pay for gifts, food or even little getaways.
This type of increased credit in the form of short-term loans and credit cards can see families undergo some severe strain if they already have debt that they struggle with during the rest of the year. Making poor choices at this time of year can lead to a poor credit rating or credit score. However, there are things consumers can do to ensure that the overall cost of credit is kept to a minimum.
7 Tips on reducing credit costs
1. Opt for a short term
Longer terms might mean lower monthly instalments, but due to interest, you pay more in the long run. Opt for a short term and it will save you money.
2. Determine the cost of the loan
Low rates don't always mean you're getting a great offer. Consider how the loan term will affect how much you pay overall.
3. Make extra payments toward the debts
It's so easy to just meet the minimum on your credit each month, however, it can also lead you to spend more money than you really shouldn't be as a result. Try paying even a little more than you have to, every bit extra will make a difference. You'll pay the interest off quickly in this way.
4. Make all your payments
If you think you can't afford to meet a payment for a particular month, tell your lender. Missing a payment may potentially impact your credit profile in a negative way.
5. Don't pay late
Always ensure you pay your loan before the date it's due. Create a stop order to help you with this, then you don't have to remember to pay your instalments at all!
6. Reduce unnecessary credit limits
High credit limits encourage spending. It's psychological and it happens. Review all your credit card limits, including retail accounts, and if the credit is too high, reduce it now.
7. Budget
This is the money plan for your holiday season. Calculate all that you will need to spend money on this season, and once you have planned that out, you will at least know how much you need which ultimately means you can start saving to reach that figure.
Are you too deep in a debt trap? If you have done all that you can and still find you are struggling, it's probably time to consult a professional. Debt counsellors around the country won't charge you anything to sit down and talk about your finances, and if things are really bad they will advise you on the best way forward be it debt consolidation or debt counselling.
Customer Reviews & Testimonials
"
May 2019
I am so grateful to Logical Debt Solutions for helping me; I now have a loan that actually is feasible to pay.
Melanie M
— Port Edward —
April 2019
After applying for a loan with Logical Debt Solutions, my application was replied to on the same business day.
Gary M
— Cape Town —
Logical Debt Solutions Contact
Contact Number
E-Mail
Website
Physical Address
41 Berkley Rd Ndabeni, Pinelands

Cape Town

Western Cape

7405

South Africa