Reliable debt solutions
One easy payment
Better interest rates
In-page navigation
---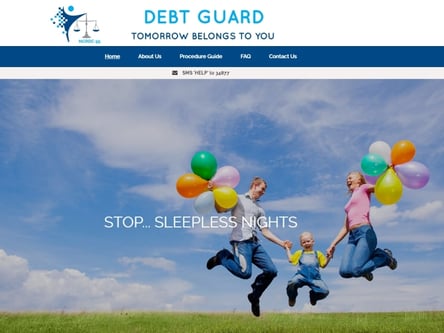 Author Debt Guard. Screenshot of Debt Guard website.


[Accessed January 31, 2023]
Debt Guard can help you become debt free
Established in 2016, Debt Guard works to provide the best solutions to all your debt problems while ensuring your interests are well looked after during the process.
They have a team of people ready to assess all solutions possible from counselling to debt consolidation, and continue to succeed in this industry by dedicating all their best efforts while doing so!
Let them help you choose the best service
It's not easy when you're drowning in debt and feel as though you have nowhere to turn, and that's why they feel choosing any one of their services will bring about that peace of mind and assist you in regaining control of your financial situation.
Debt Guard is there to assist you in getting your life back on track by rehabilitating your financial position from one of turmoil to one that you can be proud of again.
Let them help you regain control over your family and life once more, let's eradicate all debt stresses and burdens from your daily life and regain confidence in your finances.
They comply with the NCA
Not only do they have qualified specialists in the National Credit Act Bureau, but they also pride themselves in offering premium results when it comes to their debt review applications.
If you feel as though you have debt problems that you can't get out of, you're wrong, they have a solution for any problem you might be facing and apart from that they're also willing to listen to the issues you have and offer expert financial advice where needed. With qualified debt counsellors and legal practitioners, you'll find all the answers and guidance you need.
They're the number one choice for debt relief
At Debt Guard, they offer a 5-step process from debt to debt relief! Have a look below at what you can expect when you sign up with Debt Guard.
They have a 5-step plan to help you become debt free via debt counselling - keep in mind that a debt consolidation loan is also a viable option for some:
Step 1 Application process
An individual such as yourself will apply for a debt review with all the required documentation that usually goes hand in hand with such applications, namely income and expenditure, a certified copy of your ID, payslip and of course your account information.
Step 2 Notifying the creditors
After 5 days of the online loan application completed in step 1, your appointed debt counsellor will inform all your creditors of your application.
Step 3 Feedback from creditors
Creditors at this point verify the accounts by way of a certificate of balance (COB) which they issue to the debt counsellor. Once the debt counsellor has been through all the content of said COBs, he submits a form to the creditor notifying them that the debt review application has been accepted.
Step 4 Restructuring the creditor proposal
The debt counsellor is in a position now to conduct an affordability assessment, which assists in determining the amount affordable for the consumer to repay the South African creditors.
Step 5 Legal protection
A court order ensues, and a binding agreement is signed off by the court, and all that remains is an annual review between counsellor and consumer to ensure that all protocols are being followed.
Debt Guard – Consolidation loan
Loan Type

Debt consolidation
Benefits of Debt Guard
Financial planning
Reliable debt consolidation loans
---
Debt Guard will help you get control over your finances
But how do you know if you even qualify for a debt review with Debt Guard?
It's quite simple, once you've appointed a debt counsellor, he needs to ascertain the level of debt you have is at a point that constitutes undergoing a debt review. He'll do so by means of reviewing your monthly income vs expenses, but leave it to him, he'll tell you after one consultation!
Will you still be able to access other forms of credit?
Unfortunately not, due to the NCR being informed of your debt review, all major credit bureaus will not be permitted to lend you any further credit to prevent you from incurring any new debt. This includes personal loans and credit cards or any other form of credit.
Are your credit agreements with the creditors lawful?
Your debt counsellor assesses the agreements himself to ensure that there's nothing unlawful about them. He'll examine all the details and the fine print and protects you from any potential reckless lending that might lead you to further indebtedness.
You'll receive a statement monthly stating all the payments that have been made so far to your creditors. In the case of debt consolidation loans, a different process will apply to you.
Apply today
Call them or alternatively fill in their online "return call request" form and someone will be in touch with you in no time at all! SMS "HELP" to their text line at 34877 and an agent will contact you!
Customer Reviews & Testimonials
"
May 2019
Thanks to Debt Guard, I know have a reasonable credit plan that I can actually afford to pay.
Freddie M
— Vanderbijlpark —
December 2018
I was impressed to see there are still consultants that go out of their way to assist their customers.
Zelda M
— Middleburg —
Debt Guard Contact
Contact Number
E-Mail
Website
Physical Address
7 Cleveland St, Boston, Bellville

Cape Town

Western Cape

7530

South Africa