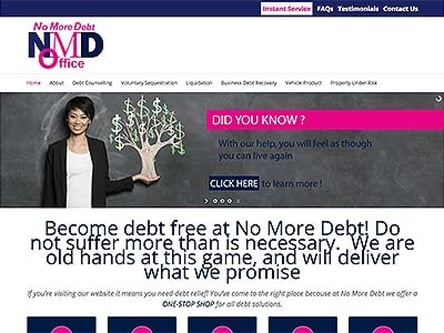 Author No More Debt. Screenshot of No More Debt website.


[Accessed January 31, 2023]
No More Debt is a trusted credit provider
If you're drowning in debt you've come to the right place!
They pride themselves on their honesty and complete transparency when it comes to ridding you of your debt issues. Their convenient one-stop-shop offerings ensure that no matter the type of debt you're facing, they have a service for you!
They have a great reputation
With a number of skilled professionals on their team, they have taken the company from strength to strength, landing them with the reputation of one of the top three debt consultancies in the country as well as having the upper hand in the Voluntary Surrender of Estate.
If you don't believe them, just refer to some of their online client testimonials. Over R2.7 billion has been dealt with since No More Debt was established, and in that time, they have helped over 100 00 clients with consolidating debt and counting. You too could be a part of that number.
Services they can assist you with at No More Debt
Voluntary surrender of estate
Repurchasing your vehicle
They can assist you if you answer yes to any of the following questions
Struggling with monthly repayments?
Left with no money at the end of the month and surviving on personal loans and credit?
In the process of cancelling life policies or insurance?
About to fall behind on your debt repayments
Are you about to lose your house?
Are you about to lose your car?
If you answered yes to any of the above, it's clear that you need No More Debt's assistance. Being one of the market leaders, they have strong contacts and relationships with other businesses in the industry and give you their word that no matter how big or small your problem is, they've got it covered!
Get your free consultation today
They specialise in a number of facets of debt consolidation, but if you're unsure of how they can help, just call their contact centre (012 648 8800), and they'll give you a free consultation. They'll assess your needs and then offer one of many highly successful services.
Debt counselling
You've got debt – they can reduce it with a debt consolidation loan! They'll take your interest rates and reduce them by 99% and go further to reduce your monthly payments by 100%! You no longer need to fear debt when you go through them because they'll also make sure you're paying between 30% and 60% of your current monthly instalment. Not only do they avoid all the nasty credit issues that could come your way, but they will also counsel you to avoid such habits from creeping up in the future.
Voluntary sequestration
If you find yourself in a position where you're about to sell out, they'll make sure that you go about declaring yourself insolvent in the correct manner via the protocols of the Insolvency Act. This will assist you as it will set up your near future by helping you achieve complete relief of debt and the chance at financial freedom in just 4-5 years!
Liquidation
Sounds scary, but it doesn't have to be. Going from one business venture to another is how they like to view it, and all your risks will be managed from start to finish. A new business plan will be the core focus and they'll guide you where it's needed. Liquidation is a fairly quick process and has been known for being completely resolved within 2 weeks.
Vehicle product
Is your vehicle about to be repossessed or otherwise already has been? They offer a service where they will purchase a vehicle for you. The car finance on this deal is the same as what you will find at any bank that offers vehicle financing. How is it different then? Well, the primary difference is that they don't take your credit score into account, but rather look at other factors that help them both in this case.
Property stress
Many individuals are under pressure when it comes to affording their property loans. They will help you through this time and make sure you don't lose it, or otherwise assist you if you already have.
No More Debt – Consolidation loan
Loan Type

Debt consolidation
Benefits of No More Debt
Debt couselling
Debt consolidation
Debt review & administration
---
No More Debt will help you regain your financial independance
They will help you become debt free and stay debt free. They offer you a long-term solution to help you get rid of overwhelming debt.
Apply Now!
They come highly rated by their clients and as mentioned before, they are one of the top three companies in the country for your debt needs. With interest rates that will blow you away, No More Debt is the answer!
Contact their call centre right away and request a free consultation with one of their skilled consultants at 012 648 8800. Or alternatively, fill in the form on their website with some detailed information and they'll get a consultant to call you back! If you want to go ahead and get started, they have a downloadable online loan application form which you can fill in and send through to them right now!
If you find your monthly income is not going to cover your expenses any longer and you could be in danger of defaulting on your credit accounts, this is the time to apply. Alternatively, if you have already started cancelling policies and such, and need a way to get back on track with those necessities, it's also the right time to apply.
Get your free consultation
If you can't make it to their offices or don't have time for an actual sit-down meeting, they can assist you over the phone or even via email if you prefer. That way, it won't matter where you are based, you will still have exclusive and detailed advice on a way forward with remote assistance. Bear in mind that the legal documentation for the application is still required regardless of how your meeting transpires.
How soon will your financial burden be lifted?
Immediately! Right from the first month, you can expect to feel relief and along with that, you'll have a fresh guideline and budget to manage going forward. For two months from registration, they will be finalising accounts with your creditors and you'll only be liable for one monthly instalment in the form of debt consolidation until you are debt free!
Any other questions you may have before getting started, they would be happy to answer if you reach out to them. The main thing is getting started! Their friendly staff will set the ball in motion once you give them a call, so go ahead and call now!
Customer Reviews & Testimonials
"
April 2019
No More Debt ensured that my debts become minimal and affordable.
Nicholas P
— Stellenbosch —
April 2019
I am so happy I chose No More Debt to assist my financial status. I have been debt free ever since!
Tabitha K
— Pietermaritzburg —
May 2019
It was through the assistance of No More Debt that I started enjoying my hard earned salary. Everything was a nightmare before.
Kagiso P
— Katlehong —
No More Debt Contact
Contact Number
E-Mail
Website
Physical Address
Block A, Einstein Park, 3 Einstein St, Highveld Techno Park

Centurion

Gauteng

0157

South Africa
Opening Hours
Monday

08:00 – 16:30

Tuesday

08:00 – 16:30

Wednesday

08:00 – 16:30

Thursday

08:00 – 16:30

Friday

08:00 – 16:30

Saturday

– Closed

Sunday

– Closed