Lower fees
Free assessment
One affordable payment
In-page navigation
---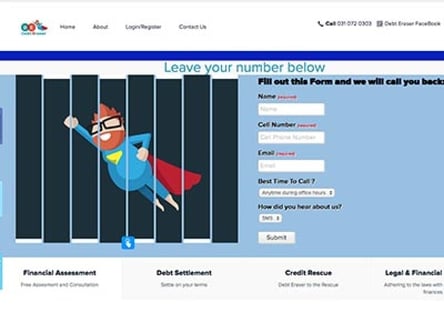 Author Debt Eraser. Screenshot of Debt Eraser website.


[Accessed January 31, 2023]
Debt Eraser - The leaders in debt review
With over 15 years of experience, Debt Eraser is the leader in the debt consolidation industry in South Africa.
They were established in 2001, and they've helped thousands of clients to get their finances in order.
In a country where increases are lower than inflation, the average household cannot keep up. So, what do they do with this unfortunate reality? They spend using their credit cards and apply for personal loans which causes debt to pile up and then consolidation is needed.
Complying with the NCA
Debt Eraser complies with the National Credit Act, but they also pride themselves in offering premium results when it comes to debt consolidation applications.
If you feel that your debt is getting the best of you, they have a solution for any problem you might be facing. With qualified debt counsellors and legal practitioners, you will find all the answers and guidance you need.
How the Debt consolidation process works
It's a very simple process. Your appointed debt counsellor will establish the level of debt you have and review your monthly income against your expenses. They'll then assist with a suitable solution for your situation.
They can help you consolidate your debt
They make use of privacy procedures that'll guarantee that your personal details are secure.
Their safety procedures will ensure that their database is safe from anyone outside of the company and that your information is not shared with anyone.
At Debt Eraser they pride themselves on delivering quality service and they constantly strive to:
Conduct all their encounters and processes with honesty and integrity.
Be ideal listeners and find solutions to the best of their ability.
Adhere to the National Credit Regulator and Debt Counsellors Association of South Africa.
Always remain ethical and free from discrimination.
Respect their clients by offering confidentiality in any situation brought forward.
Easy to use the loan calculator
Visit their website and make use of their loan slider to calculate how much your loan will cost as well as how much you'll be expected to pay in interest. It is easy to use, and you'll see immediately what costs are involved.
Key Debt Eraser facts
NCR approved.
Their consultants are professional and highly skilled.
They offer a personalised service.
Competencies in the debt review process.
Building valued relationships with multiple creditors.
Guaranteed first-class service.
Confidentiality is a priority.
You can apply online for debt consolidation.
Debt Eraser – Consolidation loan
Loan Type

Debt consolidation
Benefits of Debt Eraser
Reduced fees and interest rates
Free debt assessments
One affordable monthly repayment
---
Debt Eraser's mission goes beyond the call of duty!
As a client of Debt Eraser, you'll experience the satisfaction that goes along with their goals to ensure you get back the freedom you once lost due to debt. With support all day and all year, their staff are there to lend a helping hand with all your debt requirements.
Debt Eraser has a 10-point guide that defines what it means to them to provide the best service for each of their clients.
Spread the news – They do so by running advertising campaigns across social media and digital media.
Assessment is key – To assess the financial situation for over-indebtedness and proceed by offering a solution.
Negotiate – Allow for negotiation with credit providers for a new credit agreement.
That's an order – To attend court to ensure that the newly proposed credit agreement is approved by the magistrate's order.
Your home – The Magistrate's Order will cover the protection of your most prised possession, your home.
Aftercare sessions – Assist by educating clients on budgeting and financial planning and understanding all fees.
Active management – To manage the client's income by ensuring that they can afford the monthly repayment but maintain this affordability during the consolidation plan.
Time to consolidate – To identify a correct method to consolidate the debt and where possible assist with cutting interest rates.
Transparency – To provide full disclosure of how they aim to rehabilitate their clients and settle their creditors.
Maintaining a good credit record – To guide and maintain a good credit record and assist to restore their clients' well-being and good ratings at the credit bureau.
Benefits when you apply for a loan at Debt Eraser
Free and confidential assessments.
Affordable monthly repayments.
Legal protection from creditors.
A clean slate in the finance industry once declared debt-free.
You will receive a clearance certificate from the credit bureau.
It can be difficult when debt is getting the best of you, but Debt Eraser will have the perfect solution for you. They'll assist you in regaining control of your financial position. With them, you'll be able to get your life back on track by rehabilitating your financial position and regaining confidence in your finances.
Customer Reviews & Testimonials
"
February 2021
Debt Eraser keeps its promises to follow up on problems and makes sure it gets resolved. They always gave me feedback on my progress and offered me advice when I needed it.
Roberts C
— Beaufort West —
March 2021
I just want to use this opportunity to say thank you to everyone I dealt with at Debt Eraser. They were always very professional and kind.
Heath L
— Hartswater —
June 2021
I have less stress and no fear of answering the phone. Thank you for making my life so much easier.
Bengu V
— Ventersdorp —
Debt Eraser Contact
Contact Number
E-Mail
Website
Physical Address
183 Klaarwater Rd, Shallcross

Durban

KwaZulu-Natal

4093

South Africa
Opening Hours
Monday

07:30 – 17:30

Tuesday

07:30 – 17:30

Wednesday

07:30 – 17:30

Thursday

07:30 – 17:30

Friday

07:30 – 17:30

Saturday

07:30 – 17:30

Sunday

– Closed