Debt consolidation up to R120,000
Online approval
Blacklisted loans
In-page navigation
---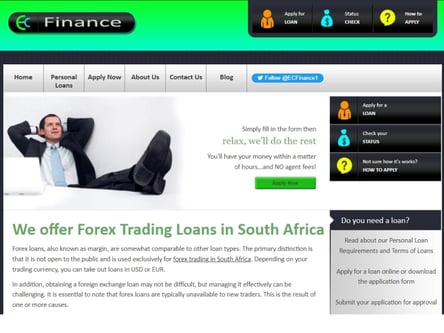 Author EC Finance. Screenshot of EC Finance website.


[Accessed January 31, 2023]
EC Finance - They have a hands on approach
At EC Finance, they aim to be the number one choice when it comes to financial loan service providers. They're currently serving in the debt relief industry for seven years.
A primary factor that sets them apart is that their company is owner-run, which means that there is always a passionate and invested "hands-on" approach when it comes to how they handle their business with clients.
They affiliate with reliable credit providers
Their affiliation with a vast amount of SA credit providers simply means that they're able to deliver credit through online platforms at flexible offers for terms that consumers would be thrilled about which in some cases is up to 60 months! These offers range from R1 000 to R120 000 for the medium-income sector.
They have affordable loans
Ensuring you get affordable consolidation loans that suit your needs in a professional and well-serviced way is something they strive to achieve in their everyday business. You come first, and making you a priority is why their clients leave happy and most importantly debt free!
EC Finance's mission:
To be the top financial loan service provider in South Africa, that financially struggling consumers with poor credit records can depend on, to lead them to the path of total debt relief and financial freedom!
Their online application is easy and convenient
Applying with them has never been simpler and not only can you do this online from the comfort of your own home, but you'll have access to your money on the same day you apply! Sounds too good to be true, but in this instance, it's not, provided you have all the necessary documentation and meet the criteria for a loan application, you can apply today and start feeling relief today!
You can become debt free
They supply all South Africans with a personal loan service and they strive to help you become debt free.
They keep hearing how clients are being turned away from large lending institutions like South African banks when they are struggling with debt. If this sounds familiar to you and you're still in dire need of assistance, then EC Finance is the company for you!
Do you qualify for a loan?
There are a number of ways to see whether you actually qualify for a debt consolidation loan with them and one of them is a loan calculator. You'll be able to navigate to this handy tool on their website where you'll be able to get a rough estimate of what figures you can expect to receive as a loan amount.
Once you're comfortable that it'll assist you to get a loan from them, they'll be going through the process and figure out a lot more in detail to meet your exact needs.
Apply today!
Don't look any further if you're ready for loan assistance! Their flexible and comprehensive loan product range will have you eager to get on board. All it takes is a few minutes to complete a quick loan application and they'll be tailoring a suitable package for you.
How long does it take?
Glad you asked. We'll be able to give you feedback in the form of a simple "approved" or "rejected" response within 6 hours of your onlne loan application. And if approved, is the feedback you receive, you can expect a payout the very same day!
Same day payouts
You've applied for your personal cash loan, and it got approved, and now all that's left is the payout. This could potentially be paid directly into your account the very same day. On a weekday between 08:00 and 15:00 you could even have access to your money in a few hours!
If, however, you apply after 15:00 on a weekday, you will have money in your bank by 08:00 the following morning. On weekends or public holidays, you can expect your loan money the very next business day.
EC Finance – Consolidation loan
Loan Type

Debt consolidation

Loan Amount

up to R120,000
Benefits of EC Finance
Loans from R1 000 to R120 000
Easy online approval
90% approval rate
---
AT EC Finance they're the leaders in the financial industry
Not only can you compare any interest accrued during stages of the loan, but you'll also be able to do so with the total cost of credit on the agreed rate and at any time. This will give you an idea of the savings you could enjoy if you make your full credit repayment before the agreed-upon time.
Flexibility is their priority for you
As a client of EC Finance, you'll always be in control of the go-ahead on the loan amount. No one at their company will attempt to offer more than the amount you require, even if you qualify for more.
They ensure that you're lending responsibly, based on the thorough credit checks they'll conduct before loaning you any money.
Honesty is their number one policy and they assure you that they deliver on all their promises!
They're transparent in their services
Don't have sleepless nights on all the hidden costs that might pop up after you've signed on the dotted line. They ensure that all their clients are fully aware of the fees and cost upfront. Once these have been discussed and signed off, no additional charges are added.
They have a fixed interest rate, you won't need to worry about them changing your interest rates during the term of the debt consolidation loan.
Selectivity
The credit bureaus used by their chosen service providers guard against any potential fraud and always make the ideal decisions when it comes to the loan amount and the circumstance of the consumer.
Should your application be rejected by EC Finance, they'll still go out of their way to educate you with as much information as possible as to why this rejection occurred and even offer sound financial advice on how to go about getting prepared for your next attempt at a loan application.
They're aware that circumstances can change, and when they do and you return to apply with them, they won't refer to any data from the initial application, it is seen with fresh eyes and a brand-new review is conducted.
They always play fair
You'll always be presented with a clear warning regarding the nature of credit and of course, the potential consequences that one could face due to late or non-payments on a long or short-term loan.
If anything in your financial situation worsens, as one of their clients, you'll be treated fairly and respectfully.
A loan term extension will always be done only upon you agreeing or allowing this to occur during the loan term. They will not do anything without your permission.
They encourage complaints and suggestions as they definitely aim to eradicate any issues or assist where necessary.
Customer Reviews & Testimonials
No reviews for this business.
EC Finance Contact
Contact Number
E-Mail
Website
Physical Address
Victoria St

Zoo Park

Cape Town

7570

South Africa
Opening Hours
Monday

08:00 – 17:30

Tuesday

08:00 – 17:30

Wednesday

08:00 – 17:30

Thursday

08:00 – 17:30

Friday

09:00 – 17:30

Saturday

– Closed

Sunday

– Closed