Reduced repayments
Free consultation
Consolidate your debt
In-page navigation
---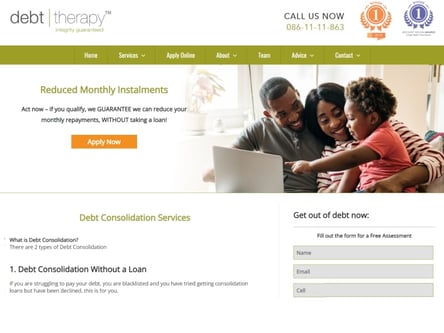 Author Debt Therapy. Screenshot of Debt Therapy website.


[Accessed January 31, 2023]
Debt Therapy is your trusted debt counseling partner
Debt Therapy will help you to get rid of your debt in no time.
They are the first company that has been offering debt consolidation in South Africa since 2007.
Personal service is important to them to ensure that you have a seamless experience. The greatest part is you will receive your own dedicated debt adviser to advise and help you through the consolidation process.
The Debt Therapy team will work hard for you
Debt Therapy has a hard-working team that each plays a vital role in the process of your debt consolidation. The departments comprise an IT team, accounts, sales, admin, and legal team.
They are partnered up with most of the credit providers in SA, to get you the fairest negotiations and give you the most amazing service.
Complete protection of information provided
They will offer you free advice and consultations and it will be a rapid process from start to finish when you apply for debt consolidation. They also take confidentiality very seriously and can assure you that your debt problems are in excellent hands.
If you have any questions or need any help, you can get in touch with them or fill in an online form and an experienced agent will contact you.
You can become debt free
Debt Therapy will offer you the most simple and effective way to get out of debt.
A good credit record will count in your favour
If you are not blacklisted and have a good enough credit record then a debt consolidation loan could be a good option for you. This is only a quick solution and you will need to resist the temptation of applying for more debt as credit becomes available to you again. This can happen time and again until you finally fall into a debt trap that can no longer be rescued with a debt consolidation loan.
An experienced lender
They have the experience to listen to your financial problems and help find a solution that fits your requirements. You will be shown the fastest possible way and still, ensure that you can live day to day without the stress of wondering how to pull through.
The debt counselling process
All your current accounts, expenses, and monthly repayments are assessed. After a full review, the amounts are all consolidated into one monthly repayment that is affordable for you while you will still have access to money for your daily necessities.
This method not only suits your wallet but keeps your creditors happy as well. New terms are negotiated, and you benefit from the best interest rates in the business.
Debt Therapy – Consolidation loan
Loan Type

Debt consolidation
Benefits of Debt Therapy
Debt review
Financial advice
Debt counselling
---
Use their 5-step debt management plan to become debt free
If you're ready to take the leap, the first bit of advice is to make sure you choose the best debt counsellor and then follow through on the effective 5-step debt management plan.
Complete an online application
Complete the online loan application form and in no time a friendly and trustable Debt Therapy Agent will be at your service! Make sure you have all the necessary information and a list of your income and expenses.
Get protection against legal orders
Immediately get started on your new reduced consolidated repayment. Your debt counsellor will work out a budget for you.
Start the payment plan
Continue paying your newly revised repayment and ensure that your creditors are aware of your efforts and commitment to repaying the debt completely.
Finalise the repayment plan
The final repayment is a negotiated figure with your creditors and will be disclosed to you once agreed upon.
Debt repayment plan converts to a court order
A court order will be issued, which is the final stage before financial freedom. A specialised legal consultant will present the payment plan on your behalf.
Follow these easy steps to choose the correct counsellor
Ensure they are official and registered with the National Credit Regulator.
Inquire about their term in the debt consolidation business, and check the company registration number if you want to see validation.
If their group consists of less than ten team members, it might indicate that they're not as established, or well-connected as other firms might be.
Ask whether they have a legal department or access to lawyers. With the amount of potential legal work on any given contract, this information is vital.
Ensure you are dealing with a counsellor directly and not through a third-party site or person
Ask questions if you feel unsure like query fees, terms, debt reviews, and everything that you feel is important to make your decision.
Research whether they are reputable.
If you need help resolving your debt problems, act now! You can be assured that Debt Therapy will help you to regain a good credit record and rid you of your debt situation.
Benefits when you apply for a loan at Debt Therapy
Free advice and debt consolidation
A quick and easy process.
You can have complete confidence that your matters will be kept private.
Consolidate your debts into 1 easy, reduced payment without taking any further consolidation loans.
Legal protection from creditors.
Affordable monthly repayments.
Access to instant cash in your wallet.
Ability to become credit-worthy once again.
Customer Reviews & Testimonials
"
May 2021
I just want to use this opportunity to say thank you to everyone I dealt with at Debt Therapy. You guys were always very professional, and you are absolute lifesavers. As far as I am concerned yo...
Botha A
— Nelspruit —
June 2021
I just want to say thank you from the bottom of my heart to all of you at Debt-Therapy You never disappointed me and you paid my creditors every month. Because of you, I am debt-free today.
Jantjies T
— Mpumalanga —
July 2021
I would like to thank you once again very much for your kindness and help. The Dept Therapy agents are such a bubbly group and they are a pleasure always to speak to.
Naidoo R
— East London —
Debt Therapy Contact
Contact Number
E-Mail
Website
Physical Address
Unit 9, 1st Floor, Time Business Park, 37 Blaauwberg Rd, Table View

Cape Town

Western Cape

7441

South Africa
Opening Hours
Monday

08:00 – 17:00

Tuesday

08:00 – 17:00

Wednesday

08:00 – 17:00

Thursday

08:00 – 17:00

Friday

08:00 – 17:00

Saturday

– Closed

Sunday

– Closed