Credit Salvage Corporation SA
Credit clearance
Credit reports
Free debt assessment
In-page navigation
---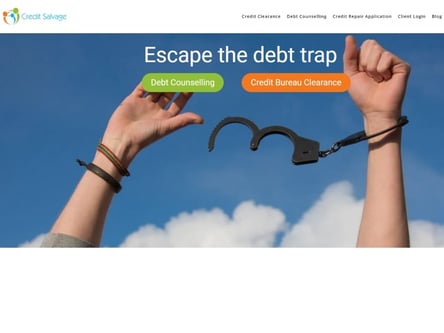 Author Credit Salvage Corporation SA. Screenshot of Credit Salvage Corporation SA website.


[Accessed January 31, 2023]
Credit Salvage – Let them help you become debt free
Credit Salvage has been around for years and has amassed a stellar reputation during this time for assisting South African citizens with their financial challenges. They offer a range of services to get you back on the road to financial well-being in no time.
If you find yourself in a compromising financial position, it's time to source the right professional assistance to enable you to meet your monthly commitments. Credit Salvage will turn your debt around through its range of specialised debt counselling offerings and suggestions on debt consolidation.
Protection against creditors
At Credit Salvage, you'll receive instant protection from your creditors for up to 60 days, in line with the terms of the New National Credit Act (NCA) through debt counselling. Once they've negotiated on your behalf, you'll get the lowest possible interest rate. You'll also enjoy the peace of mind that your financial well-being is being taken care of.
Smaller debts, such as short-term loans and credit card debt, can be converted into one affordable instalment that won't only leave you smiling, but will also supplement your wallet at the end of every month! Don't believe it? Well, it's true, they can reduce your monthly repayment up to 60% of what you're currently paying after they're done with negotiations.
Legal ITC clearance and credit clearance
If you're blacklisted on ITC, don't fret as this can be reversed.
If you can benefit from an improved credit score, and you are ready to commit to doing what it will take to turn your financial situation around the Credit Salvage Corporation programme will enable you to prove to your creditors that you a ready to take responsibility for your financial choices again.
There are, however, a few simple steps to put this ITC clearance in the rear-view mirror of your financial life. The idea is to clear this poor credit record and furthermore get a good credit score again. With their help, you'll be able to access loans and credit facilities once again!
The first step you need to take is to register for credit clearance with Credit Salvage. The next thing is to obtain your credit report from the credit bureau and begin erasing your poorly accrued record.
Credit reports
Comprehensive credit reports are just another offering they have for their clients. This means you can actually financially manage your consolidation loan in a far more improved way, and credit repayments are easier to handle efficiently.
The company offers a credit clearance service plan.
You can apply online for this service. It includes:
A full analysis of your credit profile and credit scores. They approach credit bureaus on your behalf.
Credit clearance and debt review removal services.
Profile monitoring after the ITC clearance.
Credit Salvage Corporation SA – Consolidation loan
Loan Type

Debt consolidation
Benefits of Credit Salvage Corporation SA
Become debt free
Reliable debt consolidation loans
Lower interest rates
---
The benefits of using debt consolidation with Credit Salvage
Not only do they negotiate on your behalf to receive the lowest possible interest rate, but they also handle all the queries from your creditors as well.
Their service is fast and efficient and they'll educate you with every detail every step of the way.
Let the professionals help you
Their professional team of staff is ready to offer you a lending hand in a caring manner and help you avoid the dreaded debt trap that you were closely approaching. They also aim to extend your repayment period almost immediately and reduce the high rates that come along with other South African lenders.
They'll protect you from becoming blacklisted if you sign up through Credit Salvage, and they'll deal with your creditors and debt collectors to ensure this.
So, put an end to the angst, and phone them! Once you do, you'll be on your way to living a life that's debt free!
Professional advice
They offer professional advice and assistance throughout the entire process and have a far better chance of success due to the relationships that they have with creditors. You can expect detailed statements each month in terms of the NCA. They also offer a variety of additional services to aid with other needs during the debt counselling process.
A dedicated and experienced consultant will offer you key pointers throughout the debt counselling/ debt review process.
The values at Credit Salvage are based on transparency, honesty, social responsibility and caring for others. These characteristics form part of the core of their business and it's the only way in which they endeavour to provide their service. They offer honest and transparent fees, strictly in line with the National Credit Act and offer regular correspondence during the debt counselling process.
So, don't feel embarrassed in taking this approach, rather take action and clear your name now in a legal way by applying for debt consolidation and debt review.
Customer Reviews & Testimonials
No reviews for this business.
Credit Salvage Corporation SA Contact
Contact Number
E-Mail
Website
Physical Address
63 North Road, Linden Extension

Randburg

Gauteng

2194

South Africa
---
Postal Address
PO Box 5725, Cresta, 2115, South Africa
Opening Hours
Monday

08:00 – 17:30

Tuesday

08:00 – 17:30

Wednesday

08:00 – 17:30

Thursday

08:00 – 17:30

Friday

09:00 – 17:30

Saturday

– Closed

Sunday

– Closed