Expert debt advice
Buiness rescue
Lower interest rates
In-page navigation
---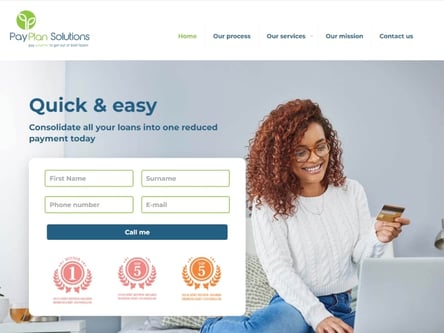 Author Pay Plan Solutions. Screenshot of Pay Plan Solutions website.


[Accessed January 31, 2023]
At Pay Plan Solutions they have a unique approach to help you with debt
Pay Plan Solutions has a unique approach to helping people with debt consolidation.
They've been helping individuals overcome their financial strain since 1999.
If you're struggling and considering cashing in your life policies just to make ends meet, Pay Plan Solutions is the answer. Debt counselling is one of several services they offer and they pride themselves on making sure that they have tailored a well-structured debt plan for your individual needs.
They have a well-rounded reputation
The head of the company, Mr Eugene Cilliers, is a current member of the Debt Counselling Association of South Africa. He has also spent the last decade serving on the National Executive Committee.
Having a frontman with these accreditations has resulted in Pay-Plan solutions and establishing a well-rounded reputation.
A description of debt review
All your debt is combined into one easy payment
A great way to improve your credit score and get a clean credit record
A budget will be put in place to help you manage your plan for daily living expenses
It assists you to get rid of your debt much faster
You will be protected against the repossession of your assets
A better financial future
Consolidation loans
If you're overwhelmed with the number of accounts you're trying to manage daily, debt consolidation may be the best solution. You'll have access to extended repayment terms which will, of course, result in lower repayments and all at a far lower interest rate than what you're currently paying.
Debt counselling is the solution to overwhelming debt
Pay Plan Solutions can help you easily get out of your indebtedness, and they'll strive to keep the consolidation process fair and transparent.
Your assets will be safe
Often financial advisors will suggest bankruptcy as an option to start again with a clean slate. When you find yourself in a position where your liabilities have come to exceed your assets, then it's very difficult to get to a point of financial freedom.
With them, there are ways to go about repaying your debts without losing your assets and still seeing some light at the end of the tunnel.
A user-friendly website
On their website, you'll find all the services that they offer to their clients in need of consolidation. They also outsource their debt consolidation products to other registered financial companies that are the best in the business where needed.
If you have any questions about their services or how to get started, they have a call centre that you can contact and one of their friendly consultants will assist you.
The financial wellness programs
Pay Plan Solutions have customised programmes to offer financial wellness to suit many of the major banks in SA like ABSA and Nedbank. They are also involved in sharing this free financial wellness among names such as the Spur Group and Multichoice to name a couple.
If you want to receive the best financial advice, you should consider attending one of their wellness power lunch workshops. At these launches, they give talks on several interesting and necessary topics that will assist you in your financial situation.
Pay Plan Solutions – Consolidation loan
Loan Type

Debt consolidation
Benefits of Pay Plan Solutions
Reduce your debt
Expert advice and guidance
---
They'll guide you to financial wellness
Turn to Pay Plan Solutions for your financial requirements. It's free and you should try it! They'll help you to fully understand your financial situation and will give you the advice to make the needed changes in order to be debt-free.
Follow these easy steps to apply
Fill in the online loan application form for a free, no-obligation assessment.
Do a credit report It is important to know exactly what your credit report says about you.
Create a new manageable repayment plan.
Make a reduced payment each month.
Clear all negative information on your credit report. This will give you an improved credit score.
Pay Plan Solutions is registered with the NCR
Being registered with the National Credit Regulator means that they're aligned with strict and enforced codes of conduct. This process gives them the opportunity to ensure that they are happy as well as their clients. In abiding by stipulations of the NCR, they can avoid the Magistrates court process and rather submit applications via the Consumer Tribunal which makes the legal fees much cheaper.
Before you make any decision contact them today to set up a meeting to discuss your debt consolidation and counselling options. The amazing advantage of using them is that your first consultation is free! Take the first step to financial freedom!
Benefits when you apply for a loan
Reduce your debt fast.
Kind and helpful staff.
Expert advice.
Low interest.
Customer Reviews & Testimonials
"
February 2019
Pay Plan Solutions is the name to trust when you are going through financial difficulty.
Gregory S
— Nelspruit —
April 2019
I thought I would wait for days before getting my loan approved but I only waited for a few hours!
Candice B
— Gauteng —
March 2019
I can't believe the interest rates I am paying on my Pay Plan Solutions loan! Talk about affordable and realistic credit offers.
Paballo M
— Brits —
May 2021
I cannot believe the interest rates I am paying on my Pay Plan Solutions loan! Talk about affordable and realistic credit offers.
Stander D
— Brits —
June 2021
I just wanted to say thank you once again for all your help during the past two months- I know that many people have already mentioned it on your website, but I have hardly received threatening c...
Akoojee R
— Durban —
August 2021
I am unable to find words to let you understand how deeply grateful I am for your assistance, willing ears to listen to me and your broad shoulders you helped me carry my debt. I really appreciat...
Thsolophelo N
— Port Elizabeth —
Pay Plan Solutions Contact
Contact Number
E-Mail
Website
Physical Address
Spearhead Business Park, Montague Drive, Marconi Rd, Marconi Beam

Cape Town

Western Cape

7441

South Africa
Opening Hours
Monday

08:00 – 17:00

Tuesday

08:00 – 17:00

Wednesday

08:00 – 17:00

Thursday

08:00 – 17:00

Friday

08:00 – 17:00

Saturday

– Closed

Sunday

– Closed