Get debt relief
Easy loan application
Low interest rates
In-page navigation
---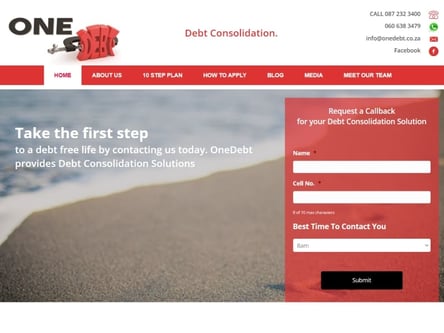 Author OneDebt. Screenshot of OneDebt website.


[Accessed January 31, 2023]
At OneDebt we offer excellent financial services
Your debt can soon be a thing of the past. Yes, you read that right.
People are often ashamed of reaching out for help when it comes to debt but with OneDebt you will never have to feel ashamed. They are ready to help and improve your financial future by assisting you with an affordable debt consolidation loan.
OneDebt cares about your financial health
OneDebt started with a vision and a simple mission. Its vision was to assist over-indebted people to become financially free.
The team wanted to make a positive change in the lives of South Africans. With a management team that has over 20 years of experience in the industry, they have reached great heights.
OneDebt aims to treat each customer with the greatest empathy and understanding. Helping you release the shackles of debt and gain financial health is what they do best.
Regain control of your finances
Nobody needs to be constrained by debt. Falling into this situation is happening more often and people need to know that there is help available. With the help and guidance of the expert team at OneDebt, you too can get rid of the debt and regain control of your life.
The dedication they offer people gives them solutions that work. Assisting people towards a better financial future is their main goal.
Let OneDebt simplify your monthly payments today
OneDebt offers struggling South Africans a solution to becoming debt-free. They have mastered the process of debt consolidation.
The ultimate goal is to arrange all your debt into one simple and affordable monthly payment. This will allow you the space you need to breathe financially and get your finances back on track.
A simple plan for a growing problem
When you are drowning in debt, getting help is the first step to getting back control over your finances. This is where OneDebt comes into the picture. With their well-put-together debt consolidation plan, you can start paying off your debt in manageable portions and ultimately become debt-free.
This process also enables OneDebt to give you the protection you deserve while you are paying off your debt. No more calls or threats from creditors as you are protected by a court order.
How Debt consolidation works
It is often said that people fear the unknown. That seems to ring true in many cases. When you decide to apply for debt consolidation from OneDebt, you do not need to fear.
The expert team is passionate about helping you. Whether this means giving advice or explaining the process, they care about you and it shows. You will never be left wondering about anything in the entire process as they will make sure that you know what happens and when it will happen.
OneDebt – Consolidation loan
Loan Type

Debt consolidation
Benefits of OneDebt
Save on interest
Debt Consolidation Solutions
---
Follow our 10 step plan to become debt free
Before you go on to the application process there are some documents that you will need to have on hand. This will help OneDebt to get a clear picture of what your current situation is.
Documents to have:
A copy of your bar-coded South African ID document.
A proof of your income by either 3 months' bank statements or 3 months' payslips.
A complete list of all your current deductions.
A breakdown of all your household expenses.
A list of your dependents.
A comprehensive list of all your creditors and debt.
Now that you know what you will need to complete your debt consolidation application, you can follow these easy steps. Start getting back control of your finances today.
Step one:
On the OneDebt homepage you will see a link that says contact us. You can fill in your details and indicate the best time for a call. Submit the callback request and wait for a consultant that will call you shortly.
Step two:
There is also an option to find out how much you can be saving. This is helpful so that you can get a clear idea of what your best options are.
Step three:
The next step is to download the application form from their website.
Step four:
Complete the application form in full. You can submit your completed application form along with all the necessary documents. On the homepage, you can find a fax number as well as an email address.
Choose OneDebt for success
Getting into debt happens faster than you realise. When you find yourself indebted to the point where you are drowning, don't delay. There is help out there for everyone.
You deserve to be free from debt and live a happy and prosperous life. OneDebt can make this possible with its debt consolidation service. Choose them for a debt-free future today.
Benefits of Debt consolidation
You get protection from legal action.
They have more than 20 years of experience in the industry.
OneDebt cares for each customer's financial well-being.
They can help you become debt-free.
Customer Reviews & Testimonials
"
March 2019
One Debt ensured that after paying all my credit plans, I was left with exactly that – one debt.
Yolanda M
— Soweto —
April 2019
If you looking for a good deal on your debt consolidation loan, try One Debt!
Carl J
— Vereeniging —
May 2021
We were so deep in debt and we did not know where to begin to look for help. One Debt helped us to get debt consolidation and we are happy to say that we are halfway there. Our financial future i...
Ntetwa A
— Bloemfontein —
September 2021
A family member told me about One Debt and I searched them online. Their website is easy to navigate and I was able to get signed up for debt consolidation in no time. I am so glad that I gave th...
Ngwenya B
— Stilfontein —
August 2021
I would like to make use of this opportunity to thank One Debt for helping me to get back my financial freedom. Without help from them, I would not have made it this far. I am now debt-free and h...
Malherbe C
— George —
OneDebt Contact
Contact Number
E-Mail
Website