Affordable repayments
Lower interest rates
Credit relief
In-page navigation
---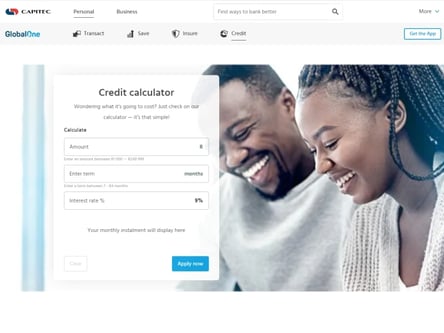 Author Capitec Bank. Screenshot of Capitec Bank website.


[Accessed January 31, 2023]
About Capitec Bank
As one of South Africa's leading lenders, Capitec offers a range of affordable, flexible financial solutions to suit your needs, whatever these may be.
With their Bank Better, Live Better promotions you can enjoy a host of value-added services and advice from some of the best financial minds in the country.
A bank that's always growing
Over the past 19 years, Capitec has expanded not only its customer base but its range of offerings too.
Whether you're looking to open a savings account or want to consolidate overly complex and draining loans, Capitec should be your partner of choice.
Their range of financial products and services will exceed all of your expectations and ensure you achieve all of your goals. They're also known for their cost-saving approach to some of South Africa's most loved financial products.
Need some financial advice?
When it comes to finances, they're not all in the know. Capitec is driven to create meaningful, lasting change in the lives of customers through education.
Whether in the form of educational brochures and booklets or events, they want you to know what it takes to create and maintain healthy finances.
They not only offer some of the most cost-competitive financial products but they encourage saving and investing and strive to make it easier for you to reach your financial goals.
Whether you just want to open an account and save on banking fees or you're ready to make your dream of owning your own home a reality, Capitec is ready to support you. While they're competitively priced, their products and services compromise neither quality nor service.
Capitec Bank Services
Capitec has a diverse range of services from the most basic saving account to excellent home and vehicle finance products, they're the bank that does it all at a fraction of the cost.
Debt consolidation with Capitec
If you're carrying multiple debts in the form of store and credit card balances or short-term loans and are struggling to keep track of it all, Capitec can offer you a promising solution.
Their debt consolidation loans will allow you to borrow up to R250 000 to pay off all of your existing debts and simplify your finances.
These loans come with flexible repayment terms that will be personalised to suit your budget and low-interest rates. These rates will be disclosed to you once your financial situation and credit inquiry has been reviewed.
Is consolidating the right option for you?
Debt consolidation isn't a one-size-fits-all solution for debt. If you have many small, unsecured debts and are burdened with high payments and lots of admin, this may be a good option for you.
A consultant from Capitec will review your application and decide if you'd benefit from consolidating.
You'll also enjoy credit insurance that will give
you peace of mind and ensure you and your family are protected from heavy debts in the event that you can no longer pay.
Cost of debt consolidation
The interest rate that you'll be charged will be worked out when you make your initial application. Capitec does not have any initiation fees on consolidation loans.
You must, however, have a fairly good credit rating to qualify for consolidation. This means that if you've missed any repayments or have had a creditor take action against you, you will be denied.
Capitec Bank – Consolidation loan
Loan Type

Debt consolidation
Benefits of Capitec Bank
One affordable monthly repayment
Get up to 4 additional saving plans
Reliable debt consolidation services
Competitive interest rates
---
Ready to turn your life around?
If you're sick of debt and are looking for a solution that will take your finances, goals, and lifestyle into account, Capitec's debt consolidation solutions may just be exactly what you're looking for.
They can offer you between R500 and R250 000 in the form of a personal loan which will be used to combine all of your existing debts into one, a larger loan with a longer loan term.
Benefits of consolidating with Capitec
Not only will you benefit from low-interest rates and fees but you can enjoy a flexible product, extended loan terms for lower monthly payments, and knowledgeable consultants that will ensure you're taken care of every step of the way.
What happens after you consolidate
One of the main issues with consolidation is that the extra cash that becomes available may tempt you to take on more loans.
This is absolutely the worst possible decision to make since you'll be placing yourself in a very tight spot and may end up defaulting on your consolidation loan. To avoid this you must avoid taking on any further credit once you've consolidated and strive to remain debt-free once you've paid the loan off.
How to apply
Applying for a loan has never been easier. With Capitec you can apply online, via your banking app, in a branch with the help of a consultant, or by calling their call centre.
If you're a new customer be prepared to provide your FICA documents which include your ID and proof of address. You'll also have to provide proof of income and bank statements from the account your salary is paid into.

Capitec Bank is a trusted & reliable provider of debt consolidation
In our review, Capitec Bank adheres to the compliance criteria in accordance with the National Credit Act, where the granting the loan will not cause financial distress to the consumer.
✅ Capitec Bank is a registered credit provider in South Africa: NCRCP13
Customer Reviews & Testimonials
"
May 2020
The only bank in SA where you don't stand in the line for hours. Thank you for your quick service and thank you to the tellers for their professionalism
Bruce D
— Durban —
September 2020
Fast, easy, and transparent service. They make sure you are informed about every step in the process
Lindile H
— Soweto —
Capitec Bank Contact
Contact Number
E-Mail
Website
Physical Address
Sunnypark Shopping Centre, Shop L3 Cnr Esselen Road &, Trevenna St, Sunnyside

Pretoria

Gauteng

0002

South Africa
Opening Hours
Monday

08:00 – 18:00

Tuesday

08:00 – 18:00

Wednesday

08:00 – 18:00

Thursday

08:00 – 18:00

Friday

08:00 – 18:00

Saturday

08:00 – 15:00

Sunday

– Closed