Debt repayment plan
Debt-free, Risk-free
Protect your assets
In-page navigation
---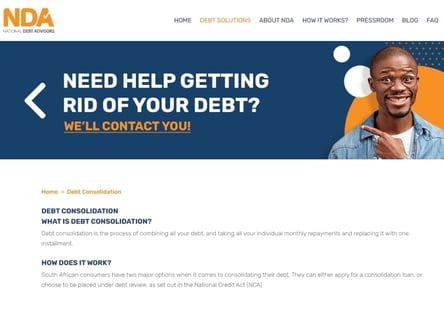 Author National Debt Advisors. Screenshot of National Debt Advisors website.


[Accessed January 31, 2023]
About National Debt Advisors
NDA is the solution you have been looking for to save your financial well-being.
The NCA stated that more than 10 million South Africans have bad credit due to non-payments, and arrears piling up. Falling behind on debt whether it is through credit cards, home loans, car loans, etc, will affect your credit score negatively. A poor credit score makes it hard to get financial assistance in the future, this is where NDA comes in.
NDA can be your partner to a better financial life, their expert and regulated advice will guide you and help you regain your credit history.
The Debt consolidation loan solution
People often make the mistake of taking on more credit to pay off another debt. By doing this you just add more debt to your profile and in the case of cash flow problems, you will be stuck with new debt that will also lead to more accounts and falling into arrears.
Sad to say that anything could happen with the loss of income, for example, a spouse loses his or her job and all the financial stress falls onto one person. At which point, credit providers threaten to take action to claim personal possessions or take the borrower to court. Luckily, NDA has a solution to help you.
They are your support system to help you transform your financial life with a process to change your life for the better.
National Debt Advisors Services
With the country's large overflow of people who are over-indebted and blacklisted due to financial mismanagement, finding the right solution is of utmost importance.
The National Credit Act instated debt counselling in 2007 in South Africa, helping thousands of consumers apply for debt counselling or debt consolidation loans to relieve their financial hardship. National Debt Advisors are regulated and comply with this act to help all consumers who are spending or owing more than they earn.
Your debt can become a thing of the past
NDA will assist you with debt and more. An award-winning company at your fingertips with professional service with only their client's well-being in mind. With more than 400 professionally trained consultants they can assist you personally with your over-indebted individual needs.
A company that assists you with your debt with only a phone call, from anywhere in South Africa in the comfort of your home or office. NDA is a company that cares about its clients and will guide clients from start to finish.
Don't feel ashamed to apply
With them, you can get the assistance you need even if you are blacklisted. They will assist you and help protect your personal belongings and credit profile while ensuring a better financial future for you and your family.
National Debt Advisors – Consolidation loan
Loan Type

Debt consolidation
Benefits of National Debt Advisors
Protect your assets against repossession
Reduce monthly payment by 50%
Help for blacklisted clients
---
There is no shame in applying for debt counselling - trust us to help you
Instead of waiting and worsening your financial life, contact NDA to find the answer to your problem.
Their professional consultants will assist you and guide you with these six easy steps:
Step One:
Fill in the contact form on their site and one of the consultants will phone you on the same day during working hours and explain all the steps to you. Everything will be done telephonically or via email at your convenience.
Step Two:
The consultant will ask you questions about your financial situation. What your monthly expenses are, your income, and more. If the consultant finds that you spend more than you earn, they will tell you that you are over-indebted. In this case, you will then qualify for debt consolidation. If you are not over-indebted, but overwhelmed by your debt a debt consolidation loan would be in order.
Step Three:
Your consultant will then make contact with all your credit providers. They cannot take legal action against you for 60 working days which is a big relief and you can take a breath.
Step Four:
The consultant will now contact all the credit providers to ask them for your credit certificate. They will then work out all your debt and create a reasonable payment amount that fits your budget.
Step Five:
NDA will present the new amounts to your credit providers to negotiate a new payment plan with lower instalments and interest rates. With their representation, they will show that you will be able to afford the new amount and will be able to keep up with the repayment plan.
Step Six:
NDA has professional Attorneys and one of them will apply at the magistrate's court with your case and represent your new manageable repayment plan.
Benefits of choosing National Debt Advisors
You can save up to 50% on your monthly debt instalments.
You won't have to deal with your creditors.
Your assets will be safe, as long as you follow the new payment agreement.
They will guide you all the way.
Counselling for a better financial future.
Everything can be finalised by phone or email.
NDA provides services for the following:
Debt consolidation
Debt consolidation loans
Debt reviews
Debt relief
Debt management
Debt meditation
NDA are proud partners with these major Creditors:
Capitec Bank
Absa
Capfin
FNB
Mr Price
Nedbank
SA Home loans
Customer Reviews & Testimonials
"
September 2020
My husband and I were really falling behind on our Debt and were receiving calls from attorneys daily. NDA assisted and as soon as we took the first step we could breathe again
Andrea R
— Pretoria —
October 2020
Professional, helpful, and really caring. Thank you, NDA you have given me financial freedom
Simon N
— Durban —
November 2020
I never believed ads and how simple it was to apply for debt counselling. But NDA kept true to their word and I am happy I trusted them with my finances
Brendon L
— Nelspruit —
February 2021
Finding the help you need when you are in debt has never been as easy as with NDA, I can now sleep again at night.
Hennie B
— Durban —
June 2021
They guided me and helped to get the best possible repayment amount that I can afford and this helped me to regain my life.
Harding C
— East London —
September 2021
After being threatened by the bank that I will lose my car I realised that I needed assistance and thanks to the NDA they helped me to get a better manageable loan repayment.
Adams J
— Belville —
National Debt Advisors Contact
Contact Number
E-Mail
Website
Physical Address
9 Long St, Cape Town City Centre

Cape Town

Western Cape

8000

South Africa
Opening Hours
Monday

08:00 – 17:00

Tuesday

08:00 – 17:00

Wednesday

08:00 – 17:00

Thursday

08:00 – 17:00

Friday

08:00 – 17:00

Saturday

– Closed

Sunday

– Closed