Fast debt relief
Affordable repayments
Improve your credit score
In-page navigation
---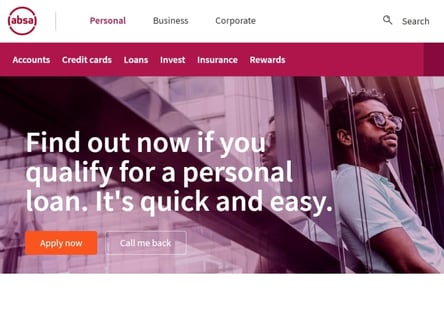 Author Absa. Screenshot of Absa website.


[Accessed January 31, 2023]
About Absa
As a truly African Bank, Absa is determined to bring forth meaningful change and support the people, businesses, and industries that drive the economy.
Absa is one of the major players in the South African banking industry bringing hundreds of beneficial loans, products, and services to their millions of valuable customers.
They have a strong presence in over 12 African countries and continue to enter into evolving economies.
Their reach allows them to bring innovative technology and products to the people and places where they have the potential to make the greatest change.
Absa's core values
Absa strives to bring innovation to the banking industry and ensure that they act quickly when making decisions.
When they make the wrong decisions, they're quick to accept responsibility for their failures and bring about the necessary change.
They're also a proponent of putting the customer first and delivering a world-class service by exceeding expectations and anticipating ever-evolving needs.
Putting their people at the centre of their growth
By putting their people in the driver's seat, they allow a variety of world-views to drive their growth and innovation. They believe in investing in their people and working together with them to ensure that they reach their potential.
A range of flexible lending solutions
Absa has a range of lending options available. This includes their Express loan and their personal loan options which offer a flexible amount of cash, low-interest rates, fees, and short to long terms that will suit just about any budget.
Absa Services
Absa offers everyday banking services, lending, saving, and investment as well as insurance products and services for individuals.
When it comes to lending their products include home loans, vehicle finance, student loans, and debt management solutions.
When it comes to debt management, it all starts with you. By shifting your mindset and solidifying your determination to become debt-free, you can bring about long-lasting change. One of the best tools you have to get a handle on your debt is a budget.
Thinking of consolidating?
Absa offers debt consolidation solutions of up to R350,000 with loan terms of up to 84 months. This is a much higher loan amount and loan term than any other bank offers. This means you can comfortably space out your loan repayments and enjoy having more money at the end of every month.
Personal loan eligibility requirements
If you're over 18, are a South African citizen or permanent resident, and are employed and earning a stable income that reflects in your account on a monthly basis, you can apply for a personal loan from Absa.
Express vs personal loan
Absa offers an express loan of between R1,500 and R8,000 with between 2 and 6 months to repay. They also offer a regular personal loan ranging from R3,000 to R350,000 which comes with terms from 12 to 84 months. The personal loan, which comes at incredibly competitive rates can be used to consolidate debt.
Revolving loans and overdraft facilities
If you're looking for a more flexible solution to cash shortages and budget irregularities, you can opt for a revolving loan or an overdraft which can offer up to R250,000. Both these solutions are reviewed on an annual basis and your loan amount will be increased or decreased as per your needs.
Absa – Consolidation loan
Loan Type

Debt consolidation
Benefits of Absa
Manage your debt
Rebuild your credit score
Competitive interest rates
One affordable repayment term
The best loan deal for your needs
---
Apply for a personal loan in a few easy steps
Applying for a personal loan with Absa can be done in just a few simple steps.
You can log in to your Absa banking profile or download and log in to your Absa banking app and follow the prompts to quickly and easily apply for credit. This is referred to as a provisional loan offer and is only available to existing Absa customers.
You can also call Absa's call centre or visit one of their nationwide branches where an experienced consultant can help you evaluate your situation and take out the most suitable loan product.
Supporting documents to have on hand
Absa will require you to provide your South African ID book or card, a recent proof of address, and 3 months bank statements or payslips to continue with your loan application. These can quickly and easily be uploaded via the banking app or via online banking.
Absa offers a price guarantee
If you're offered a lower interest rate anywhere else, not only will Absa match it but they'll better it. To make a price guarantee claim all you need to do is fill out a form and submit it on their website or at a branch and a consultant will be in touch.
Ready to consolidate?
Consolidation simply allows you to combine many smaller, unsecured debts into one larger loan that can be easily managed and may come with a lower monthly instalment.
Essentially all your existing debts, whether with Absa or another provider are paid off using the funds from your new debt consolidation loan.
If you're stressed and find that you never have enough money for living expenses at the end of the month, contact Absa to find out how they can support you and help you make a positive change.

Absa is a trusted & reliable provider of debt consolidation
In our review, Absa adheres to the compliance criteria in accordance with the National Credit Act, where the granting the loan will not cause financial distress to the consumer.
✅ Absa is a registered credit provider in South Africa: NCRCP7
Customer Reviews & Testimonials
"
July 2020
This year took a hard turn for me and my family. I went to Absa to ask for help, and they went beyond my expectations. Thank you for helping me consolidate my debt. I would not have even consider...
Jeremy G
— George —
December 2020
Asba consultants are very friendly and are always trying to find solutions to help you. They won't give up until you are satisfied
Scott H
— Bloemfontein —
November 2020
My wife and I applied for a debt consolidation loan at Absa. The whole process is customer focussed and transparent. Without a doubt the easiest and best loan application I have done
Gerald F
— Pretoria —
Absa Contact
Contact Number
E-Mail
Website
Physical Address
291 Robert Sobukwe St, Sunnyside

Pretoria

Gauteng

0002

South Africa
Opening Hours
Monday

08:00 – 17:00

Tuesday

08:00 – 17:00

Wednesday

08:00 – 17:00

Thursday

08:00 – 17:00

Friday

08:00 – 17:00

Saturday

08:00 – 17:00

Sunday

08:00 – 17:00