Personal loans up to R50,000
Low-interest up to 26.50%
Repayment up to 12 months
In-page navigation
---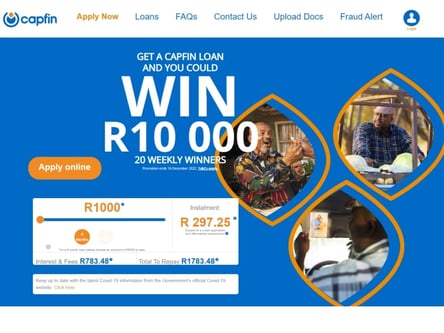 Author Capfin Loan. Screenshot of Capfin Loan website.


[Accessed January 30, 2023]
About Capfin Loan
The Kuils River-based company Capfin was established in 2010 with the goal of giving customers access to inexpensive lending products and services.
They evolved from a three-person start-up team to a 1,000-person collaborative workforce, continuously striving to improve the lives of their clients.
Providing you with the tools needed to live your best life through convenient, cost-effective, and user-friendly unsecured short-term loans.
How they stay ahead of their competition
They hire brilliant individuals to assist them in staying abreast of market developments and sought-after experts who convert these into lucrative business prospects. Their business plans are sound, and the flexible nature of their workplace enables them to remain responsive.
Partnered with trusted retail brands
They're driven to provide outstanding service that can positively impact the lives of their customers because they're more than just a provider of short-term loan services.
To offer you services that are dependable and convenient, they've teamed up with PEP and Ackermans. Thereby offering great services from their nationwide network of retail professionals by partnering with South Africa's most reputable retail brands.
Capfin SA (Pty) Ltd is a fully owned subsidiary of Pepkor, which is traded on the Johannesburg Stock Exchange.
Applying is easy and convenient from home
You simply need to complete the online form and they will contact you. They also have a tool that allows you to upload all your supporting documents online so that the application process can start.
Any PEP or Ackermans location across the country will help you with your loan if you would prefer an in-person experience.
Capfin Loan Services
Capfin has a passion for people and can offer you personal loans of up to R50,000 so that you can fulfil your aspirations.
Because no two people's circumstances are the same, Capfin offers two payback options: 6 and 12 months. Here's an example of the interest rates and fees on a loan amount of R4,000.00 over 6 and 12 months.
6 months with a maximum:
An interest rate of 5.0%
Initiation fee of R 535
Monthly service fee of R 69
Monthly instalment of R 941
Loan repayment amount R 5645
12 months with a maximum:
Interest rate of 26.50%
Initiation fee of R 535
Monthly service fee of R 69
Monthly instalment of R 498
Moan repayment amount R 5980
Capfin DebiCheck
With the help of the safe debit order payment system DebiCheck, you can electronically approve the specifics of your debit order with your bank.
DebiCheck was developed to protect customers and enterprises from corruption and bank card purchase misuse, like handling unapproved bank card orders that lead to high conflict rates. Additionally, it'll stop improper disputes which are legitimate debit orders with banks in an effort to avoid paying them.
Capfin Loan – Personal loan
Loan Type

Personal loans

Interest Rate

26.50%

Loan Amount

up to R50,000

Repayment

6 months to 12 months
Benefits of Capfin Loan
No hidden fees and rates
Easy access to personal loans
A quick online application process
What do you need to be able to apply
You must be 18 years of age with a stable job and receive a monthly salary. You should also have a valid cell phone number with a valid SA bank account.
There are no additional costs or interest rates involved in the simple application process. Your personal loan account is always accessible and secure.
a valid South African ID
three recent payslips, or
three recent bank statements
Let the professionals sort out your personal loan
It's their belief that the process of applying for a personal loan should be simple, and affordable. They continue to put a lot of effort into enhancing the lives of their customers in order to fulfil their purpose of enabling people to live better lives.
Funeral cover from Capfin
If you applied for a loan between September 15, 2017, and June 6, 2018, funeral insurance was included in your loan. This consisted of R5,000 for natural death and R10,000 for accidental death, ending on the 6th of June 2018.
As a Capfin account holder, you're covered by the funeral insurance if your loan account is active, in good standing, and abides by the funeral cover's terms and conditions.
After the account holder's passing, the customer's designated beneficiary has six months to file a claim. The funeral coverage will no longer be offered after six months.
Death cover offered free of charge
In the event of your passing, they relieve your loved ones' minds by cancelling the remaining loan debt. Should you be a new or existing client you may take advantage of this free Capfin death benefit.
You'll be required to submit the following documentation:
A replica of the ID of the parted individual Capfin Account Holder
The death certificate in its entirety, certified
a true duplicate of the master's letters of executorship that has been certified (if applicable)
After receiving the required documentation, Capfin will conclusively prove the status of the departed; however, delays from other companies may occur.
Capfin has taken your needs into consideration by providing extensive information in five different languages online.
Extra information for your peace of mind
A loan offer will be generated for you that will indicate the maximum you might be eligible for, pending the outcome of our affordability assessment. Once your application has been completed and submitted, an extra credit check may be undertaken, and you can still change the loan amount.
Based on the results of your affordability assessment, which considers criteria including your income and expenses, credit profile, and payment history, they provide loans up to R50 000.
If you bank with ABSA or Nedbank, copies of your documents can be obtained with your consent at no additional cost to you.
Following approval, your personal loan will be disbursed to the designated bank account in less than 48 business hours.

Capfin Loan is a trusted & reliable provider of personal loans
In our review, Capfin Loan adheres to the compliance criteria in accordance with the National Credit Act, where the granting the loan will not cause financial distress to the consumer.
✅ Capfin Loan is a registered credit provider in South Africa: NCRCP 11812
Customer Reviews & Testimonials
"
May 2022
When you need a personal loan, I highly recommend Capfin. They offer flexible and affordable personal loans. They've made the application process easy and quick to complete.
Sandra G
— Hofmeyr —
February 2022
A family friend recommended that I apply for a personal loan from Capfin. I went to the website and completed the application. My loan was paid out within 48 hours of the approval.
John D
— Klipplaat —
Capfin Loan Contact
Contact Number
E-Mail
Website
Physical Address
1 Industrie Street Kuils River

Cape Town

Western Cape

7580

South Africa
Opening Hours
Monday

08:00 – 17:00

Tuesday

08:00 – 17:00

Wednesday

08:00 – 17:00

Thursday

08:00 – 17:00

Friday

08:00 – 17:00

Saturday

08:00 – 16:00

Sunday

– Closed