Personal loans up to R80,000
Fixed monthly premiums
Repayment up to 24 months
In-page navigation
---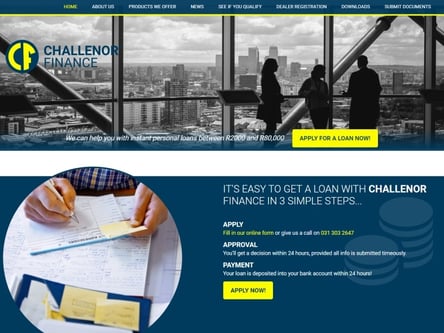 Author Challenor Finance. Screenshot of Challenor Finance website.


[Accessed January 30, 2023]
About Challenor Finance
If you're in the market for a personal loan that comes with outstanding service and great client satisfaction, Challenor Finance is your go-to lender.
Sometimes an opportunity arises or life happens. Either way, when you need a loan and you need it fast, it's good to know that there's a reputable provider ready to help.
So, whether you want to upgrade your home, buy a new family vehicle, or even need a consolidation loan, Challenor Finance can help.
The proof is in the pudding
There are many financial institutions in the business. They each claim to be the best but in fact, the numbers speak for themselves.
Challenor Finance has been in the business since 1991 and has built its success on a few basic principles. They're committed to giving each customer only the best offer available. This is ideally a financial solution that's tailor-made and fair.
From humble beginnings
When Challenor Finance started way back in 1991, they initially partnered with furniture and hardware stores. They were then only operating in the Kwazulu-Natal area. Over recent years they have grown and expanded nationally.
By ensuring that their customer service stays a top priority, they've climbed the ladder of success quickly. If you opt for a personal loan with Challenor Finance, you'll be in great hands.
Challenor Finance Services
With a vision of economic upliftment and improvement in quality of life, they've made it their mission to help the previously disadvantaged communities in South Africa.
They're a responsible financial provider and realise that some people can't easily qualify for a loan, so they're changing the way finance works.
Having access to funds they wouldn't get anywhere else, the potential for great things to happen often motivates them. Motivating people positively through financing is what drives Challenor Finance.
Your personal loan can be used as you wish
Many lenders have certain conditions before they consider granting loans. Challenor Finance goes above and beyond to change the way things work.
With a personal loan of between R2 000 and R80 000, you're free to use the money as you wish. So, if you want to start a band, pay Lobola, cover school fees, or purchase furniture for your home, the choice is yours.
Why should you get your loan from Challenor Finance?
Aside from being a great lender and having its clients' best interests at heart, there are numerous other reasons why getting a loan from them is a good choice.
They offer competitive interest rates and customise them according to your credit profile. They boast a pay-out time of 24 hours from approval. Your interest is fixed so you'll always know what you'll pay. This makes budgeting a breeze.
Challenor Finance – Personal loan
Loan Type

Personal loans

Loan Amount

up to R80,000

Repayment

3 months to 24 months
Benefits of Challenor Finance
Get a loan in 3 easy steps
Personal loans up to R80,000
Quick and easy loan applications
Apply within minutes
Benefits of a personal loan from Challenor Finance
Like any other lender in the business, there's an application process that needs to be followed to get a personal loan. Challenor Finance has made the process super easy and it can be completed in minutes.
You'll need to have certain documentation on hand to submit along with your application. Make sure you have these in order when you apply as it'll ensure a smooth and quick application process.
These documents may include the following:
A South African identification document.
Proof of your income using a three months bank statement or three months payslips.
An account with your current address will also be needed.
Step-by-step application process with Challenor Finance
Now that you know what is required you may go ahead and complete the application form online.
At the top of the website is a tab that lets you see if you'll qualify for a loan with them. This tab will direct you to the application form. The application form will take only a few minutes to complete.
It consists of a few personal questions. After you've completed the form, you can submit it. At the top right corner of the website is a button that will take you to the page where you'll submit your documents. Once you've submitted it, your application will be reviewed for approval.
As soon as your personal loan has been approved, Challenor Finance will pay the funds straight into your account within 24 hours.
Choosing Challenor Finance can simplify your life
There are many lenders in the industry but none of them targets the previously disadvantaged community. Challenor Finance wants to ensure that everybody has an equal right to financial prosperity.
You can make your dreams come true today if you choose to partner with them. Let Challenor Finance help you get the success you deserve with a personal loan in South Africa.
Benefits of a Challenor Finance Personal loan
They offer competitive rates
They payout within 24 hours after approval
The rates are fixed
The aim is to please with outstanding customer service
Customer Reviews & Testimonials
"
September 2020
I could not have hoped for a friendlier, more efficient personal loan service. Challenor helped me finally own my first drum set. Rock on, Challenor!
Andre V
— Pretoria —
May 2020
I didn't know where to turn for a safe short-term loan. I am so glad to have come across Challenor
Lindiwe B
— Soweto —
August 2021
I was desperate for a personal loan as I was about to get married and needed the money for the wedding. A friend told me about Challenor Finance and I went online immediately. My loan was approve...
Van Vuuren C
— Mosselbay —
August 2021
When I was turned down by so many lenders recently, I was on the verge of giving up. Then I came across Challenor Finance and decided to take a chance. They were great and helped me get the perso...
Zamkele B
— Port Elizabeth —
January 2022
I got my first loan from Challenor Finance a few years ago. I recently needed a personal loan and approached them again. They were helpful and professional and assisted me with everything.
Verwey E
— Johannesburg —
Challenor Finance Contact
Contact Number
E-Mail
Website
Physical Address
45 Mckenzie Rd, Windermere

Durban

4001

South Africa