WesBank Personal Loan
Updated
Personal loans up to R150,000
Low-interest starting from 22.5%
Repayment up to 72 months
In-page navigation
---
Wesbank - Loans for the public and retail sector
Wesbank has been in the finance business for over 40 years. We are a global company that provides financial assistance to both the public and retail sectors. We specialize in providing financing over a fixed term with monthly instalments.
We are a division of FirstRand bank limited South Africa. The four main areas we focus on are providing instalment vehicle finance. The next focus is on retail and commercial banking, investment banking and Investment management. Our investor relations provides you with information regarding financial results, remind you of important dates, inform you of results and keep you up to date with reports.
Compliance
We comply with all law and strictly adhere to all risk management policies. Our managers are highly skilled and knowledgeable.
Social investment policy
We believe in empowering communities by sponsoring agriculture projects that prove to be sustainable. Together with the Tshikulu foundation, we plan to empower the community.
Personal loans
We offer personal loans to the value of R150 000 on very easy repayment terms that you chose. Our approval process is fast. Choose between R5 000 up to R150 000 with easy repayment terms from 2 to 6 years depending on the agreement.
Easy ways to apply
Our online loan application process gives you access to apply for our quick loans 24 hours a day.
If you prefer, you can give us a call on 0861 238 252 and one of our friendly consultants will call you back and help you through the application process.
You will benefit from signing up with us
Our Cash Power loan lets you chose how much you want to borrow and how long you need in order to pay it back.
The repayment terms range from 24 months to 6 years. The application process is simple and your outcome quick. These instant loans are unsecured so there is no need to risk your assets for collateral.
Affordability
We don't want you to fall into a debt cycle. We check your level of affordability to make sure that you don't borrow more than you are able to comfortably pay back. If you can't afford a loan we will assist you by putting you in contact with one of our debt counsellors regarding debt counselling.
Customer protection plan
To make sure you are covered should something happen to you, we offer a customer protection plan.
What do I need to apply?
To apply for a Wesbank personal loan you will need the following:
You will need to be employed and earn at least R5 000 a month
You will need to have a clean credit history
A copy of your latest 3 months payslips and your bank statement
A clear copy of your valid South African ID
Details of your South African bank account that your salary is paid into monthly
Proof of residence no older than 3 months
Repayment terms
Our easy repayment terms range from 24months and up to 72 months, depending on the loan agreement. You will be charged a once off initiation fee of R1207.50 and a monthly service fee of R69.00 your interest rate will be determined by your specific risk profile.
All our quick loan repayment terms are compliant with the National Credit Act.
WesBank – Personal loan
Loan Type

Personal loans

Interest Rate

from 22.5%

Loan Amount

up to R150,000

Repayment

24 months to 72 months
Benefits of WesBank
Flexible repayment plans
Reliable personal loans
Wesbank - You can get vehicle financing and insurance from us
Buying a car from a dealer
We offer assistance when you need vehicle financing when you are buying a car from a dealer. It's so easy to apply, simply fill out our online application form, you will be given an answer almost instantly.
Insurance
Once your online loan application has been approved, we will contact you and give you advice on how to finalize the transaction. If you need to pay a deposit, we will handle the fees for you and help you file your approved financing application with your chosen dealer.
We will assist you with arranging insurance for your vehicle before you even drive it away. Our driva cover insurance package covers your vehicle so that you can drive with confidence.
Rules for buying through a dealer
To make sure that your application for vehicle financing through a dealer is approved make sure to follow these rules:
Make sure the dealership is approved by WesBank
The car must be worth at least R30 000 or more
You must be over the age of 18
You must be a permanent South African citizen
You must have a valid driver's license
You must have a credit report
You must earn at least R 6250 per month
Other rules that apply
You will be responsible to register the car in your own name with WesBank as the title holder
Our WesBank representative will need to view all the original documentation and sign all the necessary documentation.
Please provide WesBank with a clear copy of your South African ID
You will have to acquire your own license disk and Wesbank will help you register your vehicle.
Why should you choose WesBank?
Choosing to finance your car through WesBank unlocks a host of different benefits.
View your personal loan account online 24 hours a day
We will assist you with advice on when is the best time to trade in your car and help you determine its current market value.
Renew your license online, pay for it online and we will deliver it to your door
Check and pay your traffic fines online and skip all the queues at the post office or traffic department
By logging into your account, you can check your credit status and access your credit profile
Driva protect – this cover protects you along your journey against any mishaps.
Lawyers on Call – this gives you telephonic access to legal advice for criminal, civil or other vehicle-related queries.
WesBankshop this shop gives you access to a range of accessories for you and your vehicle.
Deposit protector
This amazing feature covers your wallet and pays your deposit on your vehicle of up to R500k. If you need to replace your car because it has been lost, stolen or written off your deposit protector plan will cover the same deposit that you originally paid up to a maximum of R500 000.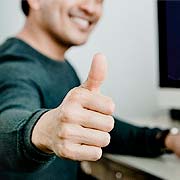 WesBank is a trusted & reliable provider of personal loans
In our review, WesBank adheres to the compliance criteria in accordance with the National Credit Act, where the granting the loan will not cause financial distress to the consumer.
WesBank is a registered credit provider in South Africa: NCRCP20
Customer Reviews & Testimonials
"
I knew that WesBank will give me a loan I can afford to pay without putting too much pressure on my budget.
Nosipho N
— Umlazi —
Within a few hours after applying for a personal loan, my credit request was attended to and I received the money on the very same day.
Johan N
— Vereeniging —
I am yet to find a credit provider that offers affordable interest rates as WesBank does.
Patricia G
— Pretoria —
Thanks to WesBank, I got a loan when I was literally running out of options. I am grateful that they helped me when nobody wanted to assist.
Jonathan B
— Westonaria —
WesBank Contact
Contact Number
E-Mail
Website
Physical Address
Portside, 21st Floor, FNB Building, Buitengracht Street & Hans Strijdom Avenue

Cape Town

Gauteng

8001

South Africa
Opening Hours
Monday

07:00 – 16:30

Tuesday

07:00 – 16:30

Wednesday

07:00 – 16:30

Thursday

07:00 – 16:30

Friday

07:00 – 16:30

Saturday

08:00 – 12:00

Sunday

– Closed