Personal loans up to R150,000
Low-interest starting from 22.5%
Repayment up to 72 months
In-page navigation
---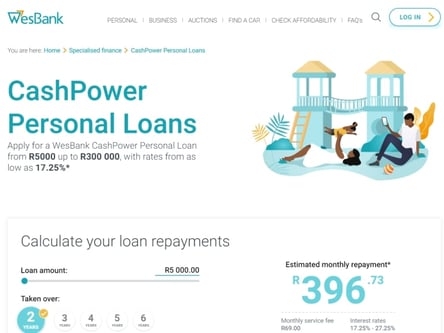 Author WesBank. Screenshot of WesBank website.


[Accessed January 30, 2023]
Wesbank - Loans for the public and retail sector
Are you serious about getting an affordable personal loan? You don't have to look any further as Wesbank has just the right products.
When it comes down to being there for people who need financing, Wesbank is reliable. It has the resources and expertise to give you the best possible advice available, ensuring your financial growth.
Wesbank keeps their promises
Wesbank is a division of FirstRand Group. They're committed to keeping their promises and they've done an outstanding job of proving it.
Good business is run on good principles and at Wesbank you can be sure that they have only your best financial interests at heart.
Helping people achieve and maintain good wealth is one of Wesbank's priorities. They strive to help people grow and it shows.
Helping South Africans for over 40 years
Wesbank is South Africa's leading asset-based finance provider and has assisted millions of South Africans to achieve their dreams over the past 40 years.
They've partnered with over 60 leading international brands which include automotive companies, insurers, as well as oil companies.
A personal loan from Wesbank will help you achieve the success that you deserve and they'll guide you through the whole process. Each customer is a part of their success story and you can be too.
You will benefit from signing up with us
Wesbank offers its clients a wide range of services and products. They take pride in providing their clients with only the best service and a wide range of products.
The personal loan that Wesbank has on offer is from R5 000 up to R200 000. They're also able to give you an instant answer to your loan application.
When you require cash fast, it's a bonus to know that Wesbank does not take its time in making a decision.
Reasons to get a personal loan from Wesbank
When you need a personal loan you need to be sure that you choose the right provider. Many providers are filled with promises only to leave you hanging.
You can choose your repayment term in the range of anything between 2 and 6 years. You can be sure that with the fixed premiums, there will be no nasty surprises.
That little extra help that you need
Along with all the great benefits that Wesbank offers, they have also made a nifty affordability calculator available. You can make use of this tool for free on their website to help you work out what you can borrow and how much will need to be repaid.
The great part is that you can see how much you qualify for even before you apply. This makes the chances of your personal loan not being approved, much less.
WesBank – Personal loan
Loan Type

Personal loans

Interest Rate

from 22.5%

Loan Amount

up to R150,000

Repayment

24 months to 72 months
Benefits of WesBank
Flexible repayment plans
Reliable personal loans
Applying for a personal loan with Wesbank
Before you rush into this easy and convenient personal loan application, you need to get a few documents in order. Not to worry, no reams of paperwork.
Documents you'll need include the following:
Firstly, a valid South African ID document.
You'll have to have the last three months' bank statements in PDF form or 3 months' payslips as proof of income.
Any recent account with your current address on it.
You need to earn at least R5 000 monthly income.
As soon as you have all these documents in order you are ready to apply for your loan.
The application process
You can go to their website and on the personal finance page, you can use the affordability calculator to decide what amount suits you best. You'll choose the loan amount as well as the loan term for the calculator to give you an estimate based on your needs.
When you have completed the estimate, you can go ahead and click on the apply now button. You'll be directed to the application page from there. Once you've completed the loan application in full and submitted all relevant documentation, you'll be notified of the decision.
On approval of your loan, and after signing your loan agreement, you'll receive the money in your account in no time.
Wesbank is the provider of choice for many
When you need a loan while knowing that time is of the essence, Wesbank is the obvious choice. They keep their promises and always deliver outstanding service.
There's no need to search any further than Wesbank. With 40 years of success, it's clear that they know the business.
Benefits of being a Wesbank client
Wesbank has more than 40 years in the industry
Credit products are affordable
They let you choose the loan term and loan amount
Wesbank offers fixed repayments for the whole term

WesBank is a trusted & reliable provider of personal loans
In our review, WesBank adheres to the compliance criteria in accordance with the National Credit Act, where the granting the loan will not cause financial distress to the consumer.
✅ WesBank is a registered credit provider in South Africa: NCRCP 20
Customer Reviews & Testimonials
"
April 2019
I knew that WesBank will give me a loan I can afford to pay without putting too much pressure on my budget.
Nosipho N
— Umlazi —
April 2019
Within a few hours after applying for a personal loan, my credit request was attended to and I received the money on the very same day.
Johan N
— Vereeniging —
April 2019
I am yet to find a credit provider that offers affordable interest rates as WesBank does.
Patricia G
— Pretoria —
October 2018
Thanks to WesBank, I got a loan when I was literally running out of options. I am grateful that they helped me when nobody wanted to assist.
Jonathan B
— Westonaria —
February 2021
When I needed a personal loan there was no question that Wesbank was the provider of choice. Many of my friends and family recommended them. The choice was easy to make after I saw their deals.
Mbali S
— Port Alfred —
March 2021
I had to get money fast and approached a few lenders for a personal loan. Many of them had a waiting period of 48 hours for a decision. I decided to apply for a loan at Wesbank. I had an instant ...
Fourie B
— Aberdeen —
September 2021
We have been dealing with Wesbank for many years and we would just like to thank them for the outstanding service. They have always been there for us and delivered on every promise.
Van Heerden S
— Bloemfontein —
WesBank Contact
Contact Number
E-Mail
Website
Physical Address
Portside, 21st Floor, FNB Building, Buitengracht Street & Hans Strijdom Avenue

Cape Town

Gauteng

8001

South Africa
Opening Hours
Monday

07:00 – 16:30

Tuesday

07:00 – 16:30

Wednesday

07:00 – 16:30

Thursday

07:00 – 16:30

Friday

07:00 – 16:30

Saturday

08:00 – 12:00

Sunday

– Closed