Personal loans up to R3,000,000
Low-interest starting from 5%
Repayment up to 10 years
In-page navigation
---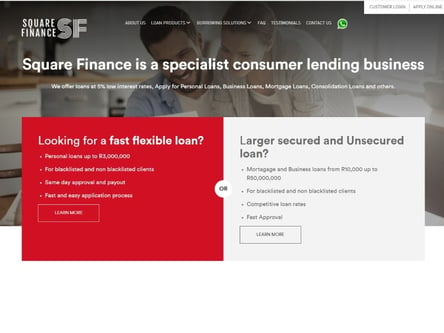 Author Square Finance. Screenshot of Square Finance website.


[Accessed January 30, 2023]
About Square Finance
Whether you need a new vehicle, house renovations or simply a well-deserved vacation, a personal loan from Square Finance can cover it all.
Being an active financial service provider since 2010, Square Finance has learned to perfect its services in every respect.
With their team of qualified specialists, you can expect to receive the best services and loan products on the market.
Loan products with a special touch
Square Finance designs loan products that are based on stability and clarity. They're determined to provide you with understandable, efficient and responsible financial solutions.
Square Finance provides a variety of personalised loan products that vary according to your needs. From low-interest rates to flexible repayment terms, you can expect to receive loan products with a special touch.
Qualified financial professionals
Square Finance upholds four reasonable business principles whenever they supply their clients with financial assistance.
These principles include;
Responsibility, by supplying affordable loan products
Transparency, to provide the best services without the hassle
Fairness, ensuring that all clients are equally treated
Simplicity, providing information that is efficient and understandable
Your number one finance provider
Square Finance believes in building a strong relationship with its clients to fulfil its duties. By understanding their client's needs and circumstances, they can create the perfect loan solution with affordable features.
Don't hesitate to contact Square Finance. Start building your dream home or go on that well-deserved vacation today.
Square Finance Services
At Square Finance, you can access any of their products with an easy click.
They provide financial services such as personal loans, mortgages, business loans and many more. From advice to the perfect solutions, Square Finance has a team of professional employees who go the extra mile to keep you happy and deliver on their promises.
Unsecured personal loan features
Have you been blacklisted or are you sitting with a low credit score? Don't worry, you can get a personal loan from as little as R10,000 and up to R3,000,000 in cash when you apply at Square Finance. With their competitive interest rates and flexible repayment terms that last for up to 10 years, you can be assured that all your needs will be met.
At Square Finance, all their loans have fixed rates. Therefore the interest payable and repayment schedule will stay the same for the duration of the agreement.
Putting your personal loan to good use
When you receive your loan amount, you might be wondering about what to do first. Here are some common ways you can use your loan:
Renovations to your home,
Buying a new car or repairing your old one,
Giving your children the best education,
Having your dream wedding or
A family vacation.
There's no better time than now to get your dreams going with a personal loan from Square Finance.
Pay your loan off earlier than planned
Why wait for 5 years, when you can pay your loan off within a year? At Square Finance you get the benefit of making extra repayments whenever you like. You don't need to worry if any extra cost arises during the process since your early settlement amount will take care of it.
Square Finance – Personal loan
Loan Type

Personal loans

Interest Rate

from 5%

Loan Amount

up to R3,000,000

Repayment

1 year to 10 years
Benefits of Square Finance
The fast and easy application process
Fixed interest rates
Same-day approval and payout
Quick online loan assistance and approval within 24 hours
Square Finance is known for its quick application process as well as its swift approvals. You can have your credit paid out within as little as 24 hours after submitting your application.
Requirements when applying for a personal loan
It's important to meet the minimum requirements before applying for a loan. Here is a list of requirements when you are looking to apply for an unsecured personal loan;
You need to be between the age of 21 and 70 years
Be an active homeowner
Must be a resident of South Africa
Have an active email address
Keep in mind that the requirements might differ from one product to another. For instance, to qualify for their secured personal loans you will need to be a homeowner. This is not a requirement for other loan types.
Online loan calculator at your disposal
Are you tired of trying to calculate your loan amounts and rates? With Square Finance you get the advantage of doing it all online. On their website, you'll find an online loan calculator, which can be used to determine your interest rates and repayment duration.
The quick and easy application process
Once you've accessed your application form, and filled in all the required details you can submit it to their website. The moment they receive your application they will start working on the approval of your loan.
If there's a need for any additional information, Square Finance will send the request before the final approval. Once it has been finalized, you'll receive a message that indicates your loan approval. You'll then receive your funds within the next day.
Easy to use online website
Whatever enquiries or difficulties you might be facing during your loan process, you can get in contact with Square Finance with just a click on their website.
When your loan application has been accepted, you'll have an active personal account on the Square Finance website. This account will allow you to view your remaining balances, repayment schedules, due dates etc. This has been made available to allow you to get all your loan information without needing to go in-store.
Additional information when applying for a loan
It's important to keep in mind that your personal information should always be accurate and precise when applying for a loan. If your information should change while still making repayments on your loan, you should inform Square Finance immediately to get your personal details updated.

Square Finance is a trusted & reliable provider of personal loans
In our review, Square Finance adheres to the compliance criteria in accordance with the National Credit Act, where the granting the loan will not cause financial distress to the consumer.
✅ Square Finance is a registered credit provider in South Africa: NCRCP10013
Customer Reviews & Testimonials
"
June 2022
A friend told me about the outstanding service they received from Square Finance. I needed a personal loan and decided to apply with Square Finance. The process was quick and easy.
Bonita G
— Despatch —
March 2022
I would like to thank Square Finance for making my personal loan process so quick and easy. I would recommend them to everyone I know.
Peter S
— Port Elizabeth —
Square Finance Contact
Contact Number
E-Mail
Website
Physical Address
64 Main Road, Somerset West

Cape Town

Western Cape

7130

South Africa
Opening Hours
Monday

08:00 – 17:00

Tuesday

08:00 – 17:00

Wednesday

08:00 – 17:00

Thursday

08:00 – 17:00

Friday

08:00 – 17:00

Saturday

08:00 – 17:00

Sunday

– Closed