Personal loans up to R300,000
Low-interest starting from 18%
Repayment up to 72 months
In-page navigation
---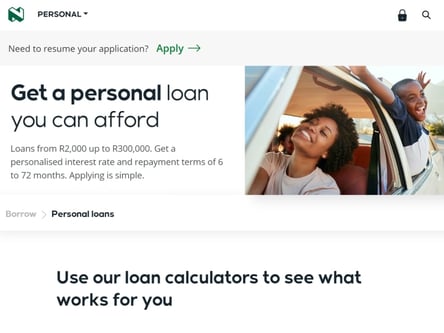 Author Nedbank. Screenshot of Nedbank website.


[Accessed January 30, 2023]
About Nedbank
The flexibility of personal loans makes them a great solution when considering home improvements or paying for big-ticket items.
And as one of South Africa's leading credit providers, Nedbank offers a wide variety of financing solutions that can be tailored to your budget.
Nedbank - the credit provider of choice
The security of well-established lending criteria and strictly regulated processes and fees
They have the financial backing to offer you higher loan amounts for longer terms
You gain access to the lowest interest rates on the market
They offer incentive packages that allow you to earn money back on loans
Banks offer a variety of beneficial products and services in addition to loans
What Nedbank brings to the table
Since opening their doors on the 1st of March 1888, they've spent years developing and perfecting products that make saving, spending, and investing more accessible.
As one of South Africa's favourite FSPs, they pride themselves on offering competitive pricing and professional services, including everything from expert financial advice to investment opportunities.
Alongside their personal banking and loans, they also offer financial solutions for your business. They provide a range of affordable insurance products, including Credit Life cover and funeral policies as an additional bonus.
Get R200 off your loans back every month
If you've ever wondered what having a loyalty card for your bank would be like, this offer is Nedbank's answer. To take advantage of it, you can sign up for a Savvy Plus or Bundle account once you've applied for a personal or car loan.
You'll have 60 days to activate the promotion and set up the debit order from this account once your loan has been approved.
Ensure you get cash back by making this the account your paycheck is deposited into or by transferring a minimum of R5,000 into it on a monthly basis. You'll need to keep the account active and use their banking app regularly to ensure you never lose out.
Nedbank Services
While the personal loan category includes everything from payday to vehicle finance, the term most often refers to long-term loans in advertising.
One of the more notable advantages of this product is that you have more options regarding the amounts and duration of your loan.
Get loan terms of up to 72 months
You can borrow between R2,000 and R300,000 for up to 6 years. Each application is reviewed on a case-by-case basis to make sure you get the most affordable repayment options. Choosing the amount and term you can quickly repay will increase your chances of loan approval.
Your credit score influences the interest you'll pay. This means you're more likely to be offered lower interest rates if you have a high score.
Checking up on your credit profile regularly is a great way to manage your debt more effectively and ensure you get the best rates on any loan agreement.
A breakdown of the costs involved
Interest on personal loans can be between 18% and 28% per year, but this isn't the only fee you'll need to consider.
Nedbank charges a percentage of the loan amount as an initiation fee and a fixed monthly service fee of R69. While the former is a once-off cost distributed over your loan term, the latter is charged each month until the end of the agreement.
The final cost is a mandatory credit life insurance premium based on your chosen loan amount. This pays off outstanding loan repayments in case of death or permanent disability. It also covers up to 12 months of instalments if you're retrenched or unable to work due to critical illness.
Using the APR to compare loans
Comparing the terms and fees on loan offers from a variety of credit providers allows you to make sure you're getting the most bang for your buck. However, comparing each charge individually can be time-consuming.
This is where the Annual Percentage Rate comes in. It combines all related fees calculated over 12 months and shown as a percentage. By comparing the APR offered by different lenders, you can choose a loan based on the costs and benefits of each option.
Nedbank – Personal loan
Loan Type

Personal loans

Interest Rate

18 – 28% p/a

Loan Amount

up to R300,000

Repayment

6 months to 72 months
Benefits of Nedbank
Easy loan application process
No hidden fees
Affordable loans
Nedbank offers hassle-free application processes and competitive pricing
While you don't need to be an existing client of Nedbank to apply for their credit products, it does make the entire process easier.
Existing account holders can apply using their online banking or Nedbank app to apply and may already have pre-approved offers waiting.
The three-step application process
Step 1: Fill out a quick, easy application form online. You'll be asked to give a breakdown of your income and expenses, including insurance policies, other outstanding debts, monthly grocery bills etc.
Step 2: Your application is reviewed, and a credit and affordability check is performed. Once Nedbank establishes what you can afford to repay, they'll offer you a loan amount that you can adjust to suit your situation.
Step 3: Once your application is approved and you've signed the loan agreement, the payment will appear in your account. You'll receive a DebiCheck request, and once you've confirmed it, your monthly instalment will be debited from your account.
Required documents and criteria
To apply for a Nedbank personal loan, you must be permanently employed and a South African citizen over the age of 18.
A copy of your ID (Green book or card)
Three months' bank statements showing your income and expenses
A copy of your latest payslip
Proof of residence
No early settlement fees
It may not always be possible to repay your loans early, but when it is, Nedbank rewards you for it by not charging a penalty fee. This is a fantastic way to keep your credit score healthy and build up a positive credit relationship with lenders.
Additionally, if you're a few days late on your repayments, you'll not be penalised with late fees either. However, your bank will charge you a fee if your debit order bounces, so please be weary of this.

Nedbank is a trusted & reliable provider of personal loans
In our review, Nedbank adheres to the compliance criteria in accordance with the National Credit Act, where the granting the loan will not cause financial distress to the consumer.
✅ Nedbank is a registered credit provider in South Africa: NCRCP 16
Customer Reviews & Testimonials
"
July 2020
I really wanted to buy a new car because my old one was giving me problems and Nedbank was there to make my dreams come true.
Janet P
— Roodeport —
July 2020
Wanted quick cash to cover expenses and they game the best service
Vusi C
— Soweto —
September 2017
My family and l needed extra cash for our vacation and Nedbank assisted us we are really grateful
Thomas M
— Johannesburg —
Nedbank Contact
Contact Number
E-Mail
Website
Physical Address
135 Rivonia Road, Sandown, Sandton

2196

South Africa
Opening Hours
Monday

24 – Hours

Tuesday

24 – Hours

Wednesday

24 – Hours

Thursday

24 – Hours

Friday

24 – Hours

Saturday

24 – Hours

Sunday

24 – Hours