Personal loans up to R250,000
Peer-to-Peer Lending
Repayment up to 5 years
In-page navigation
---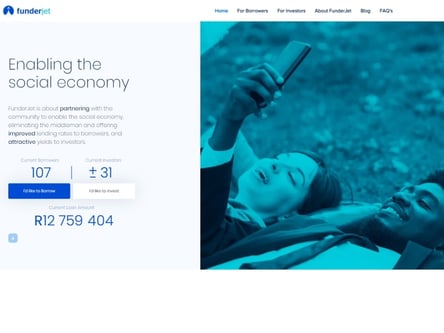 Author FunderJet. Screenshot of FunderJet website.


[Accessed February 28, 2023]
About FunderJet
FunderJet is a digital platform that offers reliable financial services. The company was founded in 2019 by Andre Loots and Andre Loots Jr.
FunderJet is for individuals who not only dream of financial freedom but also take action to make their dreams come true. One of the main goals of this lender is to allow you to have easy access to personal loans.
The founders believe that by using technology they can enable the social economy by making financial services easily accessible to everyone. FunderJet also believes in trust and transparency to your benefit as a client.
FunderJet puts you first
FunderJet makes sure that you as the borrower or investor are not at risk. And if that's not enough to show that they're different, the next point will be. The company is built on the principles of trust, convenience, and partnership. They ensure you have a place to go for a loan in an event of an emergency.
You're not just a priority but the priority. It's all about you, your needs, and your dreams. FunderJet is a direct lender and no banks are involved. There are many benefits you can enjoy by using this platform.:
Benefits of FunderJet's services
You can sign up digitally with no fuss, no hassle
FunderJet makes sure to secure your digital wallet
The company uses its technology to match you with an investor for your personal loan
You can interact with other customers on the dashboard
FunderJet is on your side. And will go out of their way to assist you
Your personal information is safe with FunderJet
FunderJet is committed to protecting any personal information that you might share in the process of applying for your personal loan. These are the miles FunderJet would walk for you and your privacy:
Your personal information is protected against any loss, damage, and unauthorized access
No information shall be processed without FunderJet's approval
The company identifies any risk to your personal data and takes corrective action
All your data in possession of FunderJet is properly backed up at all times
Invest or take out a personal loan at FunderJet. There's no better partner. You can get in contact with the company for any additional information before taking out a loan or investing.
FunderJet Services
Do you strive for financial freedom? FunderJet is the company for you.
FunderJet gives you the opportunity you've been waiting for. With personal loans from R 5 000 up to R 250 000, the possibilities are endless.
Their loan terms range from 1 to 5 years. You'll be able to start the business you've dreamed about or go on that well-deserved vacation.
As for more pressing concerns, you can pay for your kid's college tuition or get that long-overdue car maintenance. There's no limit to what you can do.
Easy loans available to all South Africans
No waiting for days to claim your loan, FunderJet has you covered. Within 15 minutes of approval, you can get started on planning that group trip you and your friends have been talking about for years.
Worried about rates? No need. The rates are calculated according to each and everyone's individual circumstances such as:
Monthly income
Current level of debt
Credit history
Monthly expenditures
Not only does FunderJet cater to personal loans. You can also use this platform to become an investor.
Grow your wealth and retire early. What do the kids say these days, work smart not hard.
FunderJet investors have direct access to the retail credit market, and you receive the full interest amount through funding loans.
Whether it's a personal loan or an investment it's all within your reach with a click of a button.
Why choose FunderJet?
There are many ways you can get a personal loan but FunderJet offers one of the simplest and most convenient in the industry.
The rates are lower than those offered by banks
Turnaround times for approval are shorter
It's a simple online application
No hidden charges
The best customer service you'll come across
FunderJet – Personal loan
Loan Type

Personal loans

Loan Amount

up to R250,000

Repayment

1 year to 5 years
Benefits of FunderJet
Quick peer-to-peer loans
Easy online application platform
Connects investors to borrowers
Better loan rates
A breakdown of Funder Jet's easy online loan application process
You can apply for a personal loan online, quickly, and easily with no paperwork. Scan the QR code and use the progressive app.
The app will guide you on your way to everything you need. You'll be able to make your decision in a matter of minutes.
Four simple steps to personal loan approval
Confirm your identity
Link your last three months of your account history for verification
Choose the amount you'll need for your personal loan
Get a glimpse of your individual rate and make your decision in five minutes
Any problems with your application will be reviewed within two working days. With FunderJet you can do personal loans online anytime anywhere with a stable internet connection.
What you need to apply
When it comes to requirements to apply for a loan, you don't need much. FunderJet makes it possible for you to easily get a loan. They're an efficient and caring company.
Requirements to qualify for a loan
Be between the ages of 18 and 60
Be a South-African resident with a valid address
You must be employed
Your income has to be at least R15 000 before tax deductions
Must possess a credit history
Five minutes of your time to verify eligibility
If you find yourself in a position where your loan has been declined, FunderJet has the answers to your questions.
A failed application might be because of the following reasons:
A high level of debt
You have a low credit score
Your previous applications were declined
Affordability is an issue and you may not be able to afford to pay back your loan
You have insufficient credit information available
You can always reapply for a loan if your circumstances happen to change in the next 3 months.
Customer Reviews & Testimonials
"
October 2022
Getting a personal loan from my own bank was proving to be a difficult exercise. A friend suggested that I apply with FunderJet and I did. They offered me great rates and I could pay off my debt.
Portia N
— Middelburg —
March 2022
I was in search of a personal loan. My debt was reaching dangerous levels and I approached FunderJet for the funding I needed. The application was simple and took only a few minutes.
Jerome M
— Boksburg —
April 2022
I would like to take this opportunity to thank FunderJet for the outstanding service they've provided me with. They helped me with a personal loan and I had access to the funds on the same day I ...
Martie M
— George —
FunderJet Contact
Contact Number
E-Mail
Website