Blacklisted loans
Low-interest starting from 15%
Repayment up to 2 years
In-page navigation
---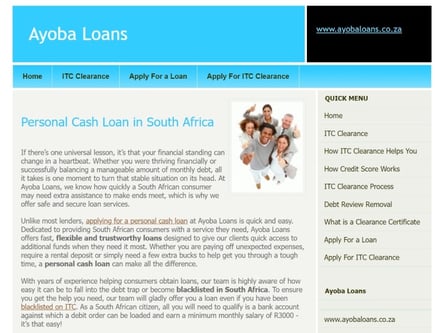 Author Ayoba Loans. Screenshot of Ayoba Loans website.


[Accessed January 30, 2023]
Ayoba Loans - the leading online loan service provider
Ayoba loans are one of the leading online loan services available in South Africa.
Their service allows you to apply for a personal loan that's uncomplicated and effortless. They'd like to make the process as simple and straightforward as possible and minimize the hassle and unnecessary running around.
How to apply
It's very simple to apply, simply log in and apply online by filling in Ayoba Loans' straightforward online application form.
Ayoba Loans will need:
ID number
First name and surname
Cell phone number
E-mail address
And the amount you would like to borrow
Ayoba Loans believe in equal opportunity and encourage all South Africans to apply. Sometimes your financial situation is not ideal and they understand that and are there to help you. Whether you're in need of a short-term loan for any reason, big or small, look no further than Ayoba loans.
Flexible bad credit loans
The financial climate in South Africa is very unstable and that has led to many South African citizens becoming blacklisted.
Although there's no guarantee that Ayoba Loans will be able to assist you if you've been blacklisted or have a low credit rating, they encourage you to apply and will assist you as far as possible in obtaining a bad credit loan. They aim to provide a fast and flexible solution to finance when you need it most.
Confidentiality guaranteed
Ayoba Loans promise to keep all your information confidential and have high-security measures in place to guarantee that your personal information isn't compromised. Their company is registered with the NCA and complies with the laws of the Republic.
Quick & easy personal loans from Ayoba
Ayoba Loans aim to supply personal loans to you when you're in need of a little extra cash or help to cover emergency expenses.
Their personal loans are unsecured, meaning you won't have to list one of your assets to ensure that you pay back your loan. Whether you've been blacklisted or not, this lender will make an effort to help.
How to get credit with Ayoba
In order to qualify for a personal loan simply fill in their online application form with your personal details.
Documents required to apply for a loan
To be a citizen of South Africa with a valid ID
A South African bank account, a debit order will be set up for this account in order for you to pay back the payday loan amount
You should earn at least R 3000 per month.
Declined applications
Ayoba Loans want to help you acquire a personal loan and will do everything in its power, but unfortunately, you may be declined for the following reasons:
You would not be able to afford the monthly loan installment amount
You've applied for debt counselling
You're under debt review
You've been placed under administration or sequestration
Ayoba Loans' friendly consultants
Ayoba Loans' consultants are ready to make the application process as effortless and quick as possible while ensuring you understand the process every step of the way.
If you have any questions during the application process, contact one of their friendly consultants and they'll help you every step of the way. They're knowledgeable and trained to answer any of your questions.
Ayoba Loans – Personal loan
Loan Type

Personal loans

Interest Rate

from 15%

Repayment

2 years
Benefits of Ayoba Loans
Reliable personal loans
Get great deals on loans
Competitive interest rates
Ayoba Loans offers value-added benefits you'll love
Ayoba loans is a registered lender and all associated lenders are also registered with the National Credit Regulator.
All fees and interest that are charged are done so in accordance with the National Credit Act (NCA) no 34 of 2005.
Initiation fee
No one likes to be surprised with hidden fees that can throw out your budget completely. Ayoba Loans pride itself on being transparent and fair. They guarantee that there will be no hidden costs.
You'll be charged an initial initiation fee of 15% of the instant loan amount up to R1 000 and 10% thereafter plus VAT. Their service fee is charged at R50 per month (+ VAT)
The breakdown of the fees charged on personal loans is as follows:
Interest charged per day charged at 0.17%
Interest charged per month is 5%
Interest charged per annum is 60%
Each registered lender has its own terms and conditions and its own policy in place. This is only a guideline for online loans.
Ayoba loans are part of the Finance Turtle Group
Ayoba Loans are part of the Finance Turtle Group which is a membership service. By becoming a member they'll finance all your needs under one roof.
Their benefits aim to add value, provide you with peace of mind and help you control your finances from the comfort of your own home.
Benefits of Ayoba's service
For a once-off registration fee of R199 and then a monthly fee of only R99 per month you'll have access to the following benefits:
Finance finding facility
Debt review
Help with compiling your last Will and Testament
R 3 000 family funeral cover
Funeral support services
Legal services
Emergency medical services
Trauma and assault counselling
Personal health advisor
HIV protection treatment services and counselling
To find out how you can become a member and take advantage of these benefits contact Ayoba Loans.

Ayoba Loans is a trusted & reliable provider of personal loans
In our review, Ayoba Loans adheres to the compliance criteria in accordance with the National Credit Act, where the granting the loan will not cause financial distress to the consumer.
✅ Ayoba Loans is a registered credit provider in South Africa: NCRCP6904
Customer Reviews & Testimonials
"
March 2019
Without the financial assistance, I got from Ayoba Loans, I would be still trying to find a loan I can afford to pay off. Thank you for being such an affordable credit provider.
Fred J
— Deneysville —
March 2019
I am happy with the interest rates I am paying at Ayoba Loans. If you are looking for a good credit deal, Ayoba Loans is your best shot.
Sandra P
— Parys —
May 2019
Applying for an Ayoba Loan was not only quick and easy but it was also convenient and saved me a lot of time.
Tshepang K
— Mafikeng —
Ayoba Loans Contact
Contact Number
E-Mail
Website
Physical Address
8 George St

Leeudoringstad

Klerksdorp

2640

South Africa
Opening Hours
Monday

08:30 – 17:30

Tuesday

08:30 – 17:30

Wednesday

08:30 – 17:30

Thursday

08:30 – 17:30

Friday

09:00 – 17:30

Saturday

09:30 – 13:00

Sunday

– Closed