Personal loans up to R125,000
Low-interest starting from 28%
Repayment up to 60 months
In-page navigation
---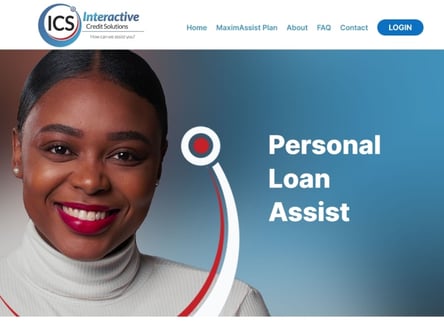 Author ICS Loans. Screenshot of ICS Loans website.


[Accessed January 30, 2023]
ICS - Fast personal loans
ICS Loans is a payday loan provider that was founded in Johannesburg.
This proudly South African company offers you services nationwide. They offer convenient, fast loans through their easy online application process. They don't run a credit check or ask you for embarrassing information about your finances. The only check that they'll do is to confirm your salary.
Fast loan turnaround times
ICS Loans has granted loans to hundreds of South Africans and they pride themselves on their fast response time. This together with their excellent customer service they've earned a superb reputation. Once you've been approved for a personal loan, it'll be paid into your account instantly.
ICS Loans' values
Their values are based on putting the customer first so they handle your application form with diligence and speed. All of their dealings are above board and explained fully in a clear, concise manner to our clients. If you do not understand something they'll go above and beyond to help you understand them before allowing you to enter into any contracts.
What is a payday loan?
A payday loan refers to a short-term loan that needs to be paid back in full the next time that your salary is paid into your account. You're in control and can choose the amount that you know you'll be easily able to pay back without putting yourself under financial strain.
How to apply with ICS Loans
To apply you just need to log onto their website and fill in the easy-to-complete online loan application form. They do not run a credit check so their approval rating is very high.
Get money in your account fast
When you need cash for an unexpected emergency, lenders may take advantage of your situation.
At ICS Loans they don't want you to be taken advantage of. This is why they'd like to assist you in finding the personal loan to suit your individual needs while avoiding unscrupulous lenders.
No credit check loans
Their instant loans can be granted very quickly as they do not perform a credit check.
Once your application form and supporting documents have been uploaded, your application can be approved in a few minutes.
This means that if you are blacklisted you might still qualify for a loan. The only thing that they check is that you are currently employed and earning a salary.
Get cash now
Once you've been approved the cash will be paid directly into your bank account within a few minutes. This means that you can apply for a loan and get the cash within the same day.
Short-term credit from ICS Loans
The other option you have available is small short-term loans. These allow you to borrow up to R3 000. This loan needs to be paid back within 30 days and will save you money as less interest will be charged.
The interest rate is very competitive. Remember loans that are paid on a daily interest rate will be much higher than those that are charged at a monthly interest rate.
ICS Loans – Personal loan
Loan Type

Personal loans

Interest Rate

from 28%

Loan Amount

up to R125,000

Repayment

30 days to 60 months
Benefits of ICS Loans
TRepayment up to 60 months
Affordable personal loans
Low-interest starting from 28%
Personal loans up to R125,000
ICS Loans - we can help you
So you've taken a payday loan to help pay for an unexpected expense, then taken another loan to help make it through the month after paying off your payday loan in one lump sum.
Your accounts and living expenses have become too much to handle and you're struggling to keep your head above water. You've been forced into a vicious loaning and debt cycle.
If this sounds familiar, debt consolidation might be the answer to your problems. This process involves merging all your debt into one easy-to-manage account.
Debt consolidation with ICS Loans
ICS Loans will pay off all your debt and get you a deal on a settlement amount for each account. Once they've paid all your debt you'll only need to pay one loan back, this will allow you to make smaller, more manageable payments.
It also lowers your risk of missing an individual payment or deciding who you'll pay this month. Because you'll only have one account to pay, this will, in turn, lower your interest rate and help protect your credit score.
How to get help
Seeing a professional to advise you on how to proceed is usually the best option. They'll be able to advise you on your rights and which option will work best for you.
By helping you arrange your finances or undergo debt counseling, they'll be able to advise you on which kind of debt consolidation will work for your individual needs.
You'll be entering into an agreement that will benefit you. Make sure that the arrangement that you enter into will be easy to manage and the repayment terms favourable.
The lender will look at all factors to determine your repayment terms, including your monthly expenses, living costs, and other expenses.
What if I've already been blacklisted?
If you have already been blacklisted, there are still options available to you including loans for bad credit. Speaking to a professional will let you know where you stand and how to get out of the vicious debt cycle.
The lender will still need to approve your application for debt consolidation. If you don't have enough money to pay them back, you'll be seen as a higher risk and your application could be denied.
Responsible lending
Because ICS Loans do not run credit checks, it's very important that you understand your level of affordability.
The amount you borrow will need to be paid back in one lump sum as soon as you receive your next paycheque. ICS Loans believe in responsible lending and we do not want to push you further into financial difficulty.
Customer Reviews & Testimonials
"
November 2018
ICS Loans ensured that I get a loan in the shortest turnaround time.
William L
— Parktown —
December 2018
If you looking for an affordable credit provider, ICS Loans is your best shot at getting a good credit bargain.
Slindile M
— Margate —
March 2019
I am yet to find a credit provider that has the best interests for its clients like ICS Loans.
Michael P
— Pretoria —
ICS Loans Contact
Contact Number
E-Mail
Website
Physical Address
65 Marshall Dr, Mount Edgecombe,

Durban

Kwazulu Natal

4302

South Africa
Opening Hours
Monday

08:30 – 17:30

Tuesday

08:30 – 17:30

Wednesday

08:30 – 17:30

Thursday

08:30 – 17:30

Friday

09:00 – 17:30

Saturday

09:30 – 13:00

Sunday

– Closed