Quick loans up to R4,000
Low-interest up to 60%
Repayment up to 30 days
In-page navigation
---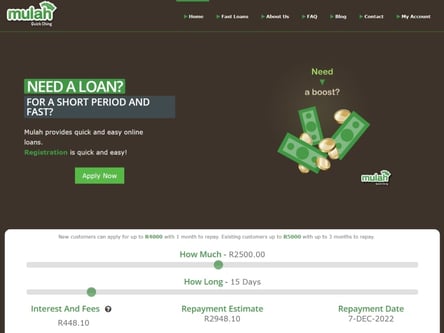 Author Mulah. Screenshot of Mulah website.


[Accessed January 30, 2023]
Mulah - Take back your finacial freedom
If you need cash fast, when the time comes and you need urgent financial assistance in the form of a quick loan, Mulah can assist you.
There might be an unexpected bill that arrived or the car broke down on your way to work. Whatever the reason may be, the help you need is within reach.
Falling into a dark hole of debt is becoming easier these days. There's no reason to fall victim to debt when you can sort the financial problem out quickly with a little help from Mulah.
Who Mulah is
They're a team of young, energetic, online entrepreneurs that are on a mission to provide people in need with finance easily and conveniently. Mulah realised early on that there's a growing need in the market for fuss-free finance with a difference. The ultimate goal was to bring change to the finance industry.
By giving people access to quick loans on a short-term basis, they're giving people the room they need to breathe financially.
What Mulah offers
There is one thing people don't like to do and that is to wait. Mulah knows this and they agree. They will get you sorted out in no time. Needing a quick loan usually means you don't have the luxury of time. When that unexpected bill arrives, it needs to be paid as soon as possible.
They offer their customers a super-fast, short-term, online loan by cutting out the middleman as well as all the unnecessary paperwork associated with a loan.
Fast financial solutions
At Mulah they have an unwritten rule. They agreed that any successful company is based on the level of service to its customers.
They vowed that there would be a level of outstanding customer service and that its customers would ultimately become family. This has been their mission every day.
By helping people in need in an understanding and professional manner, they are making life easier. They offer you ease and convenience when it counts the most.
The easiest Quick loan around
The idea of a quick loan is to assist people with short-term, instant finance to help them get by until their next payday. It's as simple as that. This loan option from Mulah can give you access to up to R4 000 and a month to repay your loan. It is a quick and fuss-free solution to an immediate problem.
The application process has been made super-easy and convenient. You can apply for the funding you need in your own time, safely online.
Mulah offers more than just a Quick loan
They have also made available services for existing customers. They call this their fast loan. With the growing need for instant cash, this has become a popular service.
Imagine going to the shop for a few things for dinner and realising that you have insufficient funds. This is no problem with the fast loan from Mulah.
You can simply get the cash you need through their app. There is no paperwork as they already have all the information they need. With them, you'll have optimal convenience at your fingertips.
Mulah – Quick loan
Loan Type

Quick loans

Interest Rate

60%

Loan Amount

up to R4,000

Repayment

24 hours to 30 days
Benefits of Mulah
Up to R4000 short-term loans
Simple online registration
Safe and secure loans with ease
Mulah – Safe, effective financial solutions
Applying for a quick loan from Mulah is easier than eating your favourite pie. They have reinvented the way you apply for cash because they believe that life is complicated enough.
There is still a need for some documentation but this has been kept at a minimum to speed up the application process even more.
Required documents:
They need the last three months' bank statements.
Proof of your identity with a copy of your ID document.
On the Mulah homepage, there is an easy-to-use loan calculator. You can indicate your fast loan amount as well as the repayment term using the sliders. Once you have the estimate that suits you, you may start the application process by clicking on apply now.
Step one:
You will be directed towards the application form by clicking on apply now. Complete the quick and easy application form.
Step two:
You can submit the application form and mail or fax the required documents to the details provided on the homepage. Mulah will do a quick credit check to make sure you can afford your quick loan.
Step three:
You will be notified via SMS and email if your loan is approved and they will present you with a quote. You may then accept the quote by signing the document and sending it back to them.
Step four:
This is the best and final step in the process. As soon as they receive your signed contract, your funds are paid directly into your bank account.
Choose Mulah for the win
Don't let life's little hiccups get you down. Everybody needs a little financial help from time to time. Mulah was established because they realised there was a need for quick and easy access to money.
Join Mulah today and enjoy the luxury of having them in your corner when the need arises. They aim to please and treat each customer like family. Become part of their family today.
Quick loan benefits at Mulah
Quick and easy application process.
They provide instant cash.
They understand the industry.
The entire process is available online.

Mulah is a trusted & reliable provider of quick loans
In our review, Mulah adheres to the compliance criteria in accordance with the National Credit Act, where the granting the loan will not cause financial distress to the consumer.
✅ Mulah is a registered credit provider in South Africa: NCRCP 6092
Customer Reviews & Testimonials
"
August 2018
The interests' rate are good and the services are very affordable and reasonably priced.
Judy M
— Germiston —
November 2018
Great service and an amazing staff – Mulah are the best place to go for loans and any financial services.
Terri M
— Durban —
May 2018
My loan was processed in the promised time and I had the money soon after I applied.
Grace M
— Durban —
August 2021
I was dreading that the account from the vet would come before payday. Luckily I had access to Mulah and I could get a quick loan in no time to pay the bill on time. They are a great lender.
Ncendo S
— Bloemfontein —
October 2021
The service that Mulah provides is easy and convenient. They have gone above and beyond to make life easier for everyone in need of a quick loan. They offer outstanding customer service every tim...
Skade F
— Rustenburg —
November 2021
I would like to thank Mulah for always being there when I needed them. They have made it so easy to get the help you need. No more fuss and paperwork when applying for a quick loan from them.
Malan D
— Boksburg —
Mulah Contact
Contact Number
E-Mail
Website
Physical Address
A, Waterkloof Rand Corporate Park, 358 Buffelsdrift St

Pretoria

Erasmusrand, Gauteng

0181

South Africa
---
Postal Address
P.O Box 99849 , Garsfontein East , 0060
Opening Hours
Monday

08:30 – 16:00

Tuesday

08:30 – 16:00

Wednesday

08:30 – 16:00

Thursday

08:30 – 16:00

Friday

08:30 – 16:00

Saturday

– Closed

Sunday

– Closed