Quick loans up to R4,000
Low-interest up to 38%
Repayment up to 65 days
In-page navigation
---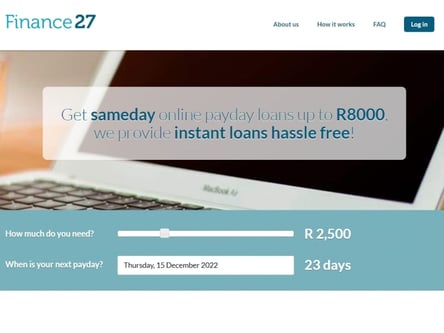 Author Finance 27. Screenshot of Finance 27 website.


[Accessed January 30, 2023]
About Finance 27
Finance 27 registered with the NCR in 2014 and has spent the last few years making its online platforms accessible to all South Africans in need of financial assistance.
As a microfinance institution, they specialise in short-term loans. This means that when you apply for a quick loan, they waste no time getting you from application to money in your account.
Get paid instantly
Finance 27 automates its online loan application process. This means you can apply for quick loans at any time, day or night. Once the system has verified your information and a credit check has been performed, they'll pay the funds directly into your bank account.
It takes 24 hours for the money to show in your account, but for a fee of R57, you can have the payment reflected immediately.
All fees are discussed upfront
Everything you need to know about your payday or quick loan is on the home page of their website.
Using a set of sliders, you can choose a loan amount and up to a 65-day repayment term. An estimated total, including fees, is shown below the sliders to help judge the loan's affordability.
The maximum APR (Annual Percentage Rate) you could be charged by Finance 27 is 38%. This percentage reflects the total you'll pay in interest and fees calculated over a year. When comparing the cost of financial products from different lenders, this percentage is the best unit of measurement.
Affordability is the standard
Credit checks are mandatory and may affect the interest rate you'll be charged, but a bad credit score isn't the only factor considered.
Seeing as the maximum amount you can borrow is R 6,000, the risk assessment on a quick loan focuses more on whether you can afford to repay it in 60 to 65 days and not as much on your credit score.
While the entire loan process is completed online, you're welcome to contact Finance 27s, well-trained financial experts. They can answer any further questions you may have or offer you financial advice.
Finance 27 Services
Quick loans are a fast, convenient, and flexible solution to less expensive financial emergencies that crop up from time to time. They're perfect for paying for an unexpected doctor's visit, replacing tires, or paying for repairs you didn't have room for in your budget.
How to make the interest rate work
Using the provided sliders, you can choose the amount you'd like to borrow and a time frame for repayment. The site shows you an estimate of the fees and rates you may be charged.
When you play with the loan term, you'll see that the interest you'll pay significantly lessens when you choose a shorter term.
For example, a loan of R 2,500 with a repayment term of 15 days will cost you approximately R 104.52 in interest and R 419.75 in fees. In contrast, that same amount paid off over 64-day can cost R 304.08 in interest and R497.95.
Rates and fees on quick loans are calculated by the day as per the National Credit Regulations. Once you've registered with Finance 27, you can request a quote for a detailed breakdown of your repayment amount. Interest rates may vary depending on your credit score, loan term, and the borrowed amount.
Finance 27 reward loyalty
You may be limited to R 2,400 on your initial credit application as a first-time customer. However, you'll gain access to higher loan amounts as you build a good rapport by using this platform responsibly and not missing repayments.
Whether you're looking to create a positive credit rating to qualify for phone contracts or simply want to improve your credit rating, this feature offers you a safe, timely, and affordable way to do so.
Easy and convenient repayment options
At finance 27, even repayment methods are flexible. Whether you prefer to pay via EFT or debit order, the choice is yours.
If you choose to use a debit order, you'll need to consider that any fees charged by your bank are separate and won't be included in your loan agreement.
Finance 27 – Quick loan
Loan Type

Quick loans

Interest Rate

38%

Loan Amount

up to R4,000

Repayment

61 days to 65 days
Benefits of Finance 27
Friendly and helpful staff if you need them
You can apply 24/7 100% online
Financial planning and advice
Instant relief for your emergency
Finance 27 gets you from application to payout in 24 hours
Find out if you qualify for a payday loan before applying. By entering your South African ID number, your chosen term and amount, and agreeing to a credit check, you'll have an answer in seconds and be more than halfway done with the application process.
Once you receive pre-approval, you'll be asked to complete the application with your private details. As part of the form, you'll need to give an overview of your monthly expenses so Finance 27 can perform an affordability check. The moment your loan is approved, they'll pay the amount directly into your bank account.
Quick loan qualification criteria
An application will only be successful if you're 18 years or older and a South African citizen with a legitimate ID.
You must be permanently and gainfully employed. If you're still in a three-month trial period with an employer, your application may be declined.
A valid bank account registered in your name is a requirement. Finance 27 won't pay out to a third party and doesn't do cash payouts.
Relevant documents you'll need on hand:
Copy of SA ID
Three-month bank statements
Proof of your residential address
Your most recent payslip
Responsible borrower guidelines
Life often doesn't go as planned, so if you find yourself unable to make your monthly payment at any time, please don't hesitate to get in touch with a Finance 27 consultant. They're more than happy to renegotiate the payment terms to help you.
If you default on your loan, they'll charge you a service fee of R69 and add 5% interest to your account. Defaulting for more than two months will result in Finance 27 handing you over to a debt collector. The price of a phone call will save you money and keep you out of legal trouble.
Getting approval on a quick loan has never been faster or more accessible! Follow Finance 27's three-step process and get paid in record time.

Finance 27 is a trusted & reliable provider of quick loans
In our review, Finance 27 adheres to the compliance criteria in accordance with the National Credit Act, where the granting the loan will not cause financial distress to the consumer.
✅ Finance 27 is a registered credit provider in South Africa: NCRCP 7084
Customer Reviews & Testimonials
"
February 2022
I decided to apply for a quick loan from Finance 27 on a recommendation from a friend. I was delighted by how easy it was to apply. Their loans are affordable and payout within 24 hours of approv...
Kate T
— Pretoria —
October 2021
This has to be the most pleasant quick loan application process I've ever completed. Everything was clear and understandable. Finance 27 has brought new meaning to the term quick and convenient.
Elton J
— Pretoria —
Finance 27 Contact
Contact Number
E-Mail
Website
Physical Address
Unit 13, Kingfisher Building, Hazeldean Office Park, Silverlakes Rd, Tyger Valley

CapeTown

Western Cape

0084

South Africa