Short-term loans up to R4,000
Low-interest starting from 38%
Repayment up to 65 days
In-page navigation
---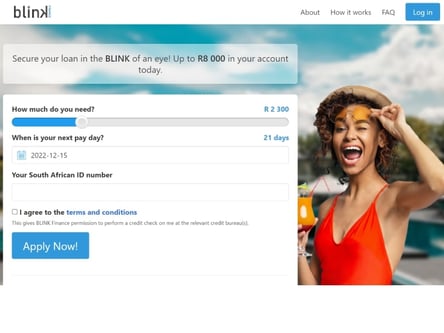 Author Blink Finance. Screenshot of Blink Finance website.


[Accessed March 28, 2023]
About Blink Finance
Blink Finance is a South African online lending platform that offers short-term loans. They pride themselves on offering fast and easy loan applications with minimal paperwork and quick turnaround times.
They're a registered credit provider that complies with all the regulations set out by the National Credit Act (NCA). The company was founded in 2017 and is headquartered in Johannesburg, South Africa.
Can't access a loan from a bank?
They aim to provide affordable and accessible credit to consumers who may not have access to traditional banking services or may have been declined credit from mainstream lenders.
Putting you first with their exceptional service
If you're a customer of Blink Finance, you can expect a high level of customer service from their team. They're responsive, friendly, and knowledgeable.
You can reach out to them via phone, email, or online chat and expect prompt and helpful assistance. Additionally, they provide extensive resources on their website to help you understand their services and make informed decisions.
The values that drive Blink Finance
Their values are centred around being ethical, transparent, and responsible. They aim to provide a fair and reliable service to their customers, ensuring that they understand the terms and conditions of their loans.
They believe in responsible lending and encourage you to only borrow what you can afford to repay. They also prioritise confidentiality and safeguarding their customers' personal information.
A new player that's here to stay
Although they're a new player in the market, the company has quickly established itself as a competitive and reliable lender.
Its focus on quick and easy loan application processes, competitive interest rates, and flexible repayment terms have made it a popular choice among South African consumers looking for personal loans.
Blink Finance Services
Blink Finance offers loans of up to R8,000, with repayment terms that are comfortable enough to give you some room to breathe.
The interest rates charged by Blink Finance are competitive, with rates starting at 15% per annum. The company uses a risk-based pricing model, which means that interest rates may vary depending on the borrower's creditworthiness.
Loans that meet your financial needs
You can borrow money to finance emergencies, pay off debt, cover unexpected expenses, or even fund a vacation. They strive to provide a hassle-free application process and quick approval.
Top benefits of choosing Blink
Competitive rates: Blink offers competitive interest rates to help you save money on your loan.
Quick and easy application: The online application process is straightforward and easy to complete.
Fast processing and funding: Blink aims to process applications quickly and, if approved, deposit funds into your account as soon as possible.
Flexible loan amounts: Depending on your needs and eligibility, Blink offers short-term loans ranging from R500 to R8,000.
Convenient repayment options: You can choose to repay your loan over a period of 65 days, with automatic debit order payments to make it easy to stay on top of your payments.
Short-term loan for bad credit
While Blink Finance considers each loan application on a case-by-case basis, having a poor credit score may make it more difficult to qualify for a loan from the company.
They use a risk-based pricing model, which means that interest rates may vary depending on the borrower's creditworthiness.
Borrowers with a lower credit score and higher risk of default may be offered higher interest rates or may be declined for a loan altogether.
However, it's still possible to apply for a loan with Blink Finance even if you have bad credit. In this case, consider applying for a smaller loan amount or opting for a shorter loan term, which may increase your chances of approval.
Blink Finance – Short-term loan
Loan Type

Short-term loans

Interest Rate

from 38%

Loan Amount

up to R4,000

Repayment

61 days to 65 days
Benefits of Blink Finance
Affordable short-term loans
Apply online within a few minutes
A dedicated support team
Short-term loan calculator
Say goodbye to long wait times and complicated loan applications with Blink
Blink offers a range of benefits to borrowers that make them stand out from the rest.
One of the most notable benefits is their commitment to providing affordable short-term loans with flexible repayment terms that suit different financial situations. Additionally, their fast and streamlined application process allows you to get the money you need quickly without any hassle.
To apply for a loan, you must:
Be a South African citizen or a permanent resident
Be at least 18 years old
Provide a valid South African ID document
Have an active South African bank account
Earn a regular monthly income
Not have any defaults or judgments against your name
Not be under debt review or administration
To apply for a loan with Blink, you will need to provide the following documents:
A copy of your valid South African ID or passport
Your most recent payslip
Bank statements for the last three months
Proof of residence (such as a utility bill)
Ready to apply? This is what the process looks like:
Visit the Blink Finance website and click on the "Apply Now" button.
Fill out the online application form with your personal details, employment information, and loan requirements.
Upload the necessary supporting documents, which may include your ID, proof of income, and bank statements.
Submit your application and wait for a response from the Blink Finance team.
If your application is successful, you'll receive a loan offer that outlines the terms and conditions of the loan.
Carefully review the loan offer and accept the terms if you are satisfied.
Once you've accepted the loan offer, the funds will be deposited into your bank account within 24 hours.

Blink Finance is a trusted & reliable provider of short-term loans
In our review, Blink Finance adheres to the compliance criteria in accordance with the National Credit Act, where the granting the loan will not cause financial distress to the consumer.
✅ Blink Finance is a registered credit provider in South Africa: NCRCP12599
Customer Reviews & Testimonials
"
September 2022
Blink Finance's short-term loans are a game-changer! The application process was lightning-fast and I received the money I needed in my account within a few hours.
Khanya S
— Port Elizabeth —
July 2022
Blink Finance saved the day! I needed cash urgently, and their short-term loans made it possible for me to get it quickly and easily. I would definitely use Blink Finance again!
Tumi M
— Bloemfontein —
May 2022
Blink Finance's short-term loans are simply the best! The process was very smooth. I received the money I needed in my account very quickly. Thanks, Blink Finance, for making it possible for me t...
Nomfundo N
— Cape Town —
Blink Finance Contact
Contact Number
E-Mail
Website
Physical Address
Unit 15, Kingfisher Building, Hazeldean Office Park, Silverlakes Rd

Tyger Valley

0084

South Africa
Opening Hours
Monday

Open – 24 hours

Tuesday

Open – 24 hours

Wednesday

Open – 24 hours

Thursday

Open – 24 hours

Friday

Open – 24 hours

Saturday

Open – 24 hours

Sunday

Open – 24 hours