Short-term loans up to R4,000
Low-interest up to 60%
Repayment up to 30 days
In-page navigation
---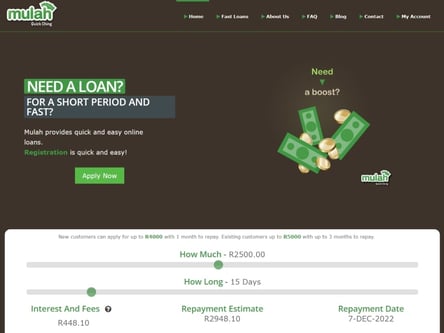 Author Mulah. Screenshot of Mulah website.


[Accessed January 30, 2023]
Mulah - The loan specialist
They're currently one of the most popular online short-term cash providers in South Africa.
With the ability to provide immediate financial relief to you with their personal loans, and no hidden fees, you know that they're not wasting your time. They also provide you with cash as soon as possible.
Specialists in microloans
They have thousands of clients that access instant cash from their online platform each month. They know for sure that they have space at the top of the financial market and understand exactly what you're looking for. Having this information at their disposal means they constantly strive to provide you with what you need.
They offer unsecured loans
They all know that obtaining cash is not always that easy, especially for providers that are wanting collateral and security to cover their borrowing needs. With them the services are different. They provide you with the short-term loans you need without the need for a security measure of putting down your home or vehicle as collateral.
Simple short-term loan solutions
They've simplified the process by removing all the complications of obtaining a short-term loan.
They have many years of experience in successfully helping you with your financial needs through their online and paperless process.
Simpler loan processes
The world is turning even faster towards technology to streamline tedious processes. They did the same for you when you were in need of a quick loan, and by making everything simpler, you no longer have to wait weeks for an appointment, or even months to receive their cash.
You can receive cash within 24 hours
All you need to do is complete, their online loan application and upon approval, you'll receive the cash in your bank account within 24 hours. All this can be done without you needing to leave your home or office.
Their short-term loans are offered on a short-term basis, with amounts that are available in smaller amounts, ensuring that you can afford to repay the loan.
Mulah – Short-term loan
Loan Type

Short-term loans

Interest Rate

60%

Loan Amount

up to R4,000

Repayment

24 hours to 30 days
Benefits of Mulah
Safe and secure loans with ease
Up to R4 000 short-term loans
Simple online registration
Queries answered in minutes online
Short-term loan calculator
Mulah - They make getting a loan easy
You can follow these easy steps in order to obtain a loan - You can calculate the amount of cash you need on the online calculator that they're providing.
You can use this to calculate the repayment amounts before you apply for a loan. Lastly, all you need to do is register, apply and wait to receive the funds. They have a 24/7 online platform so that you can register and apply at any time of the day.
Easy solutions to your cash flow problems
They all know that life can throw unexpected financial curve balls at any time. When this happens, they'll be there to assist you and your cash flow.
Quick cash loans
You require instant cash in South Africa when your bank account is depleted. This all adds unnecessary stress to your busy life. So, if this happens to you, remember you're not alone, most people experience financial problems at some point in their lives. Mulah however, can help you get out of this situation.
They have all the tools to get you back on track and reduce your financial stress and they offer short-term finances and bad credit loans in order to do this.
All you need to do is register online on their website and create your own personal profile. Once you've done this, you can go ahead and work out exactly how much you can afford to borrow each month with their loan calculator, which provides sliding scales calculating the exact amounts.
Applying is super-fast
You can apply for a loan online and complete an application within minutes with them. Once you're aware of exactly how much you need to borrow, you can go ahead and complete their online application form. You can apply from anywhere and at any time.
You have access to their short-term loan application at all times, and they'll inform you of the status of the application within minutes after you've submitted the online application form.
Processing of the application is then carried out once you've agreed to the terms and conditions of the loan. They then deposit the cash directly into your bank account within 24 hours.
The repayment of your loan will be deducted via debit order on the stipulated date each month to ensure that you do not fall behind on payments. This just saves you time from having to remember to make the payment or having to find a means online or via ATM to do so.
They have a simple short-term loan application for you
They have a very simple lending process with everything processed online for your convenience. They don't expect you to stand in endless queues or jump through hoops to apply for a payday loan in South Africa. They want to help get you back on track with your finances by offering you a personal loan when you need it.
If you apply for a loan with Mulah today, you'll get the loan transferred to your bank account the same day.
Customer Reviews & Testimonials
"
July 2018
At Mulah I was able to get the finance that I need without worrying about security or collateral. With their unsecured loan options that are both fair and affordable I was able to get finance wit...
Vivian S
— Uitenhage —
August 2018
I completed their application this morning and got the money transferred into my account by the time I left the office this evening! That is a spectacular turnaround time – I was expecting it to ...
Michael M
— Bloemfontein —
October 2018
With the assistance of their streamlined application you can now apply for the money you need in minutes. I even made use of their nifty online calculator beforehand to ensure that the amount tha...
Angie T
— Welkom —
Mulah Contact
Contact Number
E-Mail
Website
Physical Address
A, Waterkloof Rand Corporate Park, 358 Buffelsdrift St, Erasmusrand

Pretoria

Gauteng

0181

South Africa
---
Postal Address
P.O Box 99849 , Garsfontein East, 0060, South Africa