Short-term loans up to R5,000
Low-interest starting from 104%
Repayment up to 6 months
In-page navigation
---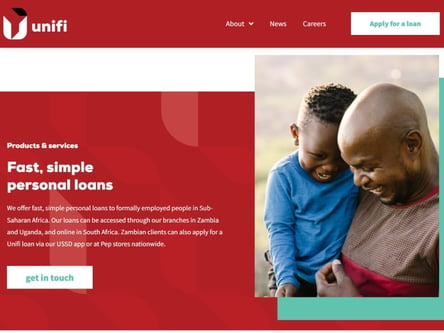 Author Dunami. Screenshot of Dunami website.


[Accessed January 30, 2023]
Dunami - A micro lender you can trust
If you're looking for a microlender you can trust with your cash needs, look no further.
Their product offerings come in the form of small short-term loans that are designed with the everyday South African in mind.
If you're in need of a loan that's big enough to meet all your financial needs but will not leave you struggling financially at the end of the month, then their products are ideal for you.
Since they're a small loan expert, they offer much longer repayment options and flexible terms.
Proud of their excellent speed and reliability
Rely on a lender that takes huge pride in serving its customers with its flexible and lightning-fast short-term cash loans. All of their clients can depend on them to deliver what's required and more, while always ensuring that they assist with the most understanding and respect.
When it comes to finances, we all want the best. If you're looking for a lender that offers you so much more than just a quick simple short-term loan, choose Dunami.
A trusted, regulated, and compliant lender
They give their clients peace of mind by keeping all their loans transparent. As they're registered with the National Credit Regulator (NCR), they believe in responsible lending practices and abide by all the regulations.
Loans between R1 000 and R5 000
Their motto is to keep everything they do as simple as possible.
You can rest assured that you won't feel intimidated by any slick sales talks or financial jargon with them. What they do is simple and effective.
They offer all their clients loans that range from R2,000 to R8,000, which can be repaid over a term of up to 6 months.
Get your 6-month loan from Dunami today
Being a microlender means that they only offer fast loans and that they're not a payday lender. However, they do offer all their clients a loan term of up to six months.
This is a terrific way to ensure that you can get access to the cash you need today without having to commit a massive chunk of your next paycheck to repay your short-term loan.
This allows you to budget for the loan, and ensure that you have enough money left to make it through the month.
A responsible lender that will give you the best
With them, you can be certain that you won't be overextended financially as they'll always ensure that they give you a loan that you can afford to repay. What's more, is that interest rates on all their loans are capped at 212% per annum.
Dunami – Short-term loan
Loan Type

Short-term loans

Interest Rate

104 – 212% p/a

Loan Amount

up to R5,000

Repayment

6 months to 6 months
Benefits of Dunami
Competitive interest rates
Flexible repayment terms
Short-term loan calculator
Why not get your 6-month loan from Dunami?
Before you apply for a loan you should first have an understanding of the type of loan you should apply for.
There are many definitions of what a short-term loan is, but since they like to keep everything simple, they define it in short as a loan that does not exceed R8,000 and that is repayable within a 6-month period.
This money can be used to pay for holidays or to pay medical bills or purchase items that are out of the reach of your usual budget.
Here's how you can apply
They make it possible for you to apply for an online loan at any time on a 24-hour day, throughout the whole year, and from anywhere in the world.
Step 1:
Once you've filled in their online loan application form, you'll be required to upload or send them the supporting documents, which will include your ID, payslips, three recent bank statements, and proof of address.
Step 2:
Thereafter, they'll let you know immediately if you're approved for a loan or not. All their existing clients can simply log in and request a loan at the click of a button.
Don't think twice about asking Dunami for help
Besides the fact that they use world-class technology and data analytics, they're also responsible and extremely fast when it comes to processing loans for their clients.
Getting a loan from a trustworthy short-term loan specialist is in your best interest, especially because they allow for longer terms than the normal lender out there.
Benefits
Small loans over 6 months.
Low rates and great customer care.
A company that has years of experience in the industry.
Customer Reviews & Testimonials
"
August 2018
The repayment terms are a lot more flexible and fair at Dunami than at other lenders I have consulted with. Take it from me – Dunami will not disappoint you because they have surprised me in ever...
Yamkela D
— Umlazi —
February 2019
Dunami is a lender you can put your faith in. Not only do they come highly recommended to me by a variety of individuals in different sectors but they also offer highly transparent services. Ever...
Stephen B
— Musina —
May 2019
For a fast and reliable short-term loan I would definitely suggest Dunami. They are able to arrange your loan just the way that you like it without any muss or fuss. You can even discuss early re...
Lauren M
— Polokwane —
September 2021
They made me feel in control throughout the entire process and I knew exactly what was going on at all times.
Matee S
— George —
September 2021
They offered me a great monthly loan repayment amount that I will easily afford without any hassle.
Sithole S
— Sasolburg —
October 2021
Their staff is fast, very friendly and extremely helpful at all times.
Romanov M
— Graaff-Reinet —
Dunami Contact
Contact Number
E-Mail
Website
Physical Address
Suite 702 Boland Bank Building, 16 Lower Burg Street, Cape Town, Cape Town City Center, 8000, South Africa

South Africa