Short-term loans up to R2,500
Free to apply
Repayment up to 30 days
In-page navigation
---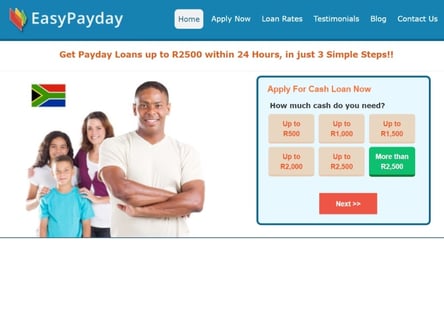 Author Easy Payday. Screenshot of Easy Payday website.


[Accessed January 30, 2023]
About Easy Payday
It's a known fact that every South African has their own set of financial needs. Most will experience difficult times during which they'll need quick cash to address unexpected challenges.
Easy Payday Loans have simplified the loan application process to make fast and convenient cash available to you when you need it most. Because there's no paperwork involved, it saves you a lot of hassle.
Getting you to payday
These loans offer short-term relief so you can meet those unforeseen expenses during those times when your salary just doesn't cover all your immediate expenses.
When you receive your next salary, you simply settle the loan balance. The latter will include the interest on your loan. These loans are designed to give you a slight reprieve from your financial challenges.
This enables ordinary people like you to survive those dreaded times when you've run out of financial options. Keep in mind that you'll have less money in your account than usual on payday as you'll have to settle the loan in full.
Although these loans are extremely convenient, you can easily be tempted to use them for less urgent needs. Never let them become a habit, as they're expensive and can cost you a great deal of money over time.
Setting up an emergency fund
It's advisable to set up a special emergency fund to cater to unforeseen expenses. This is a difficult thing to do, though not impossible if you exercise proper financial discipline.
Even if you start slowly, you'll reap the benefit over time as you won't rely so heavily on the convenience of these quick loans. When you're in a serious bind, it's good to know that Easy Payday Loans will save the day. A payday loan is simply an advance on your salary. Your income will determine the amount you're allowed to borrow.
It's a convenient way of surviving until your next paycheck. These loans don't offer a solution to your money woes but simply enable you to get by in times of need. They are convenient as they don't require you to have a healthy credit record.
Easy Payday Services
Easy Payday loans offer a range of loan options of up to R2 500 when you need cash for an unforeseen event.
The process is swift and you'll literally get your money within hours. Because it all happens online, you're not subjected to embarrassing questions and conversations.
As with most things in life, these loans not only come with pros but have a number of cons too. It's important to know what you're getting into before applying for a payday loan.
Pros of payday loans
The application process is quick and convenient
You get your cash within a day
No credit checks are needed, therefore your credit history is not taken into account
All processes are completed online and there's, therefore, no need for face-to-face interaction
You don't need to provide security to qualify
You are protected against reckless borrowing as you'll only qualify for a percentage of your income.
Cons to take note of
A payday loan only addresses small needs and won't solve serious financial problems.
You pay high interest on these loans – almost as much as on a credit card.
Because these types of loans aren't regulated, lenders have free range to determine their terms and conditions.
There's room for fraud as borrowers don't enjoy the same consumer protection as in the case of formal loans.
Should problems arise, these loans are difficult to track.
You'll have to prove that you have a set income.
It's crucial that you settle the loan on your next payday, as any failure to honour your commitment will result in an escalation of interest. This will affect your future expenditure adversely.
Easy Payday – Short-term loan
Loan Type

Short-term loans

Loan Amount

up to R2,500

Repayment

10 days to 30 days
Benefits of Easy Payday
Quick cash loans
Free credit checks
Reduced interest rates
Short-term loan calculator
The simple Easy Payday application process
There's no paperwork required and you don't need to submit yourself to credit checks. Because the loan amount is deducted from your account upon payment of your salary, the process is risk-free for the lender.
Your salary deposit into your account is a given, and lenders deduct your loan repayment immediately upon the deposit of your pay into your account.
The risk of losing an asset is eliminated, as these short-term loans are unsecured. Remember, completing the short online application form puts you under no obligation whatsoever.
The application process comprises three easy steps: application, approval, and payment. An Easy Payday representative will contact you immediately to facilitate your application.
You can expect a seamless process:
The online application only takes a minute or two
Your application will be approved immediately
You'll receive your cash in your account in less than a day
You can rest assured that your loan application will be handled with the utmost confidentiality. You have no reason to feel ashamed, as there are thousands of people facing the same financial predicaments daily.
Criteria include:
Must be 18 years and older
South African ID
An active bank account
Proof of permanent employment.
Easy Payday offers you the peace of mind that there's a solution available to you in times of financial strife. You only need to have a regular income. Loan options are varied because people all have different needs when it comes to loan requirements.
Challenges such as bankruptcy, credit problems and even bounced checks, will not have any influence on your application. It offers a lifebuoy if you have exhausted all other avenues.
Consider these things before you borrow money:
Never borrow money for trivialities such as a shopping spree or a holiday
An Easy Payday loan offers a short-term solution in a time of crisis – make sure that you use the money as such
Educate yourself on all the aspects of short-term loans
Always look at workable ways to improve your financial situation over time
Let's wrap up: getting your payday loan
Although these short-term loans are more expensive, your repayments could be more than the amount you borrowed if you don't honour your commitment. If you need money fast, an Easy Payday loan is your best option. It's a process you can trust to help you out of that predicament every time.
Always try to borrow money in a way that'll be the least expensive to you in the long term. The knowledgeable Easy Payday representatives are ready to assist you with your application. You can also rely on their sound financial advice.
Customer Reviews & Testimonials
"
December 2018
The difference between Easy Payday and other lenders is that they will place you first even when other lenders have classified you as a high risk borrower. Thank you for giving me the chance that...
Elricia M
— Pretoria —
April 2019
With their online application I was able to apply using my Smartphone from the comfort of my own bed. This is a type of finance that I can get used to!
Eden S
— Krugersdorp —
February 2019
Within three simple steps I was able to get the money that I needed. A more efficient and fast lender I have not yet come across. When you find yourself in a financial emergency you need a lender...
Sarah B
— Germiston —
Easy Payday Contact
Contact Number
E-Mail
Website
Physical Address
39 Carl Cronje Dr, Bellville

Cape Town

Western Cape

7530

South Africa