Short-term loans up to R4,000
Low-interest up to 60%
Repayment up to 42 days
In-page navigation
---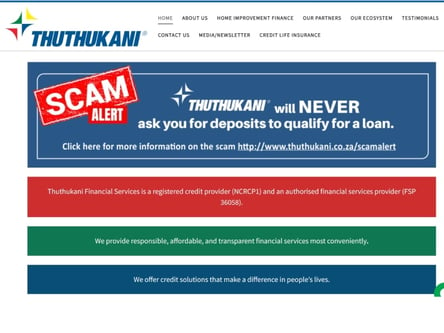 Author Thuthukani. Screenshot of Thuthukani website.


[Accessed January 30, 2023]
Thuthukani Financial Services – Reliable loans
Even though the political transformation of this country was explosive, the economic changes are still taking place at a much slower rate.
One of the most challenging times still lies ahead for South Africa, and that will be the improvement of the social and economic situation of the so-called economically active South Africans in poverty.
They have you covered
Due to the highly restrictive requirements and fees of all the major financial institutions in South Africa, many working South Africans are unable to gain access to credit facilities for building a home, starting a small business, or even covering emergency expenses. On the other hand, specialised credit providers like Ththukani is fully committed to serving you when you need financial help.
They have more than 15 years of experience and are experts in the financial market offering short-term loans in South Africa and other credit services. That's why they're the microlender of choice for thousands of South Africans.
You can become debt free with them
They make sure to provide you with the best service possible from the first meeting with debt-free living. Statistics have shown that all the largest banks in South Africa have 1883 branches in total.
Simultaneously, all the major microfinance banks, (that includes the 126 lenders and the 1244 companies that are all specialised in short-term loans) have a combined network of 3984 branches across the country.
NCR registered
They're an NCR Registered credit provider that provides emergency cash loans, short-term loans, and personal loans to over 3 million customers countrywide.
They also offer Lifestyle finance and have loan amounts of up to R4 000 with repayment terms that will suit your budget of up to 42 days.
Thuthukani – Short-term loan
Loan Type

Short-term loans

Interest Rate

60%

Loan Amount

up to R4,000

Repayment

7 days to 42 days
Benefits of Thuthukani
Fast short-term loans
Easy online loan applications
Short-term loan calculator
Thuthukani Financial Services – Loans when you need it most
Today there are many different credit products that are designed to give you a small amount of cash that needs to be repaid within a short term.
With so many to choose from, it makes it difficult to make the right selection, especially when you're under immense pressure due to a financial emergency.
You'll benefit if you choose them
Their short-term loans are there to help you decide how beneficial their products can be to you in your everyday life.
They've been operating since 1998 and therefore have a solid client base. They're proud of the good reputation they carry in the financial industry and continue to ensure that they provide you with the best service in a polite and friendly manner.
Financial experts, you can trust
Their trusted financial experts will do whatever it takes to ensure that your needs and requirements are precisely met. Instant cash loans are on offer for up to R4 000 and the amounts are ideal for paying for emergency expenses, and accounts, and for making other small purchases.
How much you should borrow
When you're borrowing money, it's best to borrow only as much as you need and not more. With them, you can select the term of the loan as well as the amount that you want to borrow. They even allow you to opt to repay the principal plus interest and fees within a period of 7 to 42 days.
Their term range is comparable to what their competitors have to offer. There's one important benefit that the lender gives you, and that is to extend the term of the payday loan if the need arises.
How long do you have to repay the loan?
You can repay your loan in cycles of 30 or 90 days, all within a 6-month period. The extension of the loan term does come at a price, but it means avoiding talking to debt collectors and you'll also be able to afford to repay the loan.
Where their interest rates are concerned, you'll find that where all competitors are concerned, they're all similar when you look at what they are offering with the same credit products.
They treat you fairly
You can rest assured that you're dealing with a firm where TFC is the centre of the corporate culture.
The products and services that are marketed and sold are specifically designed to meet the needs of identifying customer groups and are targeted accordingly.
They provide you with clear information before, during, and after the point of sale.
The advice that's given is suitable and takes into account your circumstances.
Their quick loan products have positive results, as they've led you to expect great services.
You won't face unreasonable post-sale barriers.

Thuthukani is a trusted & reliable provider of short-term loans
In our review, Thuthukani adheres to the compliance criteria in accordance with the National Credit Act, where the granting the loan will not cause financial distress to the consumer.
✅ Thuthukani is a registered credit provider in South Africa: NCRCP962
Customer Reviews & Testimonials
"
January 2019
With the assistance of Thuthukani I was able to get a personal loan that I have needed for quite a while. With a baby on the way I could no longer delay adding on that extra bedroom. Thank you fo...
Matthew T
— Stellenbosch —
March 2019
I needed to rush my cat to the vet this month and was shocked by the vet bill that I received. Unfortunately my fury friend could not go unattended. Thuthukani helped me to pay the unexpected amo...
Rebecca J
— Constantia —
April 2019
Thuthukani is a lender for the people run by the people. This means that they fully understand our circumstances, past and needs. Their understanding helped me get the finance that I needed to re...
Yandisa F
— Worcester —
Thuthukani Contact
Contact Number
E-Mail
Website
Physical Address
190 Robert Sobukwe St, Sunnyside

Pretoria

Gauteng

0001

South Africa
---
Postal Address
PO Box 73789, Lynnwood Ridge , 0040, South Africa
Opening Hours
Monday

08:30 – 17:30

Tuesday

08:30 – 17:30

Wednesday

08:30 – 17:30

Thursday

08:30 – 17:30

Friday

09:00 – 17:30

Saturday

09:30 – 13:00

Sunday

– Closed