Short-term loans up to R4,000
Low-interest up to 60%
Repayment up to 60 days
In-page navigation
---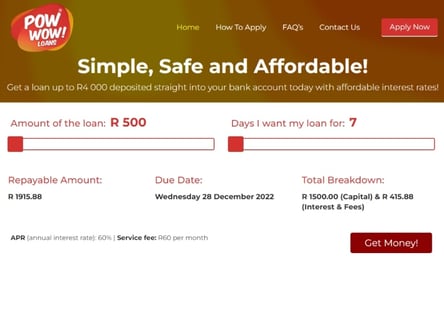 Author Pow Wow Loans. Screenshot of Pow Wow Loans website.


[Accessed May 29, 2023]
About Pow Wow Loans
Short-term loans are a quick and affordable solution if you're looking for a way to deal with the pesky little financial emergencies that don't fit into your budget.
With Pow Wow Loans, you can apply quickly and safely online and have your loan paid out in minutes.
How short-term loans work and what they're used for
Loans in this category allow you to borrow smaller amounts for shorter repayment periods. While these products restrict how much you can borrow, they also pay out far more quickly and with much less paperwork than other types of personal loans.
One of the advantages to this is that you don't have to go into significant debt just to pay for an unexpected doctor's visit and the resulting medications. There's no limit to what these loans can be used for, and they can be adjusted to fit into any budget.
How you benefit from Pow Wow Loans
Traditional lenders are well-established and have the resources to offer fantastic deals on financing products. However, they lack the flexibility that alternative lenders can bring to the table.
Pow Wow Loans allow you to skip the red tape and get money in your account within 24 hours of application. As an online credit provider, they offer the convenience of applying from anywhere at any time using a secure site. No queues, no cool down periods, and no collateral needed.
Pow Wow Loans is an NCR-accredited lender
The National Credit Regulator is a government-run organisation that upholds the NCA. They do this by enforcing consumer protection laws and regulating the fees, interest, and lending criteria of accredited credit providers.
As an accredited lender, Pow Wow Loans will be transparent about the costs of its products. While you don't need to have a pristine credit record for loan approval, they're required to do both a credit and affordability check before offering you a loan agreement.
Pow Wow Loans Services
Your credit profile plays a significant role in a lender's decision to approve your loan application.
However, because of the nature of short-term loans, the main focus will be whether you can afford the repayments.
How the affordability check works
During the application process, you'll be asked to agree to a credit check. The lender will review your repayment history to see whether you have a habit of repaying debts in full and on time.
Your credit score also reflects how dependent you are on debt, which may affect how much interest you'll be charged.
For the affordability check, you'll need to provide your financial documents so that Pow Wow Loans can assess your income, outstanding debt, and other obligations. This is done to ensure they never extend a loan you can't afford.
Borrow up to R4,000
First-time borrowers are offered between R500 and R4,000 to be repaid over a 60-day term. After you've successfully repaid at least 5 loans in a specified period, Pow Wow Loans will offer you Up to R8,000 with longer loan terms.
To ensure loan approval while keeping the costs to a minimum, it's best to borrow only what you need at the time.
The lower the loan amount, the more likely it is to pass the affordability check. Additionally, it'll decrease the fees attached to your repayments.
An overview of the costs involved
Interest on these loans generally falls between 3% and 6%. As a first-time customer, you may be charged up to 5%, depending on your credit score. By building up a positive credit relationship with a lender, you gain access to lower interest rates.
Loans over R1,000 will require an initiation fee of R165 plus 10% of the loan amount. This is a once-off fee that can be distributed over the course of your agreement. Finally, you'll be charged a fixed R60 per month service fee.
Pow Wow Loans – Short-term loan
Loan Type

Short-term loans

Interest Rate

60%

Loan Amount

up to R4,000

Repayment

7 days to 60 days
Benefits of Pow Wow Loans
Affordable interest rates
Flexible repayment terms
Easy online loan application
Fast loan approvals
Short-term loan calculator
Pow Wow Loans makes short-term loans safe, easy and affordable
The Pow Wow Loans website is easy to navigate and simple to use. By following the prompts on their home page, you can have cash in your account within minutes of loan approval.
Here's how it works
Use the sliders to select the amount you'd like to borrow and the term you can afford
Once you're happy with the estimate shown, Click "Get Money" and complete the application form.
Provide the required documents, then simply sit back and wait for a Pow Wow Loans consultant to contact you via phone, text, or mail.
Depending on the results of a credit check, you'll be sent a pre-agreement. This document serves as a quotation and clearly states the costs involved as well as the terms and conditions of your agreement.
During the review process, they'll contact your employer to verify your information. Once your application is approved and you've returned the signed agreement, a debit order will be set up to go off your bank account each month on the date you specify.
The documentation you'll need to have on hand
Your South African ID
Bank statements covering the last 90 days of transaction history
Your most recent payslip
Loan approval depends on the following criteria
You must be a South African over the age of 18
Be permanently employed for more than 3 months
Have a bank account registered in your name that your salary is paid into
Your credit history must show at least one successfully concluded account
At Pow Wow Loans, applications are reviewed from Monday to Friday during business hours. However, you're still welcome to apply at any time.

Pow Wow Loans is a trusted & reliable provider of short-term loans
In our review, Pow Wow Loans adheres to the compliance criteria in accordance with the National Credit Act, where the granting the loan will not cause financial distress to the consumer.
✅ Pow Wow Loans is a registered credit provider in South Africa: NCRCP11049
Customer Reviews & Testimonials
"
January 2023
I'd recommend Pow Wow loans to anyone looking for a lender they can trust. They keep the process simple and to the point.
Rian S
— Upington —
October 2022
This was the most effortless short-term loan application I've seen. We had a rough patch at the beginning of the year, but Pow Wow Loans came through when we needed them most.
Cassandra K
— Cape Town —
February 2023
We had no idea where we would find cash in the middle of the month to pay for pest control. Within 24 hours, we had approval from Pow Wow, and the money was in our account. I love the simplicity ...
Dan W
— Rustenburg —
Pow Wow Loans Contact
Contact Number
E-Mail
Website
Physical Address
3 Thibault House, Hans Strijdom Ave

Cape Town

Western Cape

8001

South Africa
Opening Hours
Monday

08:00 – 17:00

Tuesday

08:00 – 17:00

Wednesday

08:00 – 17:00

Thursday

08:00 – 17:00

Friday

08:00 – 17:00

Saturday

– Closed

Sunday

– Closed