Short-term loans up to R8,000
Low-interest up to 60%
Repayment up to 6 months
In-page navigation
---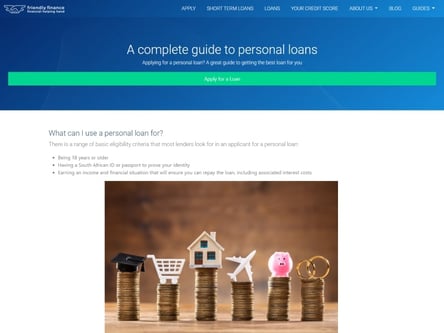 Author Friendly Finance. Screenshot of Friendly Finance website.


[Accessed January 30, 2023]
Friendly Finance - They provide you with valuable loan information
At Friendly Finance, they offer you a service that provides you with the knowledge and information you need to make the right choices when it comes to your finances.
They've gathered information that's essential to you, and they aim to inform and educate you with it, as it covers all the smart ways in which you can manage your money.
Providing you with valuable knowledge
Whatever the question, they have all the answers, which are readily available on their website. You can make intelligent decisions before applying for a loan, by getting a better understanding of how they work.
They know everything there is to know about the financial market
Their experience in the financial sector allows them to be open and honest with you. Everything that you need to know about your short-term loan is available on their informative website.
If you do not find the answer you're looking for, you can contact them and they'll provide you with the information you require.
Compare loans quickly and easily
They strive to provide you with valuable information about the financial world.
Their clients' comparison tools will assist you in determining the personal loan that'll be suitable for you. Before applying for a loan, they equip you with the useful information you'll need.
They make it easy to compare
With so many options to choose from, they pride themselves in offering you the ability to compare credit cards and providers to ensure you're getting the best deal possible.
It's tough to make the right choice, so a little help will go a long way.
They assist you in choosing the best option for your needs
When you have a specific request regarding a short-term loan, they do their best to help by offering comparison tools.
They focus on providing you with the best financial advice and support they can during your journey with them.
Their primary goal is to provide you with information that you can benefit from by making the most fitting financial decisions for your financial well-being.
Friendly Finance – Short-term loan
Loan Type

Short-term loans

Interest Rate

60%

Loan Amount

up to R8,000

Repayment

6 months
Benefits of Friendly Finance
Fast and convenient short-term loans
Low-interest rates
Flexible repayment plans
Short-term loan calculator
Friendly Finance - They'll help you make the right loan choice
Friendly Finance offers you loans that suit your needs. If you require money in a hurry, they have a quick loan option that'll give you money on demand.
For all other loans that you might need for an unforeseen circumstance or otherwise just slightly overwhelmed with debt, they have short-term loans to solve your problems.
Their loans are online and convenient for ease of use. They also assist with an offering of money management where they draw up a budget and assist you going forward, as well as general credit lending in the form of credit cards.
They offer the best short-term loan options to fit within your budget
Their unique comparison tool will help you should you wish to boost your financial situation!
Not only do they offer knowledge and advice that could change your financial life for the better, but they also ensure that you know what you're getting into before applying.
How to make the right choice
The market is full of online and offline payday cash loans that you can choose from, but just in understanding the financial industry and your contract is a fundamental part to get right before signing anything.
It's in your best interest to properly understand what you're paying as far as interest goes and whether the interest rate is in line with regulatory standards. People often neglect these questions, but they're imperative in assisting you with making the right choices.
User-friendly website for you
You can register online by completing a personal profile, and once complete, you'll have access to search for any financial topic that you might be interested in.
They provide you with insightful information with regard to instant cash loans that'll make your next step into finance a lot easier.
Just knowing you have all the information needed to make the right choice is a step in the right direction.
Now that you understand what your contract entails, you can opt for the option that'll suit you the best.
They ensure you have all the necessary information
If they don't have information about a specific topic on their site that you require information on, you can contact them and one of their expert consultants will assist you and provide you with the information you're looking for.
Can you apply for a loan?
All lenders out there have different criteria for quick loan approval. For anyone applying for a loan, they must meet the minimum criteria determined by each lender.
With Friendly Finance, you must be a South African resident who earns a monthly income and must be 18 years or older to apply, with an active bank account.
Customer Reviews & Testimonials
"
November 2018
This is my first time applying for a loan and I have no idea where to start looking or what aspects to take into consideration. This is where Friendly Finance definitely saved my hide; they assis...
Nicole B
— Jagersfontein —
October 2018
Their experience and knowledge sets them apart from other brokers. Their staff constantly go for training to ensure that us customers can get the best value for our money with the loans that they...
Frikkie J
— Odendaalsrus —
Friendly Finance Contact
Contact Number
E-Mail
Website