Short-term loans up to R250,000
FREE credit score
Repayment up to 84 months
In-page navigation
---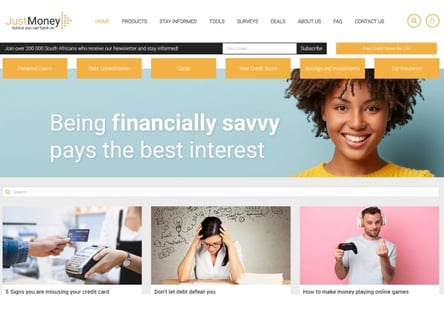 Author Just Money. Screenshot of Just Money website.


[Accessed January 30, 2023]
Just Money - Their loans will save you time and money
Just Money is a loan-seeking service that was designed to save you money. They enable you to compare different quotes between different lenders so that you can choose the best deal to suit your needs.
They'll inform you of all the different financial products available and you make a selection on which one you would like to go forward with. They've helped countless South African citizens to find the loan they need to secure their financial future.
Click and compare
Easily click and compare fees on bank charges, credit card charges and choose the best savings account options. By shopping around, you'll be able to make sure that you're getting a fair price and that you don't get taken advantage of. They have a number of different calculators and guides available for you to use to help you better manage your money.
Make your money work for you
Their service wants to help you manage your money better, by teaching you to make your money work to your advantage. Their guides and expert advice will help you to manage your financial future so that you can learn to save and begin to get control over your debt.
It's 100% free
The service is completely 100% free! You'll not be charged a cent for their online loan finding service. They won't force you to sign up or become a member to access the site, however, if you do sign up you'll receive monthly newsletters and product information packs that'll help you along your financial journey.
Short term loans
A short-term loan SA allows you to borrow a smaller amount of money for a shorter period of time. These loans are good for emergency situations. These loans are very easy to obtain but usually, need to be paid back in one payment. These types of loans are unsecured loans and don't need any collateral in the form of your assets to secure them.
Loans up to R100 000
Just Money offers a number of different services to you that include personal loans, short-term loans, home loans, student loans, vehicle financing and other loan applications.
You can also check your credit score directly from the webpage, compare credit card costs and apply for insurance.
Personal loan partners
To make sure that you get the best personal loan available, they've partnered with the following lenders:
Direct Axis
Capitec Bank
FNB
Nedbank
Examples of these types of loans
Short-term loans are also sometimes referred to as:
Payday loans – these types of loans offer a smaller amount of money at a higher interest rate, that needs to be paid back the next time you're paid, giving it the name payday loans.
Personal loans – these loans offer a smaller loan amount and need to be paid back relatively quickly. Normally depending on the loan amount chosen. You can choose their repayment terms.
Credit cards – these are normally only issued by the bank but can be issued by financial institutions. These credit cards can be used instead of cash.
Student loans – these loans are taken specifically to pay off student debt or fund educational studies.
Peer to Peer loans – this refers to borrowing money from people that are not related to you instead of borrowing from a traditional lender.
Just Money – Short-term loan
Loan Type

Short-term loans

Loan Amount

up to R250,000

Repayment

84 months
Benefits of Just Money
Quality short-term loans
Competitive interest rates
Short-term loan calculator
Just Money - Quick and easy loan applications
How to apply
Apply by simply visiting their website and filling out the online loan application form with the following details:
Your first name
Your surname
Your ID number
Your work telephone number
Your e-mail address
Loan amount
You'll need to consent to a credit check. If your credit score is not very good, your loan application could still be approved, the conditions of the loan will just be stricter.
Can you afford a loan
The term affordability refers to if you can afford to pay back the loan. This will depend on how much you earn, minus your expenses and debt. Whatever money you have left after that would be how much you could afford to spend. The lender will make sure that you'll be able to pay back the quick loan easily without pushing yourself deeper into debt. A loan should be a hand-up and not make you worse off than you were before.
What you need to apply
To apply for a short-term loan you'll need the following:
A copy of your last 3 months' banking statements
A copy of your South African ID document
Proof of residence not older than 3 months old
Your latest pay slip/ your last 3 months' pay slips
You must be over 18 years
Be permanently employed
Student loans
Getting a decent tertiary education these days have become very expensive, but they realise how important education is and they would like to help you find a student loan so that you can have a brighter future. The loan can be structured so that it includes everything from your books and stationery to your registration fee and laptop.
Contact them
Simply visit their website and fill in the online application form, or contact them form and they'll call you back.
Customer Reviews & Testimonials
"
January 2019
Just Money offers a comparison service for a variety of financial products including loans and savings accounts. Simply consult their comparison tables to find the match that is right for you. I ...
Yandisa M
— Seshego —
December 2018
With the help of the Just Money online calculator I was able to find the perfect balance between loan amount and repayment amount. The amount that I discovered is not only affordable but suits my...
Susan D
— Klerksdorp —
April 2019
The only thing that is better than professional services and excellent products is that it is all brought to you for free! Just Money does not just offer a wonderful service but does so at no cos...
Elsa K
— —
Just Money Contact
Contact Number
E-Mail
Website
Physical Address
186 Loop St

Cape Town City Centre

Cape Town

8001

South Africa