Small Enterprise Finance Agency
Short-term loans up to R15,000,000
Development of SMMEs
Expert financial services
In-page navigation
---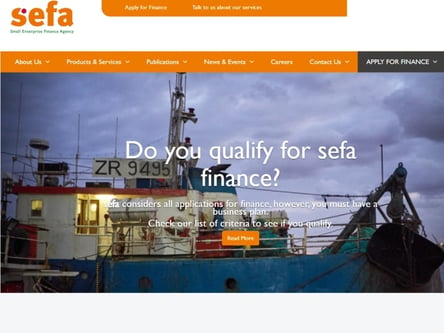 Author SEFA. Screenshot of SEFA website.


[Accessed January 30, 2023]
Small Enterprise Finance Agency - They're the leaders in short-term business loans
The Small Enterprise Finance Agency has served South African clients since April 2012.
They came into existence with the merging of major finance companies and with South African Micro Apex Fund and Khula Enterprise Finance Ltd.
They're a leading lender
They've also taken over the small enterprise operations of IDC. This makes them leaders in the provision of commercial finance services to small, medium, and micro-enterprises in South Africa.
Their main goal is to support the founding, stabilisation, and development of SMMEs. It plays a role in society by reducing poverty and assists in increasing employment and short-term credit for businesses.
They're growing larger by the day since their establishment and they currently have nine offices that are open to their clients in different regions around South Africa.
Short-term loans for your business needs
All their short-term loans are specially designed for business enterprises that desperately need cash for meeting their working capital needs.
You can rely on our simple and highly effective finance solutions available to you, to use for anything to need in order to your company up and running.
Who can apply to them?
Their business loan facility is available to all companies that have secured contracts with all their clients. The loan facility is aimed at providing finance for business-to-business transactions.
You can, therefore, use the personal loan that you receive to cover all your company's current expenses instantly! By doing that, you'll achieve a much more efficient and higher cash flow management and if you complete the order on time, you'll potentially bring in far better revenue.
SEFA – Short-term loan
Loan Type

Short-term loans

Loan Amount

up to R15,000,000
Short-term loan calculator
Small Enterprise Finance Industry - For all of your business loan needs
At Small Enterprise Finance Agency, they offer short-term loans as well as short-term personal loans to companies that require funds unexpectedly to resolve or enhance any business requirements.
They also offer bridging loans and instant loans. They're NCR registered and are reliable microlenders in the industry. You can expect terms of up to five years when repaying a loan with them.
All you need to know about their short-term loans
There are many moments when you might feel that there's virtually no way that you can manage your cash flow. In cases like these, you'll require an effective and trustworthy credit solution.
You can call in for advice on short-term loans at Small Enterprise Finance Agency to make the decision as to whether they'll be helpful for their business.
They have a primary goal, and that's to provide financial assistance to small, micro and medium enterprises that need extra funds to keep everything to keep operating smoothly within their business. Their offers are only for the small, micro and medium enterprises of South Africa.
What it's like doing business with them
When you work with them, you're working with one of the most reliable microlenders in the country. They ensure you that you can expect professional assistance in every aspect of their dealings. You don't have to worry if you have a less-than-ideal financial situation, you're still able to qualify for a fast loan with them.
Types of SEFA loans
There are two types of SEFA short-term loans that are available for you to choose from.
Bridging loans
Their Bridging loans are specially designed to assist you in maintaining the cash flow of your enterprises. With these loans, you're able to borrow cash against funds that are owed to you by clients or other parties. They offer you a maximum term of 12 months to repay your loan and provide you with some flexibility when it comes to making repayments. They've ensured that their interest rates are one of the most competitive rates in the market today.
You still need to evaluate the affordability of their business loans from your personal perspective before making a decision.
Short-term loans
They also offer short-term loans that are designed for the financing of capital goods. The cash can be used for the purchase of any equipment to keep your enterprise running, like machinery, office equipment, and other similar items. They allow you to select your repayment terms which can range from 1 to 5 years. The interest rates on their loans are affordable, but you should keep in mind that the interest amount depends on the term of the loan.
This means that you as the borrower will be able to set your own interest rate. The shorter the term, the more money you'll save. All their loans are easily accessible to you.
They have very basic requirements that aren't difficult to meet, even if you have a company that you have just started out with. All applications are accepted in the nine regional branches of the lender. Unfortunately, you're unable to make an online loan application as you'll need to do an in-branch application.
Overall, their short-term loans are among the best choices for micro, small and medium businesses in South Africa. They provide you with financing to pay for your company expenses.
Their loans are very easy to qualify for and they offer excellent rates and favourable terms and conditions.
They'll assist you with your business
They're passionate about helping you when you require funding for your company to keep you in production.
Applying for a quick loan is easy with them, even if your company is new and does not have all the funds to cover their expenses, they're there to assist you!

SEFA is a trusted & reliable provider of short-term loans
In our review, SEFA adheres to the compliance criteria in accordance with the National Credit Act, where the granting the loan will not cause financial distress to the consumer.
✅ SEFA is a registered credit provider in South Africa: NCRCP160
Customer Reviews & Testimonials
"
August 2018
As the leading lender for short-term business loans in the country I had no hesitation in making use of their services. From the moment that I stepped foot into their offices right up to now I am...
Yameka P
— Hopefield —
August 2018
This month I experienced some financial problems in my business. With the ever-changing economy you cannot always rely on prices to remain the same and I found my profits to be quite a bit lower ...
Thabo M
— Simon's Town —
February 2018
As a self-employed individual I cannot always find the time to step out of my business. When I found myself in a bit of a financial pinch I could not tear myself away from my business but, thanks...
Priyanka K
— Swellendam —
SEFA Contact
Contact Number
E-Mail
Website
Physical Address
Eco Fusion 5, 1004 Witch-Hazel Ave, Eco-Park Estate

Centurion

Gauteng

0144

South Africa
Opening Hours
Monday

08:00 – 17:00

Tuesday

08:00 – 17:00

Wednesday

08:00 – 17:00

Thursday

08:00 – 17:00

Friday

08:00 – 17:00

Saturday

– Closed

Sunday

– Closed