Student loans up to R300,000
Flexible loan options
Affordable rates
In-page navigation
---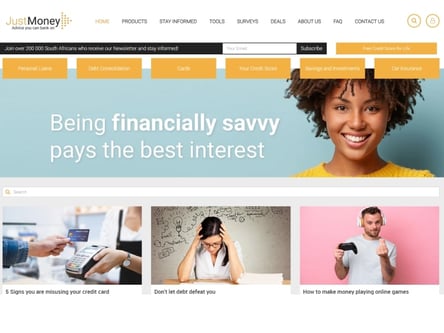 Author Just Money. Screenshot of Just Money website.


[Accessed March 27, 2023]
About Just Money
Just Money provides consumers with access to a range of financial products, including loans, insurance, and investment options.
The website is designed to help you make informed financial decisions by providing you with the information you need to compare products and services from different providers. With Just Money, you can easily compare different student loan options and find the best loan that suits your needs and budget.
The platform in a nutshell
Just Money was founded in 2007 and is a leading financial comparison platform in South Africa. It was created to help consumers make informed financial decisions by providing them with easy access to credit providers and products.
Since its inception, Just Money has helped millions of South Africans compare financial products, from personal loans and credit cards to insurance and investments.
Financial experts at your service
They have a team of experienced financial experts who provide up-to-date information and advice to consumers, helping them navigate the complex world of finance.
With over a decade of experience in the industry, Just Money has established itself as a trusted and reliable source of financial information in South Africa.
Just Money's goals explained
Just Money's main goal is to empower you by providing you with the information you need to make informed financial decisions. The platform aims to simplify the often complex and confusing world of finance, making it easier for you to compare financial products and services and find the best deals.
Just Money also aims to educate you about personal finance, offering tips and advice on topics such as budgeting, saving, and investing.
Their ultimate aim is to help you achieve financial freedom by providing you with the tools you need to take control of your finances and make your money work for you.
Whether it's finding the best student loan option or making the most of your investment portfolio, Just Money is committed to helping you achieve your financial goals.
Just Money Services
Whether you're a student looking for a loan to cover your tuition fees or a parent seeking financial assistance for your child's education, Just Money can help you find the right student loan option.
Student loans accessed via Just Money
While Just Money does not offer student loans directly, they can assist you in finding and comparing different student loan options from a variety of lenders. Some of the student loan options that you may be able to find through Just Money include:
Government-funded loans - Loans provided by the South African government to students who meet certain eligibility criteria, such as academic merit and financial need.
Private student loans - Loans provided by private financial institutions, such as banks and credit unions, to help students cover the cost of tuition fees and other education-related expenses.
Bursaries - Financial assistance provided by private companies and organizations to students who demonstrate academic excellence or show potential in a specific field of study.
Student credit facilities - Credit facilities offered to students by some financial institutions to help cover education expenses, such as tuition fees, accommodation, and textbooks.
Overall, Just Money can assist you in finding and comparing a range of student loan options to help you cover the cost of your education and achieve your academic goals.
Discover Just Money's value-added offerings
In addition to providing information on student loans, Justmoney is a South African financial services platform that offers a range of services to help consumers manage their finances.
These services include comparison tools for banking products, insurance, and credit cards, as well as budgeting and debt management resources. Justmoney also provides educational content on financial topics such as savings, investing, and retirement planning.
Their resources and tools, such as loan calculators and guides, can be helpful for you if you're looking to make informed decisions about financing your education.
Ultimately, using Justmoney or any other financial service platform can be a useful way to explore options and find the best student loan for your needs.
Just Money – Student loan
Loan Type

Student loans

Loan Amount

up to R300,000
Benefits of Just Money
Private funding
Government subsidies
Simplify your student loan search with Just Money
Using Just Money's website to find a student loan may be a better option than applying directly with a lender because it can offer:
More options to choose from
Time-saving comparison of different loan options
Expert advice from financial professionals
An easy-to-use platform for finding and applying for loans
Here's how Just Money can assist you in securing a student loan:
Comparison: Just Money can help you compare different student loan options from multiple lenders, including government-funded loans, private loans, and bursaries. This can help you find a loan that best suits your needs and budget.
Expert Advice: Just Money's team of financial experts can provide you with up-to-date information and advice on different student loan options. This can help you make an informed decision about which loan is right for you.
Application Assistance: Once you've found a student loan option that you're interested in, Just Money can assist you in completing and submitting your loan application. This can help streamline the application process and save you time and effort.
Just Money can help you navigate the often-complex process of securing a student loan by providing you with the information and assistance you need to make an informed decision and apply for a loan with confidence.
You'll need to meet the following requirements to apply for a student loan:
Enrollment: You must be enrolled or have been accepted for enrollment as a student at an accredited institution in South Africa.
Citizenship: You must be a South African citizen or a permanent resident.
Creditworthiness: Depending on the lender, you may need to meet certain creditworthiness requirements, such as having a good credit score or a co-signer.
Income: Some lenders may require proof of income or a guarantor to ensure that you'll be able to repay the loan.
Academic Performance: Some lenders may consider your academic performance, such as your GPA or standardized test scores, when determining your eligibility for a loan.
Additional Documents: Depending on the lender and the type of loan, you may need to provide additional documents, such as proof of identity or bank statements.
Unlock your future: essential documents you need to secure a student loan
South African ID document or passport
Proof of income or affordability (e.g. payslips, bank statements, etc.)
Proof of residence (e.g. utility bill or rental agreement)
Acceptance letter from the educational institution where you will be studying
Academic transcripts or the latest school report
Proof of registration or admission fees paid to the educational institution
A completed loan application form will be provided by the lender.
Navigating the student loan application process
Research and comparison: Before applying for a student loan, it's important to research different lenders and compare their interest rates, repayment terms, and other fees.
Gather documents: As mentioned earlier, you'll need to gather and prepare the required documents for the lender, which may include proof of income, ID documents, acceptance letters, and academic transcripts.
Submit the application: Once you've selected a lender and have all the required documents, you can submit your loan application online or in person. Some lenders may also require you to meet with a loan officer to discuss your application.
Wait for approval: After submitting your application, the lender will review it to determine if you are eligible for a student loan. This process may take a few days or weeks, depending on the lender.
Accept the loan terms: If you're approved for a student loan, you'll receive a loan offer with the terms and conditions of the loan. It's important to carefully review and understand the terms before accepting the loan.
Receive funds: Once you have accepted the loan, the lender will disburse the funds to the educational institution on your behalf.
Repayment: After completing your studies, you'll typically have a grace period before you begin repaying the loan. During this time, it's important to make a repayment plan and understand the repayment terms, such as interest rates and monthly payments.
Customer Reviews & Testimonials
"
July 2022
I highly recommend Just Money South Africa to anyone seeking a student loan. The process was simple and efficient, and I was able to secure a loan quickly.
Busisiwe K
— Johannesburg —
September 2022
Just Money South Africa made the student loan process very easy for me. I was able to find a loan with a great interest rate that worked for me. I would definitely recommend Just Money South Afri...
Nomthandazo N
— Cape Town —
November 2022
I had a great experience working with Just Money South Africa to obtain a student loan. The staff was very helpful and friendly, and I was able to secure a loan with favourable terms. I highly re...
Zanele D
— Durban —
Just Money Contact
Contact Number
E-Mail
Website
Physical Address
186 Loop St, Cape Town City Centre

Cape Town

Western Cape

8001

South Africa
Opening Hours
Monday

08:00 – 17:30

Tuesday

08:00 – 17:30

Wednesday

08:00 – 17:30

Thursday

08:00 – 17:30

Friday

09:00 – 17:30

Saturday

– Closed

Sunday

– Closed