Student loans up to R500,000
Low-interest starting from 12.75%
Repayment up to 84 months
In-page navigation
---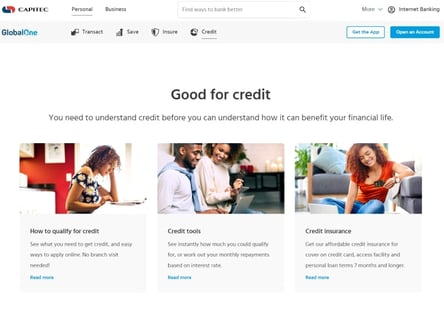 Author Capitec. Screenshot of Capitec website.


[Accessed March 27, 2023]
About Capitec
Capitec was founded in 2001 in Stellenbosch, South Africa by four businessmen who recognised the need for a more accessible and inclusive banking system.
Initially, the company offered only savings accounts and unsecured loans to low-income earners, but it quickly expanded its product offerings to include a wide range of financial services.
Over the years, it has grown to become one of the largest retail banks in South Africa, serving over 15 million customers with more than 850 branches and 6,000 employees across the country.
The bank has received numerous accolades for its innovative business model and commitment to financial inclusion, and it has been recognized as the best bank in South Africa by many industry experts.
How Capitec has evolved over the years
As expected by such a large FSP, its products and services have continued to evolve to ensure your changing needs are met. In the beginning, they offered only savings accounts and unsecured loans to low-income earners, but quickly expanded to include a wider range.
Today, they offer personal loans, home loans, credit cards, insurance, and investments, among other products.
Throughout its history, it has remained committed to its founding mission of providing accessible and affordable banking services to all South Africans, and it continues to innovate and expand.
Current position in the baking industry
Capitec has grown to become one of the largest retail banks in South Africa, with a market share of over 10% in the country's banking industry. Its success can be attributed to its focus on providing simple and affordable banking products and services that are accessible to all.
It has also leveraged technology to make banking more convenient for its customers, with a range of digital banking services that allow customers to manage their finances from their mobile devices.
With over 15 million customers, more than 850 branches, and 6,000 employees, it's well positioned to continue its growth and expansion in the years to come.
Capitec Services
You can access a student loan if you're registered at any accredited tertiary institution in the country.
The loan can be used to cover tuition fees, textbooks, accommodation, and other study-related expenses. You'll enjoy competitive interest rates and flexible repayment terms, with loan amounts ranging from R1,000 to R500,000.
Student loan repayment terms
You can choose to repay the loan over 1 month to 84 months, depending on the loan amount and your affordability.
How is the interest rate calculated?
Capitec's student loans come with competitive rates, calculated based on the prime lending rate. The rate will depend on a variety of factors, including the amount borrowed, the repayment period, and your creditworthiness.
Rates are fixed for the duration of the loan, which means that your monthly payments will remain the same throughout the repayment period.
They also offer you a 1% interest rate discount if maintain an average of 60% or higher in your studies. The student loan interest rates are competitive and can help you finance your education in a way that's affordable long-term.
Summary of Capitec's student loans
Loan amount: R1,000 to R500,000
Loan term: up to 84 months
Interest rate: personalised based on the credit profile and affordability
Initiation fee: up to 10% of the loan amount, maximum of R1,190
Service fees: none but penalty fees for missed repayments
Other services you can enjoy
Capitec's personal lending services offer a wide range of options for individuals looking to finance various goals or unexpected expenses. These services include unsecured loans, home loans, vehicle finance, and debt consolidation loans, among others.
Capitec – Student loan
Loan Type

Student loans

Interest Rate

from 12.75%

Loan Amount

up to R500,000

Repayment

1 month to 84 months
Benefits of Capitec
Online student loan application
Fixed interest rates
Loans are approved fast
Apply for your Capitec student loan today
Capitec is well-regarded for its simple and transparent products and services, as well as its affordable interest rates and fees.
Its student loans are no exception. With affordable rates and flexible terms, you can finally access the course of your dreams.
These loans can be used to cover education-related expenses at a variety of institutions, including:
Universities
Universities of Technology
TVET colleges
Private colleges and schools
Any other registered and recognised educational institution
Eligibility requirements
Be a South African citizen or permanent resident with a valid ID document
Have a regular income or be sponsored by someone with a regular income
Be 18 years or older
Have a good credit record
Meet the affordability assessment criteria set by Capitec Bank
The loan purpose must be to cover education-related expenses
Documents required when making your application
A valid South African ID document or passport
Proof of income, such as payslips or bank statements, if employed
If self-employed, a bank statement for the past three months and the latest financial statements
Proof of residence, such as a utility bill or lease
A quotation or invoice from the educational institution, detailing the expenses to be covered
Your 8-step online student loan application process
Visit the Capitec Bank website and click on the 'Apply Now' button under the 'Credit for Education' section.
Enter your details, including your name, ID number, and contact information.
Upload the required documents, including your proof of income and proof of residence.
Provide details about your education-related expenses and the loan amount you require.
Complete the affordability assessment by providing information about your income and expenses.
Review the loan terms and conditions, including the interest rate, repayment terms, and fees.
Accept the loan offer and sign the loan agreement online.
Once approved, the loan amount will be transferred to your account.
Applying for a Capitec Bank student loan in South Africa is a straightforward process. You can apply online, in-branch, or through the Capitec Bank app.

Capitec is a trusted & reliable provider of student loans
In our review, Capitec adheres to the compliance criteria in accordance with the National Credit Act, where the granting the loan will not cause financial distress to the consumer.
✅ Capitec is a registered credit provider in South Africa: NCRCP 13
Customer Reviews & Testimonials
"
June 2022
I recently applied for a student loan with Capitec Bank and I must say, the experience was seamless. The staff were incredibly helpful and patient with all my questions. The loan terms were very ...
Thabo M
— Durban —
July 2022
Capitec Bank's student loan was a lifesaver for me. I was struggling to pay my tuition fees and was worried about not being able to complete my studies. Thankfully, Capitec Bank came through with...
Nomvula D
— Bloemfontein —
April 2022
Capitec Bank's student loan is fantastic! The application process was easy, and the loan terms are very reasonable. Highly recommend it to any student in need of financial assistance.
Sibusiso N
— Nelspruit —
Capitec Contact
Contact Number
E-Mail
Website
Physical Address
Ottery Centre, New Ottery Rd, Ottery

Cape Town

Western Cape

7800

South Africa
Opening Hours
Monday

09:00 –

Tuesday

09:00 –

Wednesday

09:00 –

Thursday

09:00 – 17:00

Friday

09:00 – 17:00

Saturday

09:00 – 13:00

Sunday

– Closed