Student loans up to R80,000
Low-interest starting from 6.5%
Repayment up to 7 years
In-page navigation
---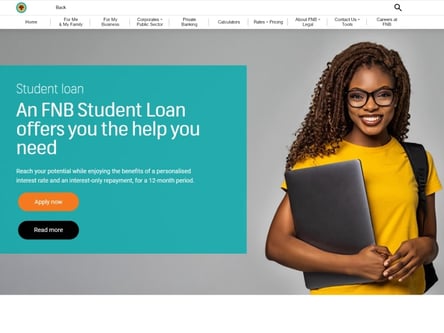 Author FNB. Screenshot of FNB website.


[Accessed January 31, 2023]
FNB - We can finance your future today
With everything that is going on in the world, getting the necessary financing to further your studies can sometimes become hard.
It is said that people with potential often just need a little push in the right direction. This is where FNB comes into the equation. They can give you the financial push that you need.
There is no need to give up on your dreams and aspirations because you do not have the financing to make them a reality. FNB can help you reach your goals with a student loan.
A little FNB history lesson
It is a well-known fact that FNB is the oldest bank in South Africa. You can find its origin in 1883 when the Eastern Province Bank was formed in Grahamstown.
Over many years and equally, as many economic trials that they have faced, they managed to overcome each one and grew stronger. This is one of the traits that make FNB a trusted name.
From humble beginnings in a small, picturesque town in the Eastern Cape to the well-known and trusted brand they are today, partnering with them will bring you to new heights.
FNB cares
It is often easy for companies to say that they care, but how they show they care is what counts the most. FNB shows they care through many initiatives.
One of these initiatives is its paper-saving program. They are constantly looking for ways to consume less paper and in turn, impact the environment positively.
They are also actively involved in the various communities they operate in. They donate a portion of their funds to numerous community projects that help the people in need as well as the environment.
FNB student loans
FNB was established on the principle of giving each customer outstanding, world-class service. This has never changed over all the years in business. They actively seek new heights of improvement daily.
Each customer is unique and so are their circumstances. FNB understands this and strives to do everything it can to make its customers feel like family. Partnering with them is not a simple transaction. It can become a life-long journey. That is what FNB ultimately strives for.
A Student loan that you can trust
Furthering your education when you don't have the necessary funding is stressful enough. When you can find the funding, the last thing you need is an untrustworthy lender.
With the student loan from FNB, you can rest assured that you are in good hands. They are a well-established lender with a rich history in South Africa.
FNB can finance every aspect of your educational journey and offer you the support you need to reach the heights you were made for. There is no dream too big or too small for FNB.
FNB offers Student loans and more
With the student loan from FNB, you can get access to personalized credit of up to R300,000. You will only repay interest and fees for the first 12 months of the loan period.
Apart from their student services, they also offer a wide range of other financial solutions. These solutions range from home loans to life insurance policies. They have a solution for everyone.
Their innovative and technologically up-to-date day-to-day banking is world-class and they make banking safe and convenient for everyone by offering everything financing in one place.
FNB – Student loan
Loan Type

Student loans

Interest Rate

from 6.5%

Loan Amount

up to R80,000

Repayment

3 months to 7 years
Benefits of FNB
Credit life insurance
Get personalised interest rates
Funding for further education
We cover all of your education financial needs
Getting a student loan from FNB is easy. They believe that certain things should not be overly complicated. FNB believes that time is valuable and they strive to make life easier.
Before you jump right into the application process, there are a few documents you need to have on hand. This makes the application process smoother and quicker.
The documents you need:
You will need proof of enrolment from the educational institution you chose.
Your student ID will be required.
Your original or a copy of your South African ID document.
You need to provide proof of your current residence.
They will also need the last three months' payslips or the last three months' bank statements.
Once you have all of these documents on hand you may start with the quick and easy student loan application.
They have put a call me back button on their website that will take you to a quick questionnaire. This will include your name, surname, email address, and your phone number.
You can complete this and click on the call me back button. Your inquiry will be directed to the right department and an FNB consultant will phone you back within 3 working days.
Why you should partner with FNB
In a world with so much uncertainty, making sure you acquire funding from a trusted lender only makes life easier. This is what FNB is all about, simplicity. They can offer you the trusted funding you need to achieve your goals.
It comes as no surprise that FNB has stood tall for so many years. Their promise of putting you first has never changed and the growing customer base is all the proof that you need.
Make the smart choice today and choose FNB for your student loan in South Africa.
The benefits of an FNB Student loan
They offer personalised credit of up to R300,000.
The interest rate is tailored to suit your needs.
FNB offers flexible repayment options.
They add credit life insurance so your debt is paid if something happens to you.
They are South Africa's longest-standing bank.

FNB is a trusted & reliable provider of student loans
In our review, FNB adheres to the compliance criteria in accordance with the National Credit Act, where the granting the loan will not cause financial distress to the consumer.
✅ FNB is a registered credit provider in South Africa: NCRCP20
Customer Reviews & Testimonials
"
May 2018
I would like to commend the agents at FNB regarding my student loan. They were so patient with me throughout the entire loan application and they ensured that I get the best credit deal.
Penelope G
— Pietersburg —
December 2018
If you are looking for an affordable student loan, FNB is your best shot at getting a bargain on your academics!
Sithabile R
— Durban —
March 2019
Applying for an FNB student online is fast and easy when you use their website.
Jack B
— Parys —
October 2018
FNB ensured that I get a loan that will suit my budget.
Palesa M
— Sandton —
February 2021
Getting the student loan I needed from FNB was the best decision I ever made. They provided me with great advice and helped me through the entire application process in no time.
Plaatjies S
— Bloemfontein —
June 2021
I thought all hope was lost when I needed a student loan until I applied at FNB. They were able to assist me with the funding I needed to further my education. They were professional and understa...
Potgieter S
— Oudtshoorn —
July 2021
This is a huge thank you to the professional and always friendly staff at FNB. I applied for a student loan and I was amazed at the effort they put into helping me get the financing that I needed...
Brandt J
— Albertinia —
FNB Contact
Contact Number
E-Mail
Website
Physical Address
3, First Place, Pritchard St & Simmonds St, Bank City

Johannesburg

Gauteng

2000

South Africa
FNB Universal Branch Code
---
Postal Address
PO Box 1153, Johannesburg, 2000, South Africa
Opening Hours
Monday

08:00 – 17:30

Tuesday

08:00 – 17:30

Wednesday

09:00 – 17:30

Thursday

08:00 – 17:30

Friday

08:00 – 17:30

Saturday

08:00 – 13:00

Sunday

– Closed