Student loans up to R100,000
Low-interest starting from 10.25%
Repayment up to 36 months
In-page navigation
---
Author Nedbank. Screenshot of Nedbank website.


[Accessed May 13, 2018]
Nedbank - Effective student loans
At Nedbank, we aim to provide all South Africans with the best banking services available by offering reliable and efficient services at all times.
We are one of the country's largest banks and therefore maintain an exemplary track record of great performance.
We help our clients succeed with the right finance
Due to our personal approach and attention to detail towards the financial situations of our clients, we have become recognized for our excellent customer services. Nedbank comprises of a team of expert consultants who ensure that all our clients receive unique solutions that are customized to their personal needs.
We offer our clients a wide range of products and services in our primary areas of operation which, to name a few are financing credit cards, transactions, deposits and investments.
Professional customer service
Being one of South Africa's largest lenders gives us a huge competitive advantage that you can benefit from.
We offer our clients a professional customer service that is based on an attention to detail that is unmatched amongst others and comes with some of the best terms and conditions you'll find in addtion to online services including banking and online loan applications.
What Nedbank's clients can expect, is complete transparency from us and the faith that we will assist them with everything they need.
We will help you achieve sucsess
Our student loans are designed to help our young clients get a tertiary education and give them the chance they deserve at achieving professional success.
The loan can either be in the name of the student or the parent and is designed to cover all the major education expenses such as tuition fees, accommodation, study materials, and accessories.
Benefits of our student loans
The main benefits of our student loans are the highly attractive interest rates, flexible repayment terms, grace period options and competitive life cover.
We offer flexible and affordable student loans
Ensuring that we provide our clients with great flexibility is a priority at Nedbank when it comes to repaying their student or personal loan.
We provide our clients with a grace period should they have to complete an internship or provide community service during their final year of study.
The interest rates on our student loans are some of the most attractive rates that you will come across, and as we know with fees and charges, it all adds up to the flexibility of the student loan as well as the affordability of it.
Nedbank – Student loan
Loan Type

Student loans

Interest Rate

from 10.25%

Loan Amount

up to R100,000

Repayment

6 months to 36 months
Benefits of Nedbank
Lower interest rates
Competitive credit life cover
Flexible

repayment options
Repay the loan when your studies are complete
Nedbank has your financial interests at heart
When it comes time study, Nedbank has all your interests at heart. We have options that cover your traditional student loan, to university grants and education finance.
These you would apply for in order to reap the specialised benefits of a study loan if that is what you're after with your loan. For all other loan requirements, we offer personal loans for both immediate needs and long-term needs. Personal Long-term Loans
Why you should consider getting a student loan with Nedbank
A university degree sets you on the path to get a professional job that not only pays well in terms of earning potential, it will also help you to build a professional career. All you need to do is to take a look at our Nedbank student loan offers to better understand if these loans will assist you in reaching your goals.
What are the repayment terms?
Our student loans have been designed to cover all your major expenses while you are studying at university. The loan will therefore cover your tuition fees, cost of accommodation and other expenses like books and study equipment.
The exact amount that you will be lending is determined based on your needs. Our student loans come with a flexible repayment term that is a major benefit for you as a new student.
While you, our client, is busy studying full time, you will only be required to pay the interest in the form of a monthly instalment. Once you have graduated, you will have 15 years to repay the balance of the loan that you received for each year of studying.
The total amount that you should repay will consist of the principal amount and any outstanding interest on the account. It is important to bear in mind that you will need to apply for finance online or at a branch for every year that you were at varsity.
Secured loan options
In order for a student to qualify for a student loan, they would need to provide us with security. This is usually an income earner such as one of your parents or your guardian, who will be responsible for paying the loan while the student is studying. The person who takes this on in the form of security, would be required to meet the bank's lending requirements in order for the loan to be processed.
How to apply for a student loan with us?
If you wish to apply for a Nedbank student loan with us, the student and the guarantor will need to take certain documents to their nearest Nedbank branch to apply for the loan.
The guarantor will be held responsible for the repayment of the interest during the course of the studies, and students that are studying full time must be supported by a guarantor when they are applying for a Nedbank Student Loan. You can call in and a consultant will assist you alternatively you can fill in our online application and get started right away!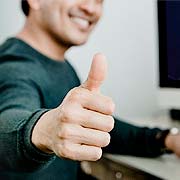 Nedbank is a trusted & reliable provider of student loans
In our review, Nedbank adheres to the compliance criteria in accordance with the National Credit Act, where the granting the loan will not cause financial distress to the consumer.
Nedbank is a registered credit provider in South Africa: NCRCP16
Customer Reviews & Testimonials
"
March 2019
Nedbank has the most affordable credit offers. I am able to pay my other financial obligations while I still have the student loan with them.
Matilda W
— Vereeniging —
October 2018
I thought I would for days before getting feedback for my student loan. To my surprise, I got a response within an hour of applying.
Caroline B
— Boksburg —
February 2019
I am a happy customer because Nedbank has afforded me such affordable interest rates.
Chris T
— Eastern Cape —
October 2018
Nedbank has the most convenient loan application system. Everything is straight forward and easy to follow through.
Andisiwe M
— Port Shepstone —
Nedbank Contact
Contact Number
E-Mail
Website
Physical Address
35 Siemert Rd, Doornfontein,

Sandton

Gauteng

2094

South Africa
Nedbank Universal Branch Code
Opening Hours
Monday

08:30 – 16:00

Tuesday

09:00 – 16:00

Wednesday

09:00 – 16:00

Thursday

09:00 – 16:00

Friday

08:30 – 16:00

Saturday

08:30 – 12:00

Sunday

– Closed