Student loans up to R250,000
Low-interest starting from 7.5%
Repayment up to 72 months
In-page navigation
---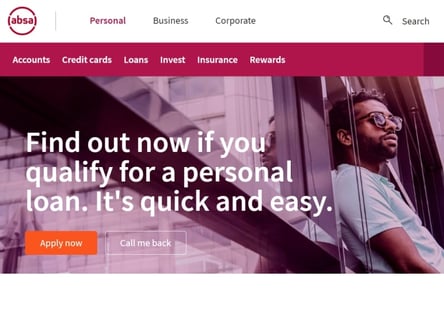 Author Absa. Screenshot of Absa website.


[Accessed January 31, 2023]
Absa - the top choice for student loans
Being ready to start with your tertiary educational journey but realising the exorbitant costs of university can discourage many prospective students. ABSA can change that for you.
ABSA's in the business of making life simpler, better, and more convenient. It's comforting to know at a time when most needed, there's a trusted lender that can help.
For everything finance-related, including student loans, ABSA will stay true to its founding promise to assist people financially when needed. Striving to build a better future for all.
An overview of ABSA
ABSA is a financial services provider offering a wide range of financial solutions, helpful tools, and useful advice for a prosperous financial future. A truly South African brand that is determined and passionate about always bringing the best there is to offer.
They've settled in 15 countries across Africa and have offices in the United Kingdom as well as the United States. They continue to grow and strive for outstanding customer service, daily.
What is their mission?
Every great company starts as a dream. The dream was one of being able to financially assist people to reach their goals.
They work hard daily to bring their customers the most up-to-date, smart, and innovative services available. When people with big dreams and aspirations get the right opportunity, great things tend to happen.
To be a part of making possibilities turn into realities is what drives ABSA to keep reaching new heights. They're a beacon of hope to many and have changed the lives of people across Africa.
They have the lowest interest rates
When it comes to service, there is a wide range of offerings from ABSA. They aim to provide outstanding service and support with each of their products.
There is a family atmosphere when you join the ABSA team. They believe that this is what sets them apart from their competitors. This has been a big part of their success through the years. With their student loans, it is no different. They take the journey with you and stay with you till the end.
A student loan with a difference
There is nothing worse than starting a journey and realising that you might not be able to afford it. Fortunately, ABSA has an affordable solution to your financial problem.
They offer a study loan that will enable you to continue on your path to success. This loan offers a low-interest rate and if you can find better elsewhere, they will beat that.
The loan has been structured so that you only pay interest for the first twelve months of your loan period. Only in the thirteenth month, will you start repaying the loan amount borrowed.
Many services to choose from
Not only can ABSA be of assistance with a study loan but they also have a vast range of services and financial products to choose from.
From everyday banking, wealth management, and business banking to home loans and investment banking. You will be hard-pressed to find a lender that has everything on offer in one place.
Make ABSA your first choice for everything finance-related and see how they can open a world of possibilities for you too.
Absa – Student loan
Loan Type

Student loans

Interest Rate

from 7.5%

Loan Amount

up to R250,000

Repayment

160 days to 72 months
Benefits of Absa
Competitive interest rates
Full tertiary education finance
The best loan deal for your needs
Absa - They will help you get the education you need to become successful
Before you embark on your new journey of furthering your tertiary education, there are a few things that you need to know.
Applying for a study loan from ABSA will require you to have some documentation on hand. This makes the process smooth and painless.
Documents you require:
You will need proof of your study costs for the year. These include:
Any devices needed to assist your studies
Accommodation costs
All costs for textbooks
Tuition fees for the year
Your original ID document or a clear copy thereof
An acceptance letter or proof of registration at your educational facility of choice
Proof of your current address
The last three months' bank statements or the last three months' payslips
If you are studying for a second year, you will need your previous year's results as proof that you are allowed to further your studies
At ABSA they believe that personal interaction counts the most. They have friendly and professional advisors that are ready and eager to assist you with your journey.
You can apply for the student loan that you need by visiting your nearest branch with all your documents. You may also make use of the ABSA student bureau or dial the number to speak to a consultant.
Choose ABSA and secure your future
When there is a trusted financial institution that can assist you in reaching your dreams, there is no need to fear the future. ABSA has been helping people secure their financial futures successfully for many years.
Leap today and reach success tomorrow!
Benefits of a Student loan from ABSA
You can finance your entire tertiary education fees.
They offer the best interest rates.
You pay only interest for the first 12 months.

Absa is a trusted & reliable provider of student loans
In our review, Absa adheres to the compliance criteria in accordance with the National Credit Act, where the granting the loan will not cause financial distress to the consumer.
✅ Absa is a registered credit provider in South Africa: NCRCP7
Customer Reviews & Testimonials
"
January 2019
After applying for a student loan at ABSA, I knew my life would never be the same again.
Nokwanda M
— Cape Town —
April 2019
I knew I made the right decision by choosing ABSA when it came to my student loans, they offer affordable credit plans.
Amanda P
— Durban —
May 2019
If you looking for an affordable student loan, ABSA is the name of the game.
Allistar V
— Northern Cape —
April 2021
I required a study loan to further my education and after searching the internet one evening, ABSA had the best to offer. I got my documents in order and went to the branch in town. They assisted...
Telapi S
— Stilbaai —
June 2021
Getting a study loan from ABSA was the best decision I could ever make. They were understanding and professional every step of the way. They helped me to work towards my dreams.
Ngwenya L
— Bloemfontein —
November 2021
Finding the funding I needed to further my education was a stressful task. My mother suggested that I apply for a study loan at ABSA. I applied and to my surprise, they assisted me with the money...
Du Preeze C
— Alberton —
Absa Contact
Contact Number
E-Mail
Website
Physical Address
180 Commissioner St, City and Suburban

Johannesburg

Gauteng

2000

South Africa
Absa Universal Branch Code
---
Postal Address
PO Box 7735, Johannesburg, 2000, South Africa
Opening Hours
Monday

08:30 – 15:30

Tuesday

08:30 – 15:30

Wednesday

08:30 – 15:30

Thursday

08:30 – 15:30

Friday

08:30 – 15:30

Saturday

08:00 – 11:00

Sunday

– Closed