Student loans up to R120,000
Low-interest starting from 28%
Repayment up to 60 months
In-page navigation
---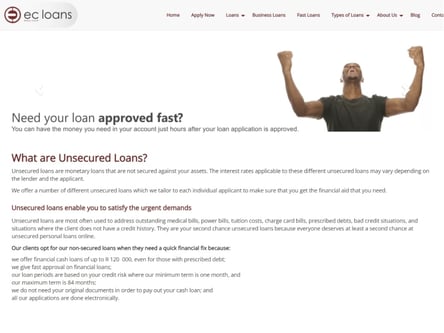 Author EC Finance. Screenshot of EC Finance website.


[Accessed January 31, 2023]
Loans made easy with EC Finance
EC Finance has one goal in mind and that is to be the most reliable student loan provider in South Africa. They have been in the industry for seven years and are based in the Western Cape.
Customer service that brings you complete satisfaction
Their aim is to deliver professional and rapid service and meet all your requirements. They continuously grow and develop their staff, to ensure that they stay motivated, and to ensure that you are completely satisfied with them.
Reaching your goals with the help of a student loan
EC Finance offers university and education finance that can assist you when getting started with your career. Education is the foundation for a bright future and that is why the aim is to assist those who desire it but cannot afford it.
Yes, it's a costly matter and when tertiary institutions are looking for money upfront, it's easy to feel like avoiding it. They have a student loan that will solve this problem for you.
EC Finance has your complete course covered
A loan from EC Finance will help you to pay books, tuition fees, extra classes, living costs, etc. The most amazing part about applying for a loan with them is you will receive great interest rates and complete transparency.
They have loans suitable for everyone
Studying has never been this effortless and affordable.
Applying for a student loan would get you better rates for longer terms. EC Finance offers you great flexible loans up to R120 000 with a low-interest rate of 28% and repayment terms of up to 60 months.
You can still apply for a student loan
The interest rates on finance offered by EC Finance are competitive, however, you will still need to make sure you can afford the monthly repayments. Overall their rates are fairly low, but, if you are blacklisted it might be slightly higher.
You can do a credit check to check your financial history, this will also help you to make more informed choices when it comes to your loan.
Work out what your student loan will cost you
One of the handy tools offered to you is a loan calculator, which you can use to calculate the total cost of the loan before applying for it. By having this info before applying, you will be aware of what you can afford and make sure it is in line with your budget.
EC Finance loans are designed to suit both those who are blacklisted and stuck with a poor credit rating and in need of a student loan.
EC Finance – Student loan
Loan Type

Student loans

Interest Rate

from 28%

Loan Amount

up to R120,000

Repayment

60 months
Benefits of EC Finance
Student loans up to R120 000
Loan term up to 60 months
Low-interest rates from 28%
They will help you choose the right loan option
The application process can be done swiftly, and it will save you a lot of time and effort. You will be notified if your loan is approved instantly, and you could receive the money on the same day.
Documents required for a student loan
You must be a South African citizen.
Older than 18 years of age.
Your parent or guardian should be employed full-time and be able to provide them with payslips for the last 3 months.
The parent or guardian should earn a minimum income of R2 000 per month.
Active bank account details will be needed for the transfer of the funds.
Valid identification must be provided.
Follow these quick and effortless steps to apply for a student loan:
Make sure you fully comply with the requirements of their loans when you visit this website.
Fill in the loan application form.
Submit your application and wait for the approval to be finalised.
You could be signing your loan agreement as early as 6 hours from now.
Affordable student loans
No more strain from the pressures of whether you can afford your study loan or not, you can take your future into your own hands. It's definitely a smart way to take a loan out for studies due to the savings on interest and charges that are structured to meet your needs.
Benefits when you apply for a student loan
Flexible and affordable loan options.
Low-interest rates from 28%.
Loan terms of up to 60 months.
Quick online application and approval.
Student loans up to R120 000.
Customer Reviews & Testimonials
"
November 2018
EC Finance ensured that my loan application was approved within hours after applying.
Henrietta G
— Ramsgate —
December 2018
EC Finance will never give you a student loan you can't afford to pay; they always have your financial interests in mind.
Caroline P
— Mafikeng —
February 2019
I am so paying with the rate that I am paying on a monthly basis on my student loan. Thanks to EC Finance!
Jonathan G
— Vanderbijlpark —
September 2021
I am so impressed with the rate that I am paying on my student loan. Their customer service was amazing.
Mpanda X
— Despatch —
September 2021
My application was approved within hours after applying and it only took me a few minutes to complete. Thank you, EC Finance.
Damons K
— George —
EC Finance Contact
Contact Number
E-Mail
Website
Opening Hours
Monday

08:00 – 17:30

Tuesday

08:00 – 17:30

Wednesday

08:00 – 17:30

Thursday

08:00 – 17:30

Friday

09:00 – 17:30

Saturday

– Closed

Sunday

– Closed