Loan finding service
Get the best deal
Affordable repayments
In-page navigation
---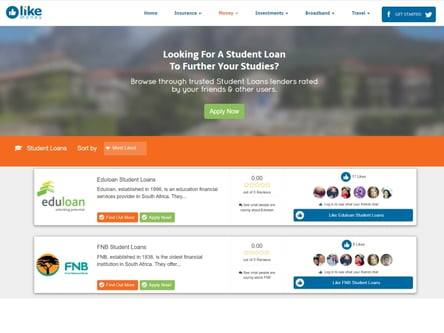 Author Like Money. Screenshot of Like Money website.


[Accessed January 31, 2023]
Like Money - We compare financial products effectively
If you are about to embark on a journey that will determine the rest of your life, the decision to further your education is the first step to a better future.
After careful consideration of your current finances, you've realised that you'll need funding to make this happen. Like Money is the perfect company to consider partnering with you as they can assist you to find the right student loan for your desired course.
Who they are
Like Money was established in 2015 as a social comparison engine as they saw the need in the market for a platform that made life easier and went to work.
Their platform enables you to find the financing you need by doing the search work for you. No more hours behind the computer in search of that one great deal.
You're able to compare anything from insurance, home loans, cell phones, investments, and study loans. This is an effortless and fuss-free way of getting the best deals in minutes.
Like Money's mission
They want to continue to bring people the luxury of choice. By creating this free platform, they're giving people their power back when it comes to choice.
The comparisons they offer their customers are unbiased and you can be sure to get a true and accurate comparison with the latest pricing.
With them, you can save time as well as money while quickly and easily finding the best deal as they aim to bring you the value you deserve. What's more, is that it is completely free of charge.
Free and easy loan comparison
A part of the service Like Money offers is the promise that they present up-to-date and accurate financial products.
They've opened up the floor to everybody who uses the Like Money platform and this platform has enabled you to see customer ratings on companies that are based on individual service and experience.
This has a great effect on how people choose to finance. By seeing previous customers' reviews, you can make a better decision on which provider to use.
Get what you need the easy way
Getting a student loan through Like Money is one of the easiest things to do. They've made the website easy to navigate and user-friendly.
With them, you can access a list of every financial service provider along with ratings and costs. There is no need to phone around as all the information you need is well put-together.
They have a drop-down menu that will enable you to list your student loan search results according to the alphabet, most liked, or highest rated.
Like Money cuts out the long hours of searching
There is one thing in today's life that there seems to be a major shortage of and that is time. Life is a constant hive of activity with not enough hours in a day.
That is one of the major reasons why Like Money has thought it good to offer people a service that enables them to get everything they need in one place.
You can simply go online and search for what you are looking for in the main menu of the website. Within no time you will be presented with all the options available and can then make your decision.
Like Money – Student loan
Benefits of Like Money
Find affordable student loans
Compare loans and save
Like Money has the loan options to suit every individual client
Simplicity has always been the motto at Like Money. They take the hassle of obtaining finance away by doing the time-consuming work for you.
Their service is outstanding in every way and searching for the best study loan available has never been more convenient than this. There are a few documents that will be required to confirm the important things. You only complete one form and Like Money does the rest for you.
Documents you may need:
You will need to have your student ID on hand.
All paperwork relating to your student fees, books, and other necessities is required.
Your ID document.
A three months bank statement to show all current expenses and affordability.
The last three month's payslips to prove income.
Step one:
Navigate to the student loan option which you will find under the money tab. You will be presented with all the available companies that can assist you with financing.
Step two:
As soon as you have found the option you want to apply for, you may click on apply now.
Step three:
You will then see an application form appear. Complete the application in full and click on submit and redirect. Your application will then be sent to the relevant service provider who will be in contact with you shortly.
Let Like Money work for you
It can become quite a daunting task to search the internet for that perfect deal on your own. You don't need to waste hours looking as Like Money is in the business to assist you with finding the perfect funding.
They offer this comparison service free of charge to you. So, there is no reason why you should not let them do the hard work for you. Go to Like Money today and let them find you a sweet deal.
Like Money benefits
They offer this service for free.
They present you with up-to-date pricing on products.
You can see how others rated companies.
They offer unbiased comparisons.
Customer Reviews & Testimonials
"
February 2019
I am so grateful to Like Money for affording me the opportunity to get a student loan when I thought I wouldn't be a student again!
Nicholas B
— Pretoria —
March 2019
Applying for a Like Money loan was convenient, easy and well worth my time!
Brian C
— Ficksburg —
April 2019
After using the Like Money loan application website, I was convinced that they are genuinely considerate for their customers.
Peter C
— Free State —
May 2021
I was dreading the idea of searching the internet for hours in search of the best student loan I could find. A friend suggested I go onto Like Money and see what they can offer me. In no time I h...
Landini S
— Bloemfontein —
June 2021
It was such a pleasure to use the Like Money platform to find the student loan I needed. They had results for all available financing options in minutes. Their website is user-friendly and easy t...
Ncamani F
— Port Elizabeth —
October 2021
I wanted to further my education but realised that I would need funding to do that. I went online and in no time I had several study loan options from Like Money. They offer an amazing service an...
Sebeng L
— Harrismith —
Like Money Contact
Contact Number
E-Mail
Website