Global Banking
Grow Sustainably
Enter New Markets
In-page navigation
---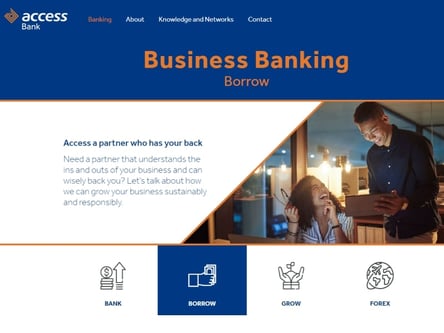 Author Access Bank. Screenshot of Access Bank website.


[Accessed April 12, 2023]
About Access Bank
Access Bank, originally known as The South African Bank of Athens, was established in 1947 to cater to the financial needs of Greek Immigrants.
After a huge buy-in by the Bank of Athens in 2018, the bank rebranded as Grobank. They have an extensive footprint globally, extending from Africa to the UAE and even the UK. With offices in India, China, and Lebanon, they truly count among the global leaders in financing.
Their primary focus is on the South African agribusiness industry. Soon after, in 2020, Access Bank took control of Grobank, and it officially became Access Bank South Africa. Access Bank currently has branches in Johannesburg, Cape Town, Pretoria, and Polokwane.
A vision of the future
The bank's vision is to be the financial gateway to Africa for ordinary citizens like yourself and to become one of the most respected banks on the continent.
Although they pride themselves on core strengths such as business banking (SME), alliance banking, and foreign exchange products, they're actively working on entering new markets and services.
A unique banking experience for all
Households across Africa trust Access Bank with their family's well-being.
Sending cash across borders costs as little as R150 per transaction. You can send money to Botswana, Rwanda, the DRC, and Mozambique, with more destinations to be added soon.
Payments are swift and reflect on the same day.
There are no complex certification processes.
The Diaspora Banking feature is a first of its kind and enables foreigners to open an account by using their valid passports.
Additional services include Forex options such as international investments and currency accounts, cross-border transactions and merchandising finance, as well as over-the-counter foreign currency undertakings.
Engaging in business has never been easier, and Access Bank is the smart choice for those who want to go places.
The three core fundamentals
Innovation creates opportunity. The bank partners with future-focussed businesses to create innovative products that enable even more people to enjoy unique banking solutions.
Why not? Access Bank enables businesses to co-create unconventional banking solutions to financial challenges. Cookie-cutters can't be co-creators, therefore the bank ventures beyond the known to set the benchmark in unique finance innovations.
Access Bank Services
Access Bank operates over four primary segments, namely personal banking, business banking, corporate banking, and alliance banking.
Personal banking
Access Bank cares about people and wants every client to feel at home.
Current account at a monthly fee of only R7.00.
Current account with rewards costing only R20.00 per month.
Diamond Advantage Business Account for small business owners with an annual turnover of less than R5 million.
Accounts for non-residents.
An Access to Africa Remittance Account that caters to cross-border interests.
Business banking
Access Bank sees the people behind the business. You're now able to enjoy a personal relationship with your bank manager at a fixed monthly fee.
Business More: Smaller businesses with turnovers of between R5 million and R50 million per year may qualify. The monthly fee for this product is R150.
Business Excel: Larger businesses with turnovers of up to R750 million per year can access this banking product. The cost is R250 per month.
Products that enable growth and prosperity
As a business owner, you can enjoy an overdraft facility tailor-made to your specific needs. Access Bank understands that cash flow is the lifeline of your business. As long as you honour the terms of your agreement and make regular deposits, there aren't minimum monthly repayments. Interest on your overdraft is determined through a personal assessment of your needs. It's calculated daily and payable monthly.
They offer commercial loans to finance your working capital requirements. It's a medium-term facility, payable over 60 months. Interest rates are based on the bank's prime lending rate and are calculated via a personal assessment.
They also offer asset and vehicle finance to enable mobility across Africa. A flexible repayment plan enables you to grow your business.
You'll always need space to grow and having access to property finance when needed is a game changer. The bank's relationship manager, together with the credit team, will design a deal to suit your unique requirements. Factors such as property acquisition costs, deposits, transfer fees, value assessments, and registration costs will all be taken into consideration to structure a plan that'll have you smiling from ear to ear.
Business accounts with a difference
Decision-making is prompt as they understand that time is money
One platform caters to all your business challenges
Solutions are designed to help you achieve your business goals
Products include overdrafts to strengthen your cash flow, as well as commercial and property loans You can also finance vehicles and other assets. You'll only pay interest on what you use
Access Bank – Banking product
Benefits of Access Bank
Explore many different ways to do banking
Quality banking solutions
Low banking fees
---
An Access Bank account just makes sense
Access Bank offers a platform where you can create custom banking and payment solutions that cater to your individual needs. You can choose from a range of integration technologies to expedite your business processes. Access Bank has more than 16 years of experience in this field.
Corporate Banking
This division enables cross-border banking throughout Africa and the globe. Business owners have access to specialist knowledge and cutting-edge expertise.
You can withdraw money at any ATM or at a selected retailer
Your EFT payments are cleared instantly
Transaction and balance information are available around the clock
You can transfer money between accounts hassle-free
Managing beneficiaries is simple and easy
You can make deposits at any ABSA branch
The user-friendly Access banking app enables seamless transactions at the touch of a button.
How to open an account
Complete the online form on Access Bank's website to have a consultant call you back.
Contact an Access Bank manager directly by completing the online form on the website.
Alternatively, you can download the Access Bank app and follow the prompts.
Access Bank has grown tremendously over the past 12 years. Now's the time to tap into the bank's expert insights and services to accelerate your financial success trajectory, both personally and in business.

Access Bank is a trusted & reliable provider of banking
In our review, Access Bank adheres to the compliance criteria in accordance with the National Credit Act, where the granting the loan will not cause financial distress to the consumer.
✅ Access Bank is a registered credit provider in South Africa: NCRCP 6
Customer Reviews & Testimonials
"
January 2023
I was planning on purchasing my first holiday home in the near future and needed to establish a good credit record. I applied for an account with Access Bank. They were very helpful and friendly.
Costa P
— Kroonstad —
November 2022
I would like to take this opportunity to thank the friendly staff at Access Bank for helping me complete my account application. They explained everything to me in a way that I could understand.
Ella D
— Secunda —
September 2022
After an online search for an affordable account with options to easily transfer money abroad, I decided to apply with Access Bank. Their application process was quick and user-friendly. I would ...
Andreas V
— Albertinia —
Access Bank Contact
Contact Number
E-Mail
Website
Physical Address
Building No.3, Inanda Greens Business Park, 54 Wierda Rd W, Wierda Valley

Sandton

2196

South Africa
Access Bank Universal Branch Code
---
Postal Address
P.O. Box 784921, Sandton, 2146, South Africa
Opening Hours
Monday

09:00 – 17:00

Tuesday

09:00 – 17:00

Wednesday

09:00 – 17:00

Thursday

09:00 – 17:00

Friday

09:00 – 17:00

Saturday

– Closed

Sunday

– Closed