Quick financial solutions
Everyday banking
Business banking
In-page navigation
---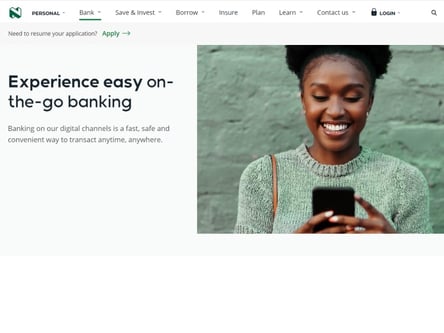 Author Nedbank. Screenshot of Nedbank website.


[Accessed January 31, 2023]
Nedbank - Professional banking assistance
Bank with the best for ample benefits and convenience.
Nedbank's history dates back to the early 19th century with the founding of the Cape of Good Hope Bank in 1831.
Following sequential branding and organisational changes, from The Nederlandsche Bank voor Zuid-Africa to the Netherlands Bank of South Africa (NBSA), to the Nedcor Group in the 1980s, Nedbank Group was formed in 2003.
Their manifestation in South Africa and beyond
Nedbank Group's principal market lay in South Africa, with this being said, they were excited about their continued expectation of expanding to the rest of Africa. Their vision is to be Africa's most respected bank, striving for excellence in all that they do.
They have representatives in Angola and Kenya, and their presence has already been in six countries namely Zimbabwe, Lesotho, Mozambique, Malawi, Swaziland, and Namibia making those six subsidiaries owned by Nedbank in the Southern African Development Community (SADC).
They have one of the largest banking networks
Embracing more than 2000 branches in 39 countries, they follow a partnership method and concluded an estimated gain of 20% shareholding in Ecobank Transnational Incorporated (ETI) in 2014, permitting a one-bank involvement to their consumers across the largest banking network in Africa.
In 2012 the Nedbank App Suite won the MTN Consumer App award of the year, in the same year Nedbank was recognised by Euromoney as being the best bank in South Africa, followed by Financial Times in 2013 The Banker magazine named Nedbank the bank of the year.
Loans between R1 000 and R250 000
The go-to online banking provider that will put you in control of your money.
Overview of their savvy account
Get the most out of your banking and enjoy a free month. With them, you are able to add more benefits whenever you want to, perhaps an overdraft facility or even the Nedbank Greenbacks rewards program.
You can get a whole lot of savvy value at a low fixed monthly fee.
For a fixed monthly fee, you can get:
Gold cheque card
Free digital banking, SMS banking (online banking with Nedbank Money App MyFinancialLife) anytime anywhere.
Card Swipes are unlimited.
Unlimited Debit Orders.
You get four Nedbank ATM withdrawals monthly.
SMS (eNotes) notifications
Loans between R1 000 and R250 000
They offer a wide range of loans including personal loans, short-term loans, and much more at affordable rates.
Whatever your requirement, be it a medical bill, home improvements or repairs, furthering education for yourself or a family member, repairing appliances, purchasing a second-hand car, unexpected medical bills to perhaps consolidating your debts – a personal loan could be a step in the right direction to an improved life and could ultimately pay you back.
You can rest assured that they can offer you the right amount at the very best interest rate possible, making sure that you uphold a good credit record.
Nedbank – Banking product
Benefits of Nedbank
Corporate banking
Day to day banking accounts
Business banking
---
Nedbank - They help you to bank better
They've designed a great app for their customers to enjoy their everyday banking and be fully in control of their money.
You'll be able to view, transfer, make payments, read statements, and much more, all from your phone. Please be advised that all long and short-term loans are subjected to terms and conditions, as well as certain source criteria.
Who can qualify
Persons over the age of 18 may apply.
A minimum income of R3 000 per month.
An additional fee of R35 will apply to non-residents.
Trusts, companies, or legal entities are not entitled to apply.
What you need to apply
A South African identity document/card or passport with a valid permit.
Utility bill, phone bill, or rental invoice containing your name and physical address on it.
It is a necessity to have permanent employment or be employed under a secure contract as they do not accept self-employed applicants.
Please be advised that all online loans are subject to terms and conditions, as well as certain source criteria.
Opening a bank account is easy with Nedbank
If you are older than 18 you can supply them with your SA ID and proof of residence.
They will then process your information and issue you a bank card and get you sorted out on their easy-to-use online banking app.
Enjoy all the benefits and features of banking with the best.
Benefits of their services
Loans presented are between R1 000 and R250 000.
Repayments are flexible with terms of between 12 and 60 months.
Monthly repayments will be debited from your account.
They offer you the best interest rate possible.
The online loan application process is easy.
Approved loans are deposited directly into your bank account.

Nedbank is a trusted & reliable provider of banking
In our review, Nedbank adheres to the compliance criteria in accordance with the National Credit Act, where the granting the loan will not cause financial distress to the consumer.
✅ Nedbank is a registered credit provider in South Africa: NCRCP16
Customer Reviews & Testimonials
"
November 2018
Applying for a loan to finance my new car was so simple. What I appreciate the most was that the process was so quick and smooth.
Daniel V
— Cape Town —
January 2019
Nedbank goes all out for its customers. I needed assistance with managing my money better and Nedbank offered me that through a financial planner. Now I'm a lot more confident about my financial ...
Nkosinathi C
— Port Elizabeth —
January 2019
I've been a Nedbank customer for 6 years and the service keeps getting better and better. I love how Nedbank always tailors their products to what I need- this flexibility is what's kept me loyal...
Kim D
— Parys —
August 2021
I have been a Nedbank client for a few years now and I must say they are always on point with their service.
Van Rooyen N
— Jamestown —
November 2021
Their apps and systems are super convenient and easy to use. Their prices are also great.
Ghana M
— Rooiwal —
November 2021
They have amazing features and benefits. I believe that they are the best bank in SA.
Kleinsmith J
— Pretoria —
Nedbank Contact
Contact Number
E-Mail
Website
Physical Address
381 Rivonia Blvd, Edenburg

Rivonia

Gauteng

9908

South Africa
Nedbank Universal Branch Code
Opening Hours
Monday

08:30 – 16:00

Tuesday

09:00 – 16:00

Wednesday

09:00 – 16:00

Thursday

09:00 – 16:00

Friday

08:30 – 16:00

Saturday

08:30 – 12:00

Sunday

– Closed