Business loans up to R1,500,000
No hidden fees
Apply in 5 minutes
In-page navigation
---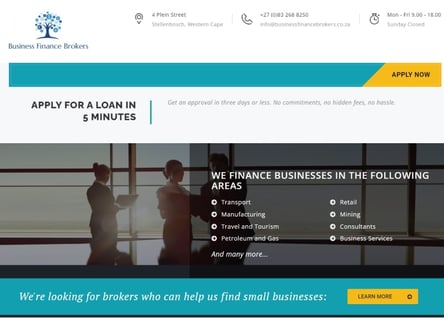 Author Business Finance Brokers. Screenshot of Business Finance Brokers website.


[Accessed January 31, 2023]
Business Finance Brokers - Your trusted choice for business loans
Business Finance Brokers was established in 2016 in the heart of Stellenbosch in the Western Cape. They pride themselves on being the most trusted choice when it comes to small to medium-enterprise finance in the country.
They are a company that believes in innovation and changing the way SMEs receive support and finance in the industry. Their responsible and transparent nature is a huge drawcard for those who seek assistance when starting up their new enterprises.
Grow your business
Their primary goal is to assist South African citizens grow their businesses in the most efficient way possible. Their core focus is to simplify the life of time-constrained business owners by assisting in sourcing the most ideal business finance to suit their needs and take the business to the next phase of growth.
One of the fundamental reasons that Business Finance Brokers went into business, was to take creative businesses and engineer improved ways to conceptualise their products within the business through finance.
They are help
When it comes the time for an SME to apply for finance through them, they would need to meet certain requirements. The business needs to meet a turnover of over R1 million in order for its professional team to assist you.
You should also be aware of the fact that they do charge a once-off finance fee that you'll understand once the broker has met with you and discussed the agreement in place. Business Finance Brokers is there to help you, so you can direct all your concerns and questions to them if you so have any.
Business loan approvals in under 3 days
They offer you loan approval in under 3 days! That's right, hardly a wait at all when you think about how long you've waited to get your business plan in place.
Along with that amazing statistic, you can also be sure that you won't be hit with any hidden fees because we are completely honest and transparent through all our agreements.
Hassle-free loan service
This hassle-free loan is exactly what you need. Your business is important to you and the success of it is important to them as well and that is the reason they take pride in offering finance to all types of business owners.
You can apply for a business loan through them for transport, manufacturing, travel and tourism, gas, retail and even mining!
They offer consultative services and professional brokers to ensure that you are on the right path for your business's future success!
Apply online
To apply, you hardly need any time at all!
Simply ensure that you have a valid bank account whereby you furnish them with the details and you can have funds in your account within just days of your online loan application being approved.
If the speed of their services is anything to go by, you'll be comfortable knowing that your business will grow as fast!
They will require certain documentation to facilitate the loan approval, so bear this in mind when you're online and ready to get going!
Business Finance Brokers – Business loan
Loan Type

Business loans

Loan Amount

up to R1,500,000

Monthly Service

R3 days
Benefits of Business Finance Brokers
Loan approval in 3 days
Hassle-free loans with no hidden fees
Apply for a loan in 5 minutes
Business Finance Brokers shows how SMEs drive the economy
There are some obvious reasons and some not so obvious when it comes to the way in which these entrepreneur-driven businesses are helping the country's economy.
First and foremost, they have been identified as product drivers of development in South Africa and even other parts of the world. An interesting statistic shows that small to medium enterprises in South Africa is estimated to make up 91% of all formalised businesses and currently provide employment to around the margin of 60% of the entire labour force. These figures equate to output for our total economy which boasts around 34% of the GDP.
Fueling the growth of the economy
Not only are these glorious little SMEs fuelling the growth of our economy, but they're also fostering diversification through the development of untapped markets within the economy. One of the best opportunities for living in an area that is highly driven by technology is that there is always a platform for international growth apart from local and national prospects.
One of the obvious factors that SMEs are bringing to the economic development of this country is, that drastically reduces unemployment. This is a massive advantage for citizens in this country, especially since companies within the formal sectors of the business world are shedding jobs and employment.
The challenges that SMEs in South Africa face
It might be a noble thing to open up your own business, or perhaps it's the only way in which you can comfortably contribute your skills to the world. Some individuals are simply geared to work under their own rule. However, there are always ups and downs with any side of the spectrum and being an owner of an SME comes with its negatives including a lack of access to business finance and support.
Crime is rife amongst small businesses and owners struggle to completely eradicate this problem. Another issue is having the tools to do the job without access to the means to facilitate the tools.
In other words, having an internet connection in an area with very little signal. Skilled labour Is difficult to find especially in small businesses. Accessing quick credit is a major one. Financial institutions feel at risk when lending to SMEs, hence this being such a tough part of the process. Larger companies also don't always recognise small businesses or their efforts and this hinders the growth process.
Taking all of that into consideration, the South African Government at least is highly cognizant of the important role that SMEs play in the framework of this country's development.
Customer Reviews & Testimonials
"
February 2017
It's always a pleasure dealing with BFB because their customer service is very hard to beat. They manage to provide such a personal and hands-on service every time.
Michael D
— Cape Town —
March 2018
This was the easiest loan process I've ever had to go through.
Lerato M
— Pietermaritzburg —
June 2018
Business Finance Brokers understands that time is money. It took only a few days to receive the funds which meant that I could purchase the stock I needed sooner than I had expected.
Jackie M
— Pretoria —
April 2019
Everything was explained clearly and in simple English, which was great because I didn't have to spend hours and hours trying to decipher anything.
Felicity C
— Polokwane —
Business Finance Brokers Contact
Contact Number
E-Mail
Website
Physical Address
4 Plein St

Stellenbosch

Western Cape

7600

South Africa
Opening Hours
Monday

09:00 – 18:00

Tuesday

09:00 – 18:00

Wednesday

09:00 – 18:00

Thursday

09:00 – 18:00

Friday

09:00 – 18:00

Saturday

– Closed

Sunday

– Closed